NEH Awards $1.4 Million in Grants to Support Veterans
15 Dialogues on the Experience of War programs will use the humanities to help veterans understand their experiences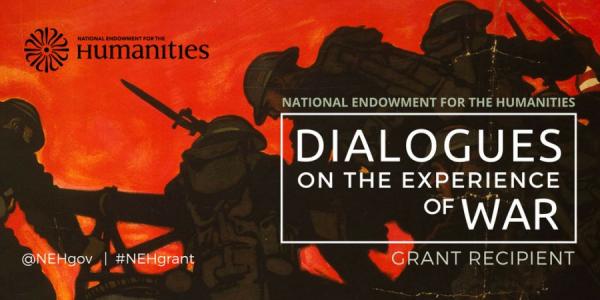 Today the National Endowment for the Humanities announced $1.4 million in grants for the second round of its Dialogues on the Experience of War grant program. Part of NEH's Standing Together initiative, which focuses on humanities projects that highlight veterans, Dialogues on the Experience of War grants provide opportunities for veterans, through the study and discussion of important humanities sources, to think more deeply about issues raised by war and military service.
Dialogues on the Experience of War grants support the recruitment and training of discussion leaders and the convening of discussion programs on campuses, in libraries and museums, and at veterans' centers across the country. Participant groups, which can be composed exclusively of veterans or include men and women in active service, military families, and interested members of the public, meet to discuss the depiction of war and its aftermath in history, philosophy, literature, visual arts, film, as well as through the testimonials of those who have served.
For many years, NEH has supported humanities projects involving military history and the legacies of conflict and war, including notably the immensely popular documentary The Civil War, by Ken Burns. Since launching Standing Together: The Humanities and the Experience of War initiative in 2014, NEH has awarded more than $7.7 million for humanities projects that serve veterans or chronicle their experiences. NEH grants support veterans as they transition to civilian life, provide the public with insights into veterans' experiences, assist veterans and families as they process the traumas of war, and honor veterans' service by recording their stories for posterity.
NEH Chairman William D. Adams, a veteran of the Vietnam War, expressed his support for the Dialogues grant program as an examples of the power of the humanities to engage veterans and their experiences.
"We fund veterans programs as part of the growing public perception that the country needs to do more to understand the experiences of veterans — and also, to support veterans in their own efforts to understand their experiences as they make their passage from military to civilian life," Adams said. "The humanities, because they shed light on our individual and shared experiences, have a crucial role to play in this work."
The 15 programs being funded include:
$100,000 to the Operation Opportunity Foundation to continue the successful Warrior-Scholar Project that recruits veterans for a week-long academic boot camp grounded in humanities texts and writing assignments, and prepares veterans for college.
$99,000 to Humanities Texas to expand its Veterans' Voices program to five new Texas cities. This program brings veterans, military families, and members of the public together to read and discuss classical and literary texts about war, military service, and the return to civilian life.
$96,868 to Valencia Community College to create a semester-long humanities course for veterans entitled "Voices from Ancient and Modern Warfare". The college will also offer three public events that endeavor to bridge the divide that separates military, civilian, and academic communities.