Thirty-four Middle and High School Students Named National Endowment for the Humanities Scholars at 2018 National History Day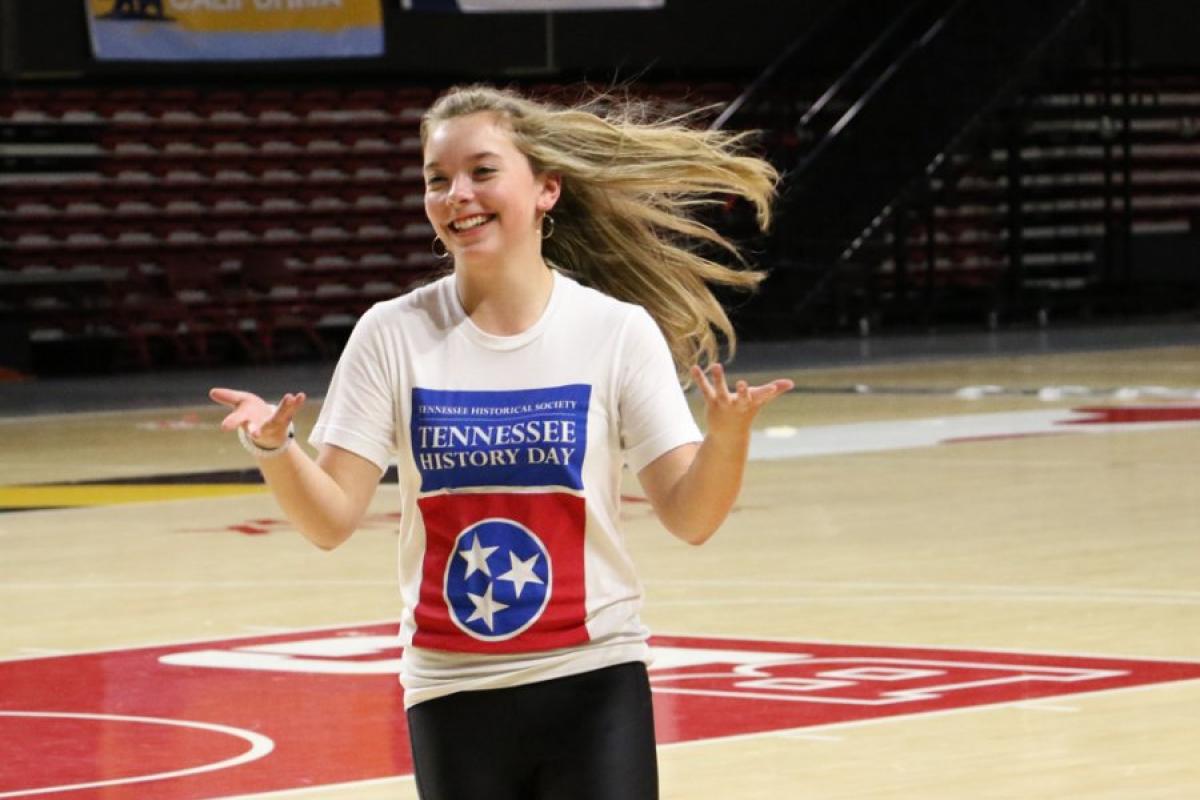 WASHINGTON, D.C. —Thirty-four students took home top prizes sponsored by the National Endowment for the Humanities (NEH) at National History Day, a nationwide contest for middle and high school students that concluded today at the University of Maryland, College Park.
Young history buffs from California, Connecticut, Florida, Maine, Maryland, Massachusetts, Minnesota, New Jersey, New York, Tennessee, Virginia, Washington, and South Korea were recognized as "National Endowment for the Humanities Scholars" for earning first place in a range of categories. Moreover, three students from Arizona and New Mexico received a special award from NEH for incorporating historic American newspapers into their National History Day projects. More than 3,000 students from around the country made it to National History Day finals.
The annual awards ceremony is the culmination of a yearlong academic program in which students in grades 6 to 12 conduct original historical research for papers, exhibits, websites, documentaries, and public performances. This year more than half a million students submitted National History Day entries on the theme of "Conflict & Compromise in History" at local, regional, and state competitions for a chance to win a spot at the national finals.
NEH has supported National History Day since the program began in the 1970s. NEH grants were instrumental in helping National History Day grow from a pilot startup project in Ohio into a national program that now operates in all 50 states, the District of Columbia, U.S. territories, and in international schools in China, South Korea, and South Asia. Winners are selected by volunteer judges, including history teachers and others. NEH does not judge the projects or select the winners. (For information on the contest, please consult the National History Day website.)
In addition to 18 first-place prizes, NEH sponsors National History Day prizes for the best use in a student project of Chronicling America—a searchable online database of historic U.S. newspapers, digitized through a partnership between NEH and the Library of Congress. EDSITEment, NEH's educational website, has created a set of online resources around Chronicling America to assist students and educators in using the newspapers in historical research.
The following students received National Endowment for the Humanities Scholar awards from NEH Chairman Jon Parrish Peede at today's awards ceremony. Winners in other categories received prizes from a host of other sponsors. Students in grades 6 to 8 compete in the "junior" division; those in grades 9 to 12 in the "senior" division.
Junior Paper:
Kellen Hoard from Kamiakin Middle School in Kirkland, Washington
Project: 17 Years: Developing the United States Coinage System
Senior Paper:
Muadth Malley from Pleasant View School in Memphis, Tennessee
Project: The Lebanese Civil War and the Taif Accord: Conflict and Compromise Engendered by Institutionalized Sectarianism
Junior Individual Documentary:
Sanjay Kasi from Felix Fiesta Character Middle School in New City, New York
Project: A Splash in History: The Conflict and Compromise of the Indus Waters Treaty
Senior Individual Documentary:
Jake Blum from Howard High School in Ellicot City, Maryland
Project: On the Front Lines of Faith: Chaplains' Reconciliation of Conflicting Roles in the Vietnam War
Junior Group Documentary:
Don Strawbridge and Matthew Gilbert from Greely Middle School in Cumberland Foreside, Maine
Project: From Conflict to Compromise: How a Negotiator from Maine Brought Peace to Northern Ireland
Senior Group Documentary:
Cleo Chaplin and Adam Nussbaum from Francis Parker School in Rancho Santa Fe, California
Project: Berkeley on Strike: The Battle for Ethnic Studies
Junior Individual Performance:
Thomas McKenna from McKenna Homeschool in Lottesville, Virginia
Project: Conflict from Compromise: The Anglo-Irish Treaty
Senior Individual Performance:
Max Mateer from Pensacola High School in Pensacola Beach, Florida
Project: Pushing the Pawn from the Purchase to the Pacific
Junior Group Performance:
Liam Garris, Ian Boghani, and Luke Hutchinson from Clayton-Bradley Academy in Louisville, Tennessee
Project: I Will Survive: The Conflicts and Compromises of the Native American Boarding Schools
Senior Group Performance:
Jungmin Bae, Andrew Chanho Kim, Sunyoung Hwang, JinYoung Kim, and Do Hyun Choi from Hankuk Academy of Foreign Studies in Seoul, South Korea
Project: Territorial Diplomacy: Seo Hui's Compromise and Demands for the Goryeo Dynasty
Junior Individual Exhibit:
Mia Porcello from St. Timothy Middle School in West Hartford, Connecticut
Project: The Krug-Lewis Agreement: A Forced Compromise Transforms Care for Coal Miners and Rural America
Senior Individual Exhibit:
Kathleen Grube from Roosevelt High School in Minneapolis, Minnesota
Project: The Tuskegee Syphilis Study: How Compromised Health Created an Ethical Conflict
Junior Group Exhibit:
Chase Baumgarten and Colin McShane from Stella Maris Academy- St. John's Campus in Duluth, Minnesota
Project: The U.S. Government vs. the Reserve Mining Company: A Compromise of Environment and Industry
Senior Group Exhibit:
Sofia Ricciarini, Grace Sperber, Emily Perry, Charlotte Dotson, and Sabrina Mellinghoff from Bronxville High School in Bronxville, New York
Project: Arusha Accords: A Genocidal Compromise
Junior Individual Website:
Ella Hoch Robinson from Sanford Middle School in Minneapolis, Minnesota
Project: A Duty to Starve: The Minnesota Starvation Experiment
Senior Individual Website:
Laura Mills from Kent Place School in Short Hills, New Jersey
Project: The Iran Hostage Crisis: When Compromise Fails
Junior Group Website:
Sofia Fish and Azalea Rohr from Sanford Middle School in Minneapolis, Minnesota
Project: Great Lakes Great Legacy?: The Compromise of the Great Lakes Water Quality Agreement
Senior Group Website:
Lily Ting, Tucker Apgar, and Sean Li from Hamilton-Wenham Regional High School in South Hamilton, Massachusetts
Project: "By winter we will know all.": The Prague Spring and Conflict over Control
NEH Chairman Peede also presented two National Endowment for the Humanities Chronicling America: Historic American Newspapers Prizes to:
Ellie Carman and Maria Berg from Albuquerque Christian School in Albuquerque, New Mexico
Project: The Unlikely Compromise of Guava Marmalade (Junior Group Documentary)
Jayme Reed from Saguaro High School in Scottsdale, Arizona
Project: Dorothea Dix: Advocate for the Care of the Forgotten (Senior Paper)
A list of all 2018 National History Day winners is available at https://www.nhd.org/winners.