NEH and NLM Renew Partnership to Collaborate on Research, Education, and Career Initiatives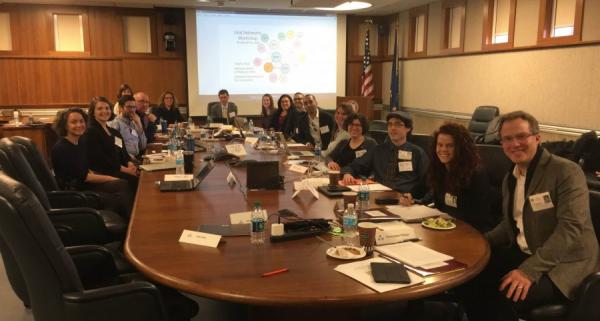 The National Endowment for the Humanities (NEH) and the National Library of Medicine (NLM), the world's largest medical library and a component of the National Institutes of Health, have reaffirmed a partnership, originally established in 2012, to develop initiatives that explore the intersection of biomedical and humanities research.
This collaboration will bring together scholars, scientists, librarians, archivists, curators, technical information specialists, healthcare professionals, cultural heritage professionals, and others in the humanities and biomedical communities in order to share expertise and develop new research agendas.
NEH Senior Deputy Chairman Jon Parrish Peede and NLM Director Patricia Brennan signed the memorandum of understanding extending the partnership agreement through 2021 shortly before Viral Networks: An Advanced Workshop in Digital Humanities and Medical History. Hosted by the NLM and supported by NEH through a grant to Virginia Tech, this 3-day workshop convened scholars of medical history whose research shows promise for making innovative use of methods, tools, and data from the digital humanities.
"NEH is pleased to team up with the NLM to help support conferences and workshops aimed at training historians of medicine on the latest research techniques and to bring together biomedical scientists and humanists to explore possibilities of a collaborative nature," said NEH Senior Deputy Chairman Peede. "We look forward to many more fruitful ventures between our two organizations as we push both the boundaries of the humanities and the biosciences together."
"These partnerships are quite important to the NLM because they help to create and sustain an interdisciplinary and collaborative platform for discovery at the Library and across the NIH campus," said NLM Director Brennan. "Creating such a platform is a key goal of our new strategic plan and commitment to growing infrastructure and supporting data-driven scholarship and inquiry for the benefit of medical research as well as the disciplines that intersect with medical research, like the humanities and medical humanities."
Viral Networks was the latest in a long series of collaborations between the NLM and NEH. Other collaborations have included the April 2016 workshop Images and Texts in Medical History: An Introduction to Methods, Tools, and Data from the Digital Humanities, which explored emerging approaches to the analysis of texts and images in the field of medical history; the April 2013 symposium Shared Horizons: Data, Biomedicine, and the Digital Humanities, which explored the intersection of digital humanities and biomedicine; and the October 2013 symposium An Epidemiology of Information: New Methods for Interpreting Disease and Data, which explored new methods for large-scale data analysis of epidemic disease.
About the National Library of Medicine (NLM): Since its founding in 1836, the National Library of Medicine has played a pivotal role in translating biomedical research into practice. NLM, part of the National Institutes of Health, is the world's largest medical library with more than 26 million items in its collection. A leader in information innovation, it is the developer of electronic information services used by scientists, health professionals and the public around the world. NLM makes its information services known and available with the help of the National Network of Libraries of Medicine, which consists of over 6,000 member institutions, including eight Regional Medical Libraries. NLM conducts and supports research that applies computer and information science to meet the information needs of clinicians, public health administrators, biomedical researchers and consumers.