First Lady Presents 2016 National Arts and Humanities Youth Program Awards
Twelve programs recognized at White House ceremony.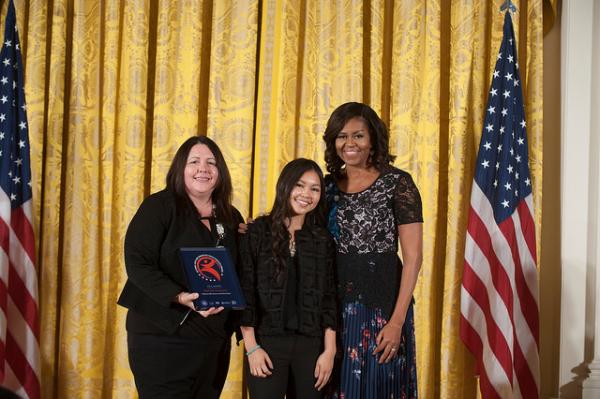 Yesterday in a ceremony at the White House, First Lady Michelle Obama, Honorary Chair of the President's Committee on the Arts and the Humanities, awarded the National Arts and Humanities Youth Program Awards to twelve programs that enrich young peoples' lives through inventive programming in the arts and humanities at museums, libraries, and other cultural organizations. During the ceremony, the First Lady recognized the leaders of the programs and students who have participated in those programs.
As the country's highest honor for creative youth development programs, the awards spotlight excellent after-school programs that reach underserved youth with outstanding arts and humanities learning opportunities that intentionally support youth development. The awards are an initiative of the President's Committee on the Arts and the Humanities in partnership with the National Endowment for the Arts, the National Endowment for the Humanities, and the Institute of Museum and Library Services.
"By exposing them to the arts and humanities, these programs open up a world of new opportunities for the young people of America," said NEH Chairman William D. Adams. "The humanities benefit us all, but no two people are impacted in the same way. This year's award winners showcase how the humanities can help us become our best selves."
The wide array of programs recognized this year include a summer program that allows low-income and immigrant teenagers in Alaska the opportunity to explore their history by making documentaries and an after-school program that helps children with autism spectrum disorders develop critical social and communication skills by learning about trains at the New York Transit Museum. The National Endowment for the Humanities is proud to join in celebrating the important work that these programs are doing. The video of the ceremony is available here.
The 2016 National Arts and Humanities Youth Program Awardees:
AileyCamp Miami
Adrienne Arsht Center for the Performing Arts of Miami-Dade County
Miami, Florida
AileyCamp Miami is a six week program that provides middle school aged children performing arts and dance experience.
Baranov Museum Youth History & Film Summer Intensive
Kodiak Historical Society
Kodiak, Alaska
Each summer, the program allows 7th to 12th graders the opportunity to explore a historical topic related to Alaska's history in depth and create short documentary films on their research.
IBA's Youth Development Program
Inquilinos Boricuas en Acción
Boston, Massachusetts
The program prepares high schoolers for college and their careers by providing academic support, job readiness, arts education, leadership training, civic engagement and advocacy opportunities.
Next Gen
Bay Area Video Coalition
San Francisco, California
Next Gen is an after-school media-arts program that provides training and internship opportunities in media -arts fields, including video production and game coding.
Screen It!
Mexic-Arte Museum
Austin, Texas
The museum provides screen printing programs to connect at-risk students to training in computer literacy, graphic design and business development.
Sphinx Overture
Sphinx Organization
Detroit, Michigan
For the past 10 years, Sphinx Overture has provided free music education to elementary school students in Detroit and Flint.
St. Louis ArtWorks
St. Louis, Missouri
St. Louis ArtWorks offers teens the opportunity to apprentice with professional artists.
Subway Sleuths
New York Transit Museum
Brooklyn, New York
Subway Sleuths is an after-school program for 7 to 12 year old train enthusiasts with autism spectrum disorders.
Teen Arts + Tech Program
West Michigan Center for Arts and Technology (WMCAT)
Grand Rapids, Michigan
The program provides a hands-on learning for Grand Rapids teens in arts and tech labs.
The Reading Road Show – Gus Bus
Office on Children & Youth, Institute for Innovation in Health & Human Services, James Madison University
Harrisonburg, Virginia
For more than 12 years, the Reading Road Show has been sending literacy vehicles with books, educational materials, and reading space to low-income neighborhoods to reduce barriers to literacy.
Tribal Youth Ambassadors
California Indian Museum and Cultural Center
Santa Rosa, California
The tribal museum engages Native American youth in Sonoma, Lake and Mendocino Counties in humanities programs.
True Colors: Out Youth Theater
The Theater Offensive
Boston, Massachusetts
True Colors is a year-round program for 90 LGBT youth to use art for social change.