NEH Chairman Adams and Senator Tom Udall Celebrate Native American Heritage
The Chairman announces a renewed emphasis at the Endowment on serving Native American communities.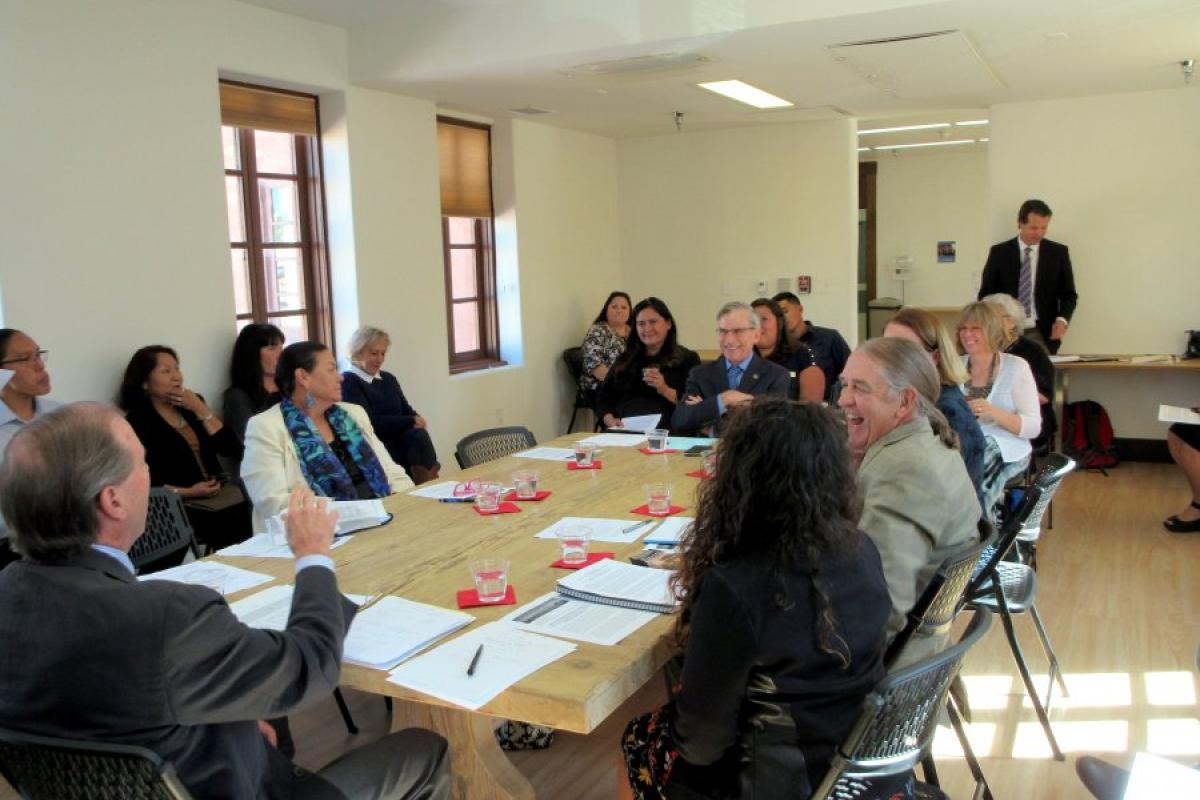 Last Friday, National Endowment for the Humanities Chairman William D. Adams and U.S. Senator Tom Udall (D-NM) hosted a roundtable discussion on education, history, and culture at the IAIA Museum of Contemporary Native Arts in Santa Fe, New Mexico. Participants included leaders from the New Mexico Humanities Council, the Museum of Indian Arts and Culture, the Indian Pueblo Cultural Center, the Institute of American Indian Arts (IAIA), and the IAIA Museum.
Senator Udall discussed the Native American Tourism and Improving Visitor Experience (NATIVE) Act, which he co-sponsored and President Obama recently signed into law. Chairman Adams detailed some of NEH's past projects in New Mexico that have helped to preserve and celebrate Native American culture. The Chairman also announced a renewed emphasis at the Endowment on serving Native American communities. The conversation allowed participants to share their perspectives on the humanities with Senator Udall and Chairman Adams.
After the roundtable, Chairman Adams and Senator Udall visited the New Mexico School for the Arts, where they spent time with students, staff and faculty. During the visit they learned about the school's Time Capsule project and participated in a classroom discussion of poems by Walt Whitman, Langston Hughes, and other poets who capture the meaning of democracy in their writing.  
"New Mexico's humanities community is a model of what we strive for at NEH," said Chairman Adams. "Visiting the dynamic and diverse institutions in Santa Fe and Albuquerque and hearing from New Mexicans about how the humanities serve them has given me greater insight into the role that NEH plays in American life. Senator Udall's ongoing support of the Endowment has made much of this work possible and I am grateful for his commitment to serving Native American communities."
"The humanities are central to who we are as New Mexicans.  As the lead Democrat on the Interior and Related Agencies Appropriations Subcommittee, I have been proud to give my strong support to the NEH and its efforts to help New Mexico share our rich and vibrant culture," said Senator Udall.  "I am especially grateful to President Obama and Chairman Adams for immediately embracing the potential of the NATIVE Act, which will create jobs in Indian Country and empower Native American communities."
During his time in New Mexico, Chairman Adams also visited the School of Advanced Research's Indian Arts Research Center, as well as all of the cultural institutions represented by the roundtable participants. Friday evening, he spoke with graduate students and members of the faculty at University of New Mexico about NEH's Next Generation Humanities PhD Program. UNM received one of the first grants from the program, which supports universities in their efforts to plan and implement wide-ranging changes in humanities doctoral programs.