President Obama to Award 2015 National Humanities Medals
Twelve distinguished humanities recipients to receive honor on Sept 22 in East Room ceremony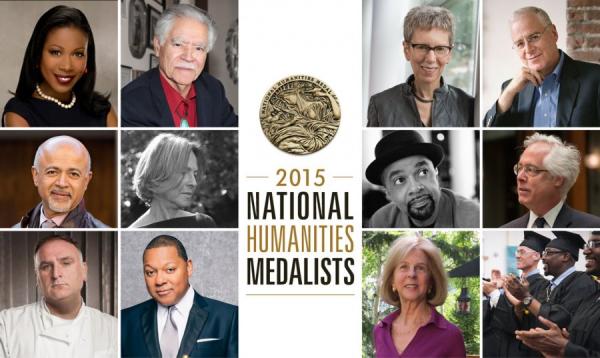 Yesterday in a ceremony in the East Room of the White House, President Barack Obama awarded the 2015 National Humanities Medal to twelve distinguished recipients. The awardees included authors, a poet, physician, historian, chef, and a higher education program.
The National Humanities Medal honors an individual or organization whose work has deepened the nation's understanding of the human experience, broadened citizens' engagement with history and literature or helped preserve and expand Americans' access to cultural resources.
"This year's medalists showcase the power of the humanities to change the world and improve our understanding of one another," said NEH Chairman William Adams. "I am proud to join President Obama in recognizing the recipients of the 2015 National Humanities Medal for their profound impact on our society."
Here are the 12 recipients of the 2015 National Humanities Medal. More information about them, as well as our previous honorees, is available at this link.
*Was not present at the ceremony
Created as an independent federal agency in 1965, NEH awards grants that support research, education, preservation, and public programs in the humanities that have resulted in thousands of museums exhibits, scholarly books, films, and radio programs.
The National Endowment for the Humanities (NEH) manages the nominations process for the National Humanities Medal on behalf of the White House. Each year NEH invites nominations from individuals and organizations across the country. The National Council on the Humanities, NEH's presidentially-appointed and Senate-confirmed advisory body, reviews the nominations and provides recommendations to the President, who selects the recipients.
The first National Humanities Medal was awarded in 1997. Since then, 187 have been bestowed — to 174 individuals and 13 organizations — inclusive of this year's recipients.
The humanities medal, first awarded as the Charles Frankel Prize in 1989, was presented along with the 2015 National Medal of Arts. The full list of NEA Medalists can be found here.
Hashtag: #ArtsHumanitiesMedal