NEH Announces Humanities Connections Grant Program
New NEH grant program aims to provide substantive humanities experiences for students in all academic fields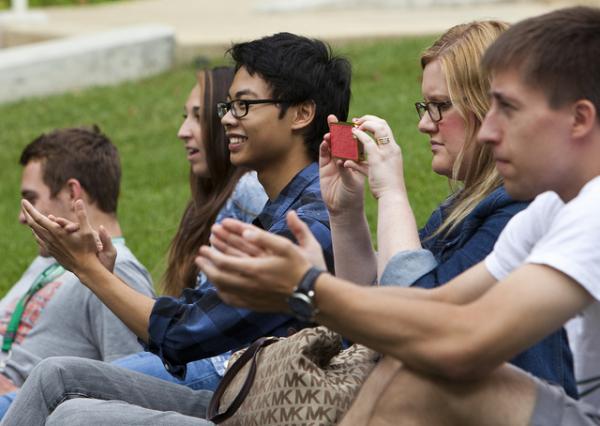 The National Endowment for the Humanities (NEH) today announced a new grant program that seeks to expand the role of the humanities in undergraduate education at two- and four-year colleges and universities.
NEH's new Humanities Connections program offers grants of up to $100,000 for the development of a series of three or more linked courses focusing on significant humanities content. Humanities Connections projects must involve collaboration between faculty from separate departments or schools within an institution and incorporate meaningful student engagement activities such as undergraduate research projects, opportunities for civic engagement, or a structured experience with community-based, project-based, or site-based learning.
"The most important challenges and opportunities of the 21st century require the habits of mind and forms of knowledge fostered by study of the humanities," said NEH Chairman William D. Adams. "The NEH Humanities Connections grant program will help prepare students in all academic fields for their roles as engaged citizens and productive professionals in a rapidly changing and interdependent world."
This new grant program is part of the National Endowment for the Humanities' agency-wide initiative The Common Good: The Humanities in the Public Square, which seeks to demonstrate and enhance the role and significance of the humanities and humanities scholarship in public life.
Linked courses may fulfill general education or core curriculum requirements but could also be designed primarily for students in a particular major or course of study. Special encouragement is given to projects that foster collaboration between humanities faculty and their counterparts in social and natural sciences and pre-service or professional programs in business, engineering, health sciences, law, computer science, and other non-humanities fields. Applicants are encouraged to consult with NEH staff as they plan their projects by contacting NEH at @email or (202) 606-8500.
Application guidelines for the Humanities Connection program are available at www.neh.gov. The application deadline for the initial cycle of Humanities Connections grants is October 5, 2016. 
NEH program staff from the Division of Education will conduct a webinar for interested applicants on May 16 at 2 PM.  
NEH Humanities Connections grants webinar information:
Monday, May 16, at 2 PM EDT
Click here to register.
#NEHCommonGood