The Trans-Atlantic Platform Launches Fourth Digging Into Data Challenge
Digital researchers from three continents invited to apply new methods of using "big data" to address humanities inquiries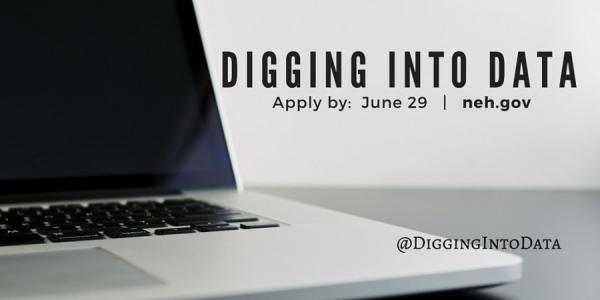 Applications are now open for the fourth round of the Digging Into Data Challenge for research projects that use "big data" to address questions in the social sciences and humanities. Started as a small competition launched in 2009 by NEH and three partner agencies in the US, UK, and Canada, Digging into Data is now under the auspices of the Trans-Atlantic Platform (T-AP), a consortium of sixteen international funders of social sciences and humanities research from Europe, South America, and North America, including the National Endowment for the Humanities (NEH).
 
The T-AP Digging Into Data funding opportunity is open to international projects that consist of teams from at least three member countries, and must include partners from both sides of the Atlantic. All projects must address any research question in humanities and/or social sciences disciplines by using large-scale, digital data analysis techniques, and show how these techniques can lead to new insights. Research partners will receive funding from their own national funding agencies for projects that can last for up to 36 months.
 
The results of these research projects will be showcased at a special conference sponsored by the participating agencies at the end of the funding period.
 
"This means many more teams will be able to compete. The Challenge will be open to more researchers, including new partners from Europe and North America and, for the first time, partners from South America," said Ted Hewitt, president of the Social Sciences and Humanities Research Council of Canada and co-chair of T-AP's steering committee. 
 
"Over the past seven years, the international Digging into Data Challenge has changed the way we think about the boundaries of humanities research, bringing together new ideas from scholars across disciplines and across borders," said Brett Bobley, Director of NEH's Office of Digital Humanities.  "We are excited to expand the program to seven new countries this year and see what remarkable collaborative scholarship emerges."
 
Previous winners of the Challenge, held in 2009, 2011, and 2013, include a team that developed tools to compare, visualize and analyze the extensive court records of more than 197,000 individual trials held over 240 years at the Old Bailey criminal court in London, and a research partnership that conducted data mining to better understand how the media shaped public opinion during the 1918 influenza pandemic.
 
The deadline for final applications is June 29, 2016. Learn more about the competition and the application process at www.transatlanticplatform.com.