National Endowment for the Humanities Announces $434,864 for "Common Heritage" Community History Projects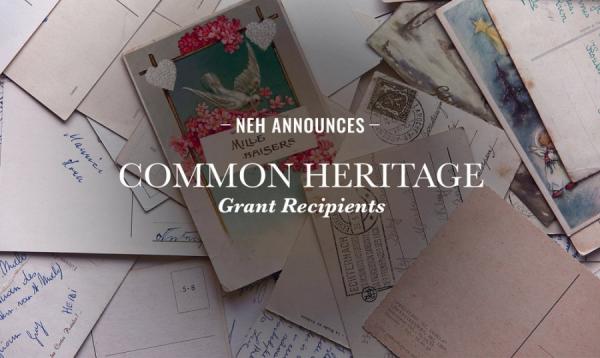 The National Endowment for the Humanities (NEH) today announced $434,864 in grants to 38 cultural organizations to bring historical records and artifacts currently hidden in family attics and basements across the country and make them digitally available to the wider public and for posterity.
These are the first awards made under NEH's new Common Heritage grant program, which was created in April 2015 as part of The Common Good: The Humanities in the Public Square, an agency-wide initiative that seeks to enhance the role of the humanities in civic life.
Common Heritage grants will allow historical societies, libraries, archives, museums, colleges and other local institutions to host "digitization days" encouraging members of the public to share materials important to their family or community histories, such as photographs, artifacts, family letters, and works of art.
These items will be digitized, along with descriptive information and context provided by the community attendees. With the owner's permission, the digitized materials will be made publicly available through the institution's online collections. Contributors will receive a free digital copy of their items to take home, along with the original materials.
NEH Common Heritage grants will also support public programming – including lectures, exhibits, discussion programs, and film screenings—that celebrates and expands knowledge of the community's past and the diverse histories of its members.
"We know that America's cultural heritage isn't found only in libraries and museums," said NEH Chairman William D. Adams, "but in our homes, in our family and community histories, and the stories and objects we pass down to our children. These new NEH Common Heritage grant projects will help capture this vitally important part of our country's heritage and preserve it for future generations."
NEH Common Heritage grants of up to $12,000 were awarded to 38 community cultural organizations in 21 states and the District of Columbia.
Among the NEH Common Heritage grants awarded:
$12,000 to Sonoma State University to preserve documents, photographs, artwork, and artifacts held by descendants of Japanese Americans incarcerated at the World War II-era Amache internment camp in Colorado
$12,000 to Gallaudet University to document the American Deaf community's cultural heritage, including the digitization of community materials and public events, in both American Sign Language and spoken English
$8,118 to Minot State University to preserve community and personal materials documenting social change in North Dakota due to the oil and gas boom
$10,700 to Knox College to digitize privately held historical sources relating to the African-American experience in the western Illinois city of Galesburg, which served as a stopping point along the Underground Railroad in the 19th century
$11,840 to the University of North Texas to preserve resources related to the motion picture history of Denton, Texas, which was home to a vibrant commercial and amateur film community in the mid-20th century
$12,000 to the South Asian American Digital Archive to digitize materials from under-documented immigrant communities in Los Angeles and public events to raise awareness about the history of South Asian Americans
$11,938 to the Edisto Island Historical Preservation Society to collect materials documenting the island's African-American history and culture and offer public lectures on its history, food, and material culture
$10,802 to Mead Public Library in Sheboygan to digitize artifacts from the town's history, create a local history exhibit based on these materials, and to offer a series of public events encouraging hands-on engagement with local history
$11,522 to Grand Valley State University to gather historical materials and oral histories from Latinos and other immigrants through a one-day "history harvest" and present a series of community dialogues relating to the history of immigration in Oceana County, Michigan
$12,000 to Black Archives of Mid-America to collect photographs, records and artifacts pertaining to the African American experience in Kansas City during the early 20th century and hold public lectures on the history of Kansas City during the Jazz Age and Great Depression
See the full list of Common Heritage grant projects (PDF).