NEH Announces $36.6 Million for More Than 200 Humanities Projects
Grants support museums, libraries, education institutions, and individual scholars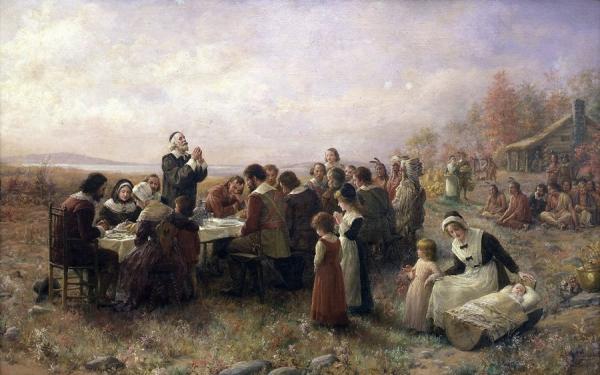 The National Endowment for the Humanities (NEH) today announced $36.6 million in grants for 212 humanities projects, including an exhibition on Mexican modern art from 1910-1950 at the Philadelphia Museum of Art, the excavation of the 17th-century Plymouth Colony settlement in Massachusetts, and publication of the personal papers of Martin Luther King, Jr. dating from the campaign to desegregate Birmingham and the historic 1963 March on Washington.
This funding will support a wide variety of projects including traveling exhibitions, the creation of new digital research tools, the preparation and publication of scholarly editions, professional development opportunities for teachers and college faculty, the preservation of cultural collections, collaborative humanities research, and the production and development of films, television, and radio programs.
Among the grants awarded today are those that will support the expansion and enhancement of the Trans-Atlantic Slave Trade Database, an online database of records of 67,000 enslaved persons transported on 35,000 trans-Atlantic slave ship voyages, and the production of a series of radio segments on language and its relationship to topics such as politics, democracy, and cultural preservation for Public Radio International's The World in Words.
NEH grants will allow schoolteachers to study the history of immigration, industrialization and public health at Pennsylvania's Duffy's Cut, where fifty-seven Irish immigrant railroad workers died from violence and cholera during the summer of 1832, and will bring together scholars for a workshop on applying digital methods to issues of preservation and access in Native American Studies.
Additional funding will enable the preservation of a collection of 19th- and 20th century medical periodicals at the New York Academy of Medicine, support archeological investigation of artifacts from the site of ancient Methone in northern Greece that shed light on the origin and development of the Greek alphabet, and provide for English translations of letters written by Dakota people living in Minnesota in the mid-nineteenth century.
This round of funding also marks the first grant awards made under the new NEH Public Scholar Program, which supports the publication of nonfiction books that apply serious humanities scholarship to subjects of general interest and appeal. Projects supported under the Public Scholar program include "Everybody Comes to Rick's," a book by Noah Isenberg at the New School on the cinematic legacy of the film Casablanca, and a biography of American poet Henry Wadsworth Longfellow by independent scholar Nicholas Basbanes.
"The grant projects announced today represent the very best of humanities scholarship and programming," said NEH Chairman William Adams. "NEH is proud to support programs that illuminate the great ideas and events of our past, broaden access to our nation's many cultural resources, and open up for us new ways of understanding the world in which we live."
Institutions and independent scholars in 42 states and the District of Columbia will receive NEH support. Complete state-by-state listings of grants are available here (38-page PDF).
Grants were awarded in the following categories:
Collaborative Research Grants

Support original research undertaken by a team of two or more scholars or research coordinated by an individual scholar that adds significantly to humanities knowledge or uses the perspectives of the humanities to enhance understanding of science, technology, medicine, and the social sciences
 

Digital Humanities Implementation Grants

Support the implementation of innovative digital humanities projects that have successfully completed a start-up phase and demonstrated their value to the field
 

Institutes for Advanced Topics in the Digital Humanities Grants

Provide scholars and advanced graduate students with the opportunity to deepen their knowledge of advanced technology tools and methodologies relevant to the humanities and to increase the number of humanities scholars using digital technology in their research
 

Landmarks of American History and Culture: Workshops for School Teachers

Support a series of one-week workshops for K-12 educators that address central themes and topics in American history, government, literature, art history, and other humanities fields related to historic landmarks

Media Projects: Development and Production Grants

Support film, television, and radio projects that explore significant events, figures, and ideas within the humanities. Development grants enable media producers to collaborate with scholars to develop humanities content and to prepare programs for production; production grants support the preparation of a project for presentation to the public
 

Museums, Libraries, and Cultural Organizations Planning and Implementation Grants

Support museum exhibitions, library-based projects, interpretation of historic places, living history presentations, and book and film discussion programs that deepen public understanding of significant humanities ideas and topics

National Digital Newspaper Program Grants

Support the creation of a national, digital resource of historically significant newspapers published between 1836 and 1922, from all states and U.S. territories

NEH On the Road Grants

Bring NEH-funded traveling exhibitions to small and mid-sized museums across the country
 

Public Scholar Program Grants

Support well-researched books in the humanities intended to reach a broad readership
 

Scholarly Editions and Translations Grants

Enable the preparation of editions and translations of significant literary, philosophical, and historical texts and documents that are currently inaccessible or available in inadequate editions
 

Summer Seminars and Institutes for College and University Teachers Grants

Support intensive two- to five- week projects in which sixteen to twenty-five college and university faculty members, working with scholarly experts, engage in collegial study of significant texts and topics in the humanities

Summer Seminars and Institutes for School Teachers Grants

Support intensive two- to five-week projects in which sixteen to thirty school teachers, working with scholarly experts, engage in collegial study of significant texts and topics in the humanities
 

Sustaining Cultural Heritage Collections Grants

Help cultural institutions meet the complex challenge of preserving large and diverse holdings of humanities materials for future generations by supporting preventative conservation measures to prolong the useful life of collections