NEH Chairman William Adams Convenes Humanities Roundtable at LaGuardia Community College with Faculty and Students
Discusses New Humanities Initiatives at Community Colleges Grant Opportunity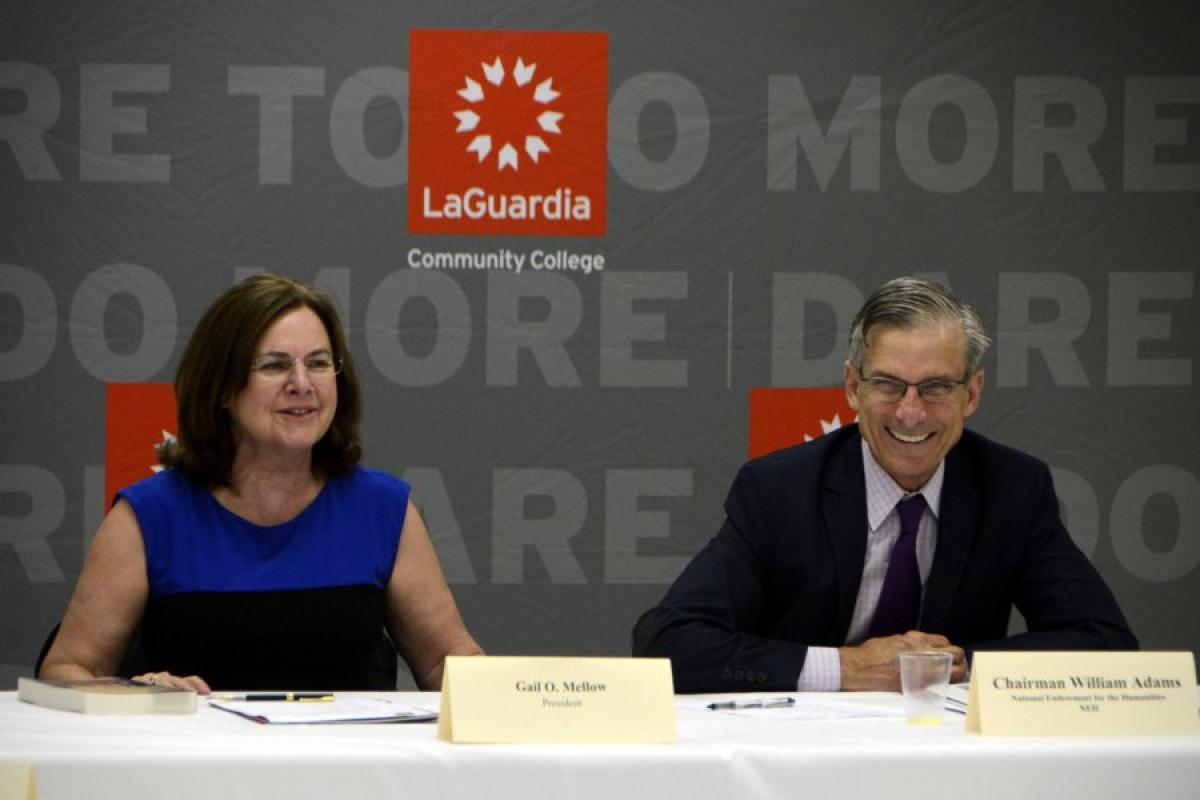 National Endowment for the Humanities Chairman William Adams convened a roundtable of faculty, staff and students at LaGuardia Community College to discuss the importance of innovative humanities programs in liberal arts education, highlighting the federal agency's recent announcement of its new community colleges grant program.
"Listening opportunities like this are invaluable in understanding what's happening in the humanities community today," Chairman Adams told faculty, staff and students during his visit. "With NEH's new grant offering for community colleges, we hope to encourage innovative and educational programs that prepare students for civic engagement and foster a deep appreciation of the humanities and liberal arts."
"This is such an important dialogue,' said LaGuardia Community College President Dr. Gail O. Mellowin her welcoming remarks. "Your support has deepened the national conversation about the intrinsic value of a Liberal Arts degree. And the population you seek to reach with this amazing new grant is exactly the student body here at LaGuardia: ethnically diverse, non-traditional, and underserved."
Joining Dr. Mellow and Chairman Adams were faculty and students of the College who have firsthand experience with teaching and learning through the humanities.
Luce scholar and Philosophy major Jesus Benitez shared how as a single father he only wanted to get his high school equivalency degree to secure a higher paying job, but that mentors among the faculty and staff at the College inspired and encouraged him to go further.
"I declared Computer Science, but after taking a Philosophy course, I changed my major. Philosophy helped me think outside my world. This summer I'm going to use my heritage language as an assistant teacher in Argentina. I want to mentor the students, and I'll also be able to communicate with their parents," Jesus said.
Dr. John Chaffee, Director of LaGuardia's nationally recognized Philosophy program, told participants, "Philosophy teaches students to think critically and reflectively; it's a transferrable life skill that crosses all majors, all ethnic groups, all social classes, and it is essential for clarifying and understanding the world."
Edemir Castano, an alumnus of 2015 and the Class Speaker, shared how he switched majors from Nursing to Philosophy after a "mind-blowing" experience in Dr. Chaffee's class. The honor student will attend Brown University on scholarship in the fall.
Humanities Initiatives at Community Colleges offers up to $100,000 to community colleges and post-secondary two-year institutions for projects focused around a core topic or set of themes in the humanities. Eligible projects include the creation of new humanities minors and capstone courses, the development of humanities-based bridge programs for at-risk and nontraditional students, or initiatives to incorporate humanities education within professional training programs.
This new grant program, Humanities Initiatives at Community Colleges is the latest NEH effort to expand the humanities resources and educational opportunities available to historically underserved student populations. The grant program is part of NEH's agency-wide initiative The Common Good: The Humanities in the Public Square, which seeks to demonstrate and enhance the role and significance of the humanities and humanities scholarship in public life.
For photos of the full roundtable and tour, click here. 
#NEHCommonGood