President Obama Awards 2011 National Humanities Medals  
A Nobel Prize-winning economist, a Pulitzer Prize-winning poet, a "scholar of the book," and a national history program among this year's recipients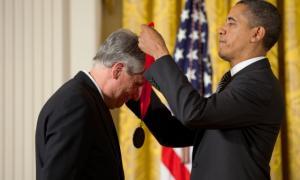 President Barack Obama presented the 2011 National Humanities Medals to nine Americans for their outstanding achievements in history, literature, education, philosophy, and musicology. Medals were given to poet John Ashbery; economist and philosopher Amartya Sen; historians Robert Darnton and Teofilo Ruiz; philosopher Kwame Anthony Appiah; music scholar Charles Rosen; literary scholars Andrew Delbanco and Ramón Saldívar; and the educational program National History Day.
The National Humanities Medal honors individuals or groups whose work has deepened the nation's understanding of the humanities, broadened our citizens' engagement with the humanities, or helped preserve and expand Americans' access to important resources in the humanities.
[Watch the White House video of the 2011 National Humanities Medals event on February 13.]
The official citations honoring the medalists are:
The medals, first awarded as the Charles Frankel Prize in 1989, were presented during a ceremony in the East Room of the White House. After the ceremony, the medalists and their families and friends joined the President and First Lady Michelle Obama for a reception in their honor.
Since 1996, when the first National Humanities Medal was given, 133 individuals have been honored, inclusive of this year's awardees. Ten organizations also received medals. Previous medalists include Pulitzer Prize winner Philip Roth, Nobel Prize winner Toni Morrison, novelist John Updike, Nobel Peace Prize laureate Elie Wiesel, sociologist Robert Coles, and filmmaker Steven Spielberg. A complete list of previous honorees is available at: http://www.neh.gov/about/awards/national-humanities-medals