Leading International Research Agencies Announce First "Digging into Data Challenge" Competition Winners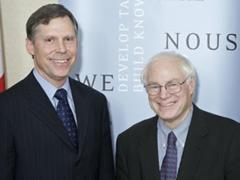 Eight international research teams have been awarded the first Digging into Data Challenge grants for projects that promote innovative humanities and social science research using large-scale data analysis. Four leading research agencies sponsor the international competition: the Joint Information Systems Committee (JISC) from the United Kingdom, the National Endowment for the Humanities (NEH) and the National Science Foundation (NSF) from the United States, and the Social Sciences and Humanities Research Council (SSHRC) from Canada.
"Trying to manage a deluge of data and turn bits of information into useful knowledge is a problem that affects almost everyone in today's digital age," said NEH Chairman Jim Leach. "With this international grant program, NEH is hoping to seed projects that will not only benefit researchers in the humanities, but also lead to shared cultural understanding."
The competition winners were announced at an event Thursday night in Ottawa, Ontario, that featured remarks by NEH Chairman Jim Leach and SSHRC President Chad Gaffield. The eight winning teams represent successful applications from 22 scholars and scientists from the U.S., Canada, and the United Kingdom. Each team includes researchers from at least two of the participating countries. With their awards, the teams will demonstrate how data mining and data analysis tools currently used in the sciences can improve scholarship in the humanities and social sciences. Total project funding by all four agencies is approximately $2 million (U.S.) dollars. NEH's contribution of $498,737 supports American scholars from five of the teams.
Detailed descriptions of the eight winning projects can be found in the box above.
Additional information about the competition can be found at www.diggingintodata.org.
The National Science Foundation (NSF) is an independent federal agency that supports fundamental research and education across all fields of science and engineering. In fiscal year (FY) 2009, its budget is $9.5 billion, which includes $3.0 billion provided through the American Recovery and Reinvestment Act. NSF funds reach all 50 states through grants to over 1,900 universities and institutions. Each year, NSF receives about 44,400 competitive requests for funding, and makes over 11,500 new funding awards. NSF also awards over $400 million in professional and service contracts yearly. More information about NSF is available on the Internet at www.nsf.gov/.
The Joint Information Systems Committee (JISC) is a joint committee of the U.K. further and higher education funding bodies and is responsible for supporting the innovative use of information and communication technology (ICT) to support learning, teaching, and research. It is best known for providing a U.K. national infrastructure network, a range of support, content, and advisory services, and a portfolio of high-quality resources. Information about JISC, its services, and programs can be found at www.jisc.ac.uk.
The Social Sciences and Humanities Research Council (SSHRC) is an independent federal government agency that funds university-based research and graduate training through national peer-review competitions. SSHRC also partners with public and private sector organizations to focus research and aid the development of better policies and practices in key areas of Canada's social, cultural and economic life. More information about SSHRC is available on the Internet at www.sshrc-crsh.gc.ca/.