NEH Announces $30.9 Million for 188 Humanities Projects Nationwide
Grant awards support innovative digital projects for the public, humanities initiatives on college campuses, and infrastructure projects at cultural institutions.
Additional $48 million supports community programs at state humanities councils.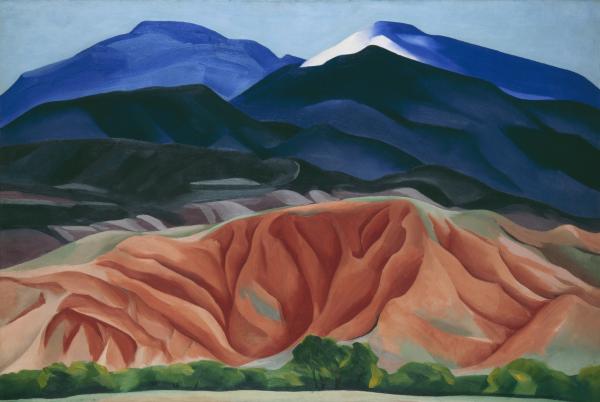 WASHINGTON, D.C. — The National Endowment for the Humanities (NEH) today announced $30.9 million in grants to support 188 humanities projects in 45 states and the District of Columbia. NEH Chairman Jon Parrish Peede announced the latest grants today at the Georgia O'Keeffe Museum in Santa Fe, New Mexico, which will receive a matching grant of up to $750,000 to create a new museum campus, including the construction of a new exhibition building to showcase the largest collection of O'Keeffe's work in the world. It is one of 32 NEH Challenge grants that leverage federal dollars to spur increased private investment in our nation's libraries, museums, and cultural centers to ensure greater access to cultural and educational resources for all Americans.
An additional $48 million was awarded to fund 55 state, territorial, and jurisdictional humanities councils, which serve local communities through a range of state-focused humanities discussion and educational outreach programs.
"These new NEH grants will expand access to the country's wealth of historical, literary, and artistic resources by helping archivists and curators care for important heritage collections, and using new media to inspire examination of significant texts and ideas," said Chairman Peede. "In keeping with NEH's A More Perfect Union initiative, these projects will open pathways for students to engage meaningfully with the humanities and focus public attention on the history, culture, and political thought of the United States' first 250 years as a nation."  
In addition to the O'Keeffe Museum grant, several grants awarded support infrastructure projects and long-term capacity-building at museums, historic sites, libraries, colleges and universities, and other humanities institutions. These include renovations at the Buffalo Bill Center of the West in Cody, Wyoming, to help protect the museum's extensive collection of artifacts of the American West; and an expansion of the St. Louis Holocaust Museum & Learning Center to make space for classrooms, multimedia, and community engagement areas. 
Many others use new technologies to bring history alive for broad audiences or facilitate advanced research in the humanities. One new grant will support production of an augmented reality app for the Cahokia Mounds, a UNESCO World Heritage Site in Illinois, recreating the structures and features of the ancient pre-Columbian city. Another will bring the work of 20th-century architect Fay Jones, an apprentice to Frank Lloyd Wright, to public audiences through an immersive website and digital kiosk displays at public sites in the Ozarks. An award to Utah Valley University's Center for Constitutional Studies will fund digital "modeling" of archival materials documenting U.S. state constitutional conventions to help users trace the discussion and development of legal ideas and texts through an interactive timeline of primary documents.
Additional funding will provide emergency preparedness training for staff of small, rural cultural institutions across Alaska to help protect heritage collections against fire, flooding, and other natural disasters and support workshops on conserving fragile audiovisual materials at tribal archives, libraries, and museums. 
Grants will also support production of Reconstruction 360, a South Carolina Educational Television website and mobile app that uses immersive video reenactment and storytelling to help users understand the impact and legacy of the Reconstruction era. Another grant will augment the international Unicode computer text encoding standards to digitally render additional historical and modern scripts, including Mayan and Egyptian hieroglyphs.
NEH Fellowships and Awards for Faculty will enable creation of a digital anthology of pre-Civil War hymns adapted from material by European composers such as Mozart, Beethoven, and Schubert for use in popular American religious music. Another scholar is researching and writing an intellectual history of the American economy from the Panic of 1896 to the 2008 recession.
Grant awards will also fund humanities initiatives at Historically Black Colleges, Hispanic-serving institutions, tribal colleges and universities, and community colleges. These include a partnership between Anne Arundel Community College and St. John's College in Maryland to create a Great Books curriculum and provide opportunities for students at the two-year college to transfer to St. John's for further study. An award to St. Augustine College in Illinois will fund a curriculum project to incorporate the study of Chicago's art, music, and history into courses for early childhood educators.
A full list of grants by geographic location is available here. 
Grants were awarded in the following categories:
Awards for Faculty

Support advanced research in the humanities by teachers at Historically Black Colleges and Universities, Hispanic-serving Institutions, and Tribal Colleges and Universities.
 

15 grants, totaling $790,000

Digital Humanities Advancement Grants

Support the implementation of innovative digital humanities projects that have successfully completed a start-up phase and demonstrated their value to the field.

14 grants, totaling $1.6 million

Digital Projects for the Public Grants  

Support projects such as websites, mobile applications, games, and virtual environments that significantly contribute to the public's engagement with humanities ideas.


11 grants, totaling $1.5 million

Fellowships

Support college and university teachers and independent scholars pursuing advanced research.


81 grants, totaling $4.4 million

Fellowships for Advanced Social Science Research on Japan

A joint activity of the Japan-United States Friendship Commission (JUSFC) and NEH. Awards support research on modern Japanese society and political economy, Japan's international relations, and U.S.–Japan relations.


3 grants, totaling $180,000

Humanities Initiatives Grants

Support and enrich humanities education and scholarship at Historically Black Colleges and Universities, Hispanic-serving Institutions, Tribal Colleges and Universities, and community colleges.


16 grants, totaling $1.6 million

Infrastructure and Capacity Building Challenge Grants

Leverage federal funding to strengthen and sustain humanities infrastructure and capacity-building activities at cultural institutions.

32 grants, totaling $15.2 million

Preservation and Access Research and Development Grants  

Support projects that address major challenges in preserving or providing access to humanities collections and resources.


4 grants, totaling $1.1 million

Preservation Education and Training Grants

Help the staff of cultural institutions obtain the knowledge and skills needed to serve as effective stewards of humanities collections. Grants also support educational programs that prepare the next generation of conservators and preservation professionals, as well as projects that introduce the staff of cultural institutions to recent improvements in preservation and access practices.


9 grants, totaling $2.5 million
National Endowment for the Humanities: Created in 1965 as an independent federal agency, the National Endowment for the Humanities supports research and learning in history, literature, philosophy, and other areas of the humanities by funding selected, peer-reviewed proposals from around the nation. Additional information about the National Endowment for the Humanities and its grant programs is available at neh.gov.