NEH Announces $30 Million for 238 Humanities Projects Nationwide
 
Grant awards support the preservation of historic collections, humanities exhibitions and documentaries, scholarly research, and educational opportunities for teachers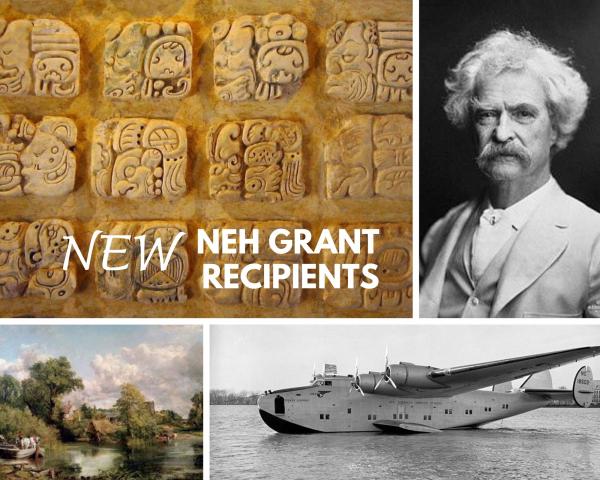 WASHINGTON, D.C. — The National Endowment for the Humanities (NEH) today announced $30 million in grants for 238 humanities projects across the country. These grants will make possible a national traveling exhibition and public programs at 20 libraries commemorating the 20th anniversary of the September 11, 2001, terrorist attack. NEH will also support continued editorial work on the collected papers of presidents George Washington, John Adams and John Quincy Adams, and James Monroe, as well as the papers of Mark Twain, Thomas Edison, and Jane Addams, and the multivolume Freedom, A Documentary History of Emancipation, 1861–1867. 
This round of funding, NEH's last for fiscal year 2020, will support vital research, education, preservation, and public programs in the humanities. These peer-reviewed grants were awarded in addition to $50 million in annual operating support provided to the national network of state and jurisdictional humanities councils. 
"These challenging times underscore how important the humanities are to making American culture and world history relatable across generations," said NEH Chairman Jon Parrish Peede. "NEH is proud to award hundreds of grants to keep our nation's scholars, students, teachers, and citizens moving forward in pursuit of new knowledge and understanding."  
Forty-six grants for summer seminars, institutes, and workshops will provide professional enrichment and research opportunities for K–12 schoolteachers and college faculty on topics ranging from the cultural legacy of the Federal Writers' Project and the history of Santa Fe and New Mexico's pueblos, to the Chinese-American experience in California and the life and writing of Zora Neale Hurston.  
Several projects receiving grants respond to NEH's A More Perfect Union initiative, which supports efforts that promote a deeper understanding of U.S. history and culture and advance civics education in preparation for the nation's 250th anniversary in 2026. A project at Newberry Library in Chicago will mark the semiquincentennial through a series of community programs examining the influence of the American Revolution in inspiring similar struggles for independence across Latin America. The Noah Webster House & West Hartford Historical Society in Connecticut will use an NEH grant to identify materials within its collection of Revolutionary-era records to digitize for use as classroom resources for the 2026 anniversary. Other grants will support the preservation of artifacts and archival materials at Plimoth Plantation, underwrite new interpretive tours at Old Sturbridge Village to engage visitors, and enable production of five television episodes for PBS's Poetry in America program. 
Significant NEH investment in the preservation of cultural heritage collections at archives, libraries, and museums will help protect the Amistad Research Center's extensive holdings on the history of African Americans from the 1780s to the present, and preserve a collection of over 600,000 historic objects, records, and artwork at the Autry Museum of the American West. Additional preservation grants will safeguard film footage documenting the events and people of Appalachia at Kentucky's Appalshop; preserve archives relating to the 1986 Challenger Space Shuttle disaster at the McAuliffe-Shepard Discovery Center in New Hampshire; upgrade storage conditions for heritage materials on the Miami people at the Myaamia Heritage Museum & Archive in Oklahoma; and protect important jazz history recordings, photographs, and memorabilia at Preservation Hall in Louisiana.  
Twenty-five new NEH Public Scholar grants, which support popular nonfiction books in the humanities, will enable publication of a new biography of poet Robert Frost; a book on the social, cultural, and political dimensions of World War II as told through the stories of passengers aboard the Pan Am airplane Yankee Clipper, which crashed in Lisbon in 1943; and a history of the women who shaped the Transcendentalist movement.  
Additional funding will support ongoing work digitizing newspapers published from 1690 onwards in Alaska, Alabama, Colorado, Maryland, Maine, and New Jersey for inclusion in Chronicling America, the online database of historic American newspapers housed at the Library of Congress.  
New NEH awards will support teams of scholars engaged in cutting-edge humanities research. Funded projects include an interdisciplinary investigation of the origins of writing in Mesoamerica informed by recent archaeological discoveries, and the use of computational linguistics to establish if unattributed editorials in the Brooklyn Daily Times were written by Walt Whitman. Researchers will use new NEH grants to create an online historical atlas of the communities connected to the copper mining industry in Michigan's Upper Peninsula between 1880 and 1950, and to uncover obscured and palimpsestic contents of a medieval book of chants through multispectral imaging.  
Other grants will underwrite work on documentary films, including an American Masters documentary on the life and legacy of conservative intellectual William F. Buckley Jr. Grants will also support two short documentaries on North and South Carolina's Rosenwald Schools, which educated black youth in the Jim Crow era.  
Awards for museum exhibitions will support "Crafting America," a traveling exhibition at Crystal Bridges Museum of American Art on American craft since 1940, a permanent exhibition on Yiddish language and culture at the National Yiddish Book Center, as well as an exhibition at the Detroit Historical Society examining life in the Motor City in the 1920s amidst a booming automobile industry and illicit alcohol trade.  
A full list of the 238 grants by geographic location is available here.  
NEH awarded grants in the following categories: 
Collaborative Research 

 

Support interpretive research undertaken by a team of two or more collaborating scholars that adds significantly to knowledge and understanding of the humanities 

 

10 grants, totaling $1.6 million 

Digital Humanities Advancement 

 

Support the implementation of innovative digital humanities projects that have successfully completed a start-up phase and demonstrated their value to the field 

 

16 grants, totaling $2.8 million 

Institutes for Advanced Topics in the Digital Humanities 

 

Provide scholars and advanced graduate students with the opportunity to deepen their knowledge of advanced technology tools and methodologies relevant to the humanities and to increase the number of humanities scholars using digital technology in their research 
 

5 grants, totaling $1.2 million 

 Landmarks of American History and Culture 

 

Support a series of one-week workshops for a national audience of K-12 educators that enhance and strengthen humanities teaching at the K-12 level 

 
 
11 grants, totaling $2.1 million 

Media Projects: Development and Production Grants  

 

Support film, television, and radio projects that explore significant events, figures, and ideas within the humanities. Development grants enable media producers to collaborate with scholars to develop humanities content and to prepare programs for production; production grants support the preparation of a project for presentation to the public 
 
7 grants, totaling $1.7 million 

 National Digital Newspaper Program 

 

 

Support the creation of a national, digital resource of historically significant newspapers published between 1690 and 1963, from all states and U.S. territories 

 
6 grants, totaling $1.4 million 

Preservation Assistance Grants for Smaller Institutions  

Help institutions—particularly small and mid-sized institutions—improve their ability to preserve and care for their humanities collections, including special collections of books and journals, archives and manuscripts, prints and photographs, moving images, sound recordings, architectural and cartographic records, decorative and fine arts, textiles, archaeological and ethnographic artifacts, furniture, and historical objects 
 
68 grants, totaling $639,093 

Public Humanities Projects: Exhibitions, Historic Places, and Humanities Discussions 

 

 Support museum exhibitions, discussion programs, and interpretations of historic places that bring the ideas and insights of the humanities to life for general audiences 
 
18 grants, totaling $2.6 million  

Public Scholars 

Support well-researched books in the humanities aimed at a broad public audience 

 

25 grants, totaling $1.4 million 

Scholarly Editions and Translations 

 

Support the preparation of editions and translations of texts that are valuable to the humanities but are inaccessible or available only in inadequate editions 

 

20 grants, totaling $4.4 

Short Documentaries 

Support production and distribution of documentary films up to thirty minutes that engage audiences with humanities ideas

 
2 grants, totaling $370,000 

Summer Seminars and Institutes for Higher Education Faculty 

 

Support intensive one- to four-week projects in which sixteen to twenty-five college and university faculty members, working with scholarly experts, engage in collegial study of significant texts and topics in the humanities 

 

11 grants, totaling $1.9 million 

Summer Seminars and Institutes for K-12 Educators 

 

 

Support intensive one- to four-week projects in which sixteen to thirty school teachers, working with scholarly experts, engage in collegial study of significant texts and topics in the humanities 

 

24 grants, totaling $3.6 million 

Sustaining Cultural Heritage Collections 

 

Support preventative conservation measures to prolong the useful life of collections to help cultural institutions preserve large and diverse holdings of humanities materials for future generations 

 

14 grants, totaling $1.9 million 
National Endowment for the Humanities: Created in 1965 as an independent federal agency, the National Endowment for the Humanities supports research and learning in history, literature, philosophy, and other areas of the humanities by funding selected, peer-reviewed proposals from around the nation. Additional information about the National Endowment for the Humanities and its grant programs is available at www.neh.gov.