Thirty Middle and High School Students Named National Endowment for the Humanities Scholars at 2017 National History Day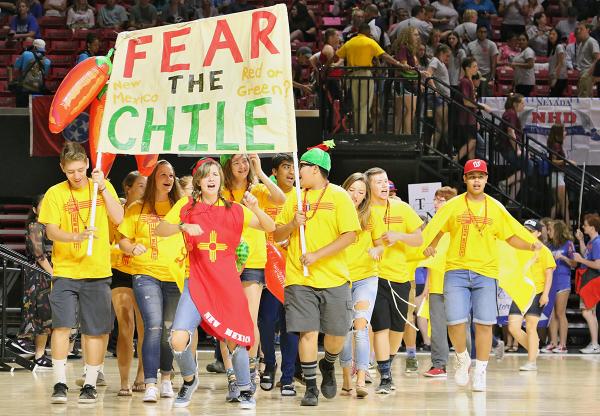 UPDATED
WASHINGTON, D.C. (June 23, 2017) — Thirty students took home top prizes sponsored by the National Endowment for the Humanities (NEH) at National History Day, a nationwide contest for middle and high school students that concluded June 15 at the University of Maryland, College Park.
Budding historians from Arizona, Arkansas, California, Colorado, Florida, Georgia, Massachusetts, Minnesota, Missouri, New Jersey, Oklahoma, Pennsylvania, Texas, and Washington were recognized as "National Endowment for the Humanities Scholars" for earning first place in a range of categories. And three students from Rhode Island and South Carolina received a special award from NEH for incorporating historic American newspapers into their National History Day projects. More than 3,000 students from around the country made it to National History Day finals.
The annual awards ceremony is the culmination of a yearlong academic program in which students in grades 6 to 12 conduct original historical research for papers, exhibits, websites, documentaries, and public performances. This year more than a half million students submitted National History Day entries on the theme of "Taking a Stand in History" at local, regional, and state competitions for a chance to win a spot at the national finals.
NEH has supported National History Day since the program began in the 1970s. NEH grants were instrumental in helping National History Day grow from a pilot start-up project in Ohio into a national program that now operates in all 50 states, the District of Columbia, U.S. territories, and in international schools in China, Korea, and South Asia. Winners are selected by volunteer judges, including history teachers and others. NEH does not judge the projects or select the winners. (For information on the contest, please consult the National History Day website.)
In addition to 18 first-place prizes, NEH sponsors National History Day prizes for the best use in a student project of Chronicling America—a searchable online database of historic U.S. newspapers, digitized through a partnership between NEH and the Library of Congress. EDSITEment, NEH's educational website, has created a set of online resources around Chronicling America to assist students and educators in using the newspapers in historical research.
The following students received National Endowment for the Humanities Scholar awards from NEH Acting Chair Peggy Plympton at today's awards ceremony.  Winners in other categories received prizes from a host of other sponsors. Students in grades 6 to 8 compete in the "junior" division; those in grades 9 to 12 in the "senior" division.
Junior Individual Exhibit:
Maya Moise from American Heritage School in Davie, Florida
Project: Service Not Servitude
Senior Individual Exhibit:
Hannah Scott from Odessa High School in Odessa, Missouri
Project: The Safekeepers of History: A Monumental Stand for Cultural Preservation During the Second World War
Junior Group Exhibit:
Braxton Thompson, Kenzi Nix, and Kylie Nix from Canton High School in Oakwood, Oklahoma
Project: Labor Reform Fueled by Fire
Senior Group Exhibit:
Creed King and Katherine Powell from Leon High School in Tallahassee, Florida
Project: "LAW. NOT WAR." Benjamin Ferencz's Lifelong Stand for Peace Through Justice
Junior Individual Documentary:
Melinda Chen of Thomas R. Grover Middle School in West Windsor, New Jersey
Project: Taking the Road Less Travelled: Rachel Carson's Stand Against DDT Sparks an Era of Environmental Consciousness
Senior Individual Documentary:
Ian Kavanaugh from Mansfield High School in Mansfield, Massachusetts
Project: Schoolhouse Speech: Taking a Stand in Tinker v. Des Moines
Junior Group Documentary:
Ananya Nandula, Ananya Ganapathi, and Layasri Ranjith from Evergreen Middle School in Sammamish, Washington
Project: The Tuskegee Airmen: Courage Knows No Color
Senior Group Documentary:
Venkata Panabakam, Sidra Nadeem, and Denise Martinez from Rogers New Technology High School in Rogers, Arkansas
Project: Standing with the Voiceless: The Life and Legacy of Archbishop Oscar Romero
Junior Individual Performance:
Max Mateer from Gulf Breeze Middle School in Gulf Breeze, Florida
Project: Two Goats on a Bridge and a Torpedo Underneath
Senior Individual Performance:
Erin Lowe from Pembroke Hill School in Kansas City, Missouri
Project: Suffrajitsu: The Women Who Fought Back
Junior Group Performance:
Madeleine Broussard and Brandon Broussard from Gentry Junior School in Baytown, Texas
Project: Fanning the Flame and Inspiring the Fourth
Senior Group Performance:
Sydney Fox, Allison Hodge, and Matthew Clark from Buchanan High School in Clovis, California
Project: Solidarity: The Polish People Take a Stand for Freedom
Junior Paper:
Ingrid Mundt from Capitol Hill Magnet School in Saint Paul, Minnesota
Project: Margaret Sanger, Taking a Stand for Birth Control
Senior Paper:
Stephanie Reitzig from Niwot High School in Longmont, Colorado
Project: "By the Code of Humanity": Ralph Carr Takes a Stand for Japanese American Rights in World War II
Junior Individual Website:
Saba Shakir from New Vistas Center for Education in Chandler, Arizona
Project: Tinker v. Des Moines: The Silent Stand
Senior Individual Website:
Joanna Harlacher from Donegal High School in Mount Joy, Pennsylvania
Project: Beyond the Cardigan
Junior Group Website:
Sophie Mullaney and Alexander Szymanski from Midtown International School in Atlanta, Georgia
Project: Calling the Shots: Taking a Stand Against the Speckled Monster
Senior Group Website:
Hannah Doyle and Zachary Matson from Delta High School in West Richland, Washington
Project: Mother Jones: Marching with the Mill Children
NEH Acting Chair Plympton also awarded two National Endowment for the Humanities Chronicling America: Historic American Newspapers Prizes to:
Phoebe White and Andrew Cavanagh from St. Peter's School in Rhode Island
Project: Mother Jones: Taking a Stand with the Miners (Junior Group Documentary)
Julia Breitkreutz from Northwestern High School in South Carolina
Project: Nellie Bly Undercover: The Reporter Who Dared to Go Behind the Scenes (Senior Individual Performance)
A list of all 2017 National History Day winners is available at https://www.nhd.org/winners.