National Endowment for the Humanities and Cultural Preservation After Hurricane Katrina
A look at NEH's work in cultural preservation and disaster relief on the tenth anniversary of Hurricane Katrina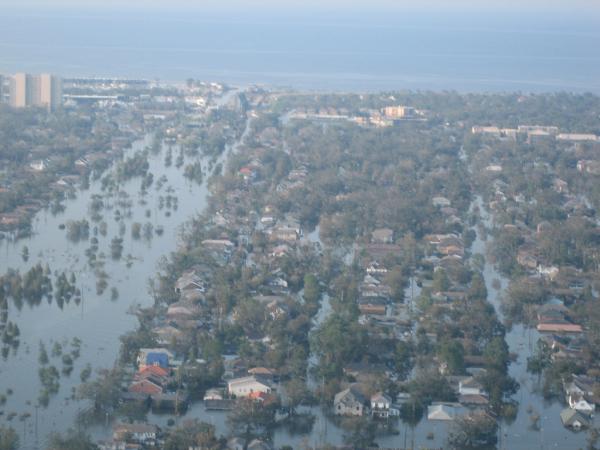 As part of its mission, the National Endowment for the Humanities works to preserve and provide access to the nation's unique cultural heritage materials. In the wake of Hurricane Katrina, NEH grants helped salvage and protect valuable historical documents, artworks, archival records, and museum collections in New Orleans and the Gulf region from damage by water and mold so that these cultural treasures remain available to future generations.  
As the country reflects on the tenth anniversary of Hurricane Katrina, NEH offers the following information about the National Endowment's work in cultural preservation and disaster recovery and preparation at heritage sites in the Gulf States and around the country:
Between 2005 and 2007, the National Endowment for the Humanities (NEH) provided over $2 million to more than 40 Gulf State humanities councils, museums, historical sites, libraries and educational institutions to help salvage and preserve the region's cultural heritage and better protect it against future disasters.
Within days of Hurricane Katrina's landfall, the National Endowment for the Humanities created a special initiative for hurricane relief projects, awarding more than $1 million in emergency grants within the first nine months to more than 40 institutions to preserve books, archival records, manuscripts, art, and cultural artifacts damaged by Hurricanes Katrina and Rita and the flooding that followed.
These emergency grants allowed the New Orleans Museum of Art to relocate the museum's collection of 2,000 artworks, including pieces by Paul Gaugin, Claude Monet, and Andy Warhol, from flooded storage to safe, climate-controlled conservation facilities. They helped protect a collection of oral histories and memorabilia documenting the lives and work of Medgar Evers and Martin Luther King, Jr and the civil rights movement at Tougaloo College in Mississippi. They preserved historical documents and artifacts from Beauvoir, the Jefferson Davis Home and Presidential Library in Biloxi, Miss. And they allowed Tulane University in New Orleans to clean, treat for mold, and remove water from its archive of records on women in the South in the 18thcentury.
In addition to disaster-relief work in response to catastrophes like Hurricane Katrina, the National Endowment for the Humanities has a long history of work in helping museums, libraries, and archives in disaster planning and preparedness. The agency's Division of Preservation and Access supports training for cultural heritage professionals in emergency preparedness and response, and has funded widely-used resources such as a "Field Guide to Emergency Readiness and Response," water remediation instruction videos, and the distribution of 45,000 Emergency Response and Salvage Wheels outlining critical stages of disaster response. NEH has also awarded grants to enable the development of an online Disaster Response Resource Center and Alliance for Response forums in twenty-four cities to bring together emergency responders and cultural heritage representatives before disaster strikes.