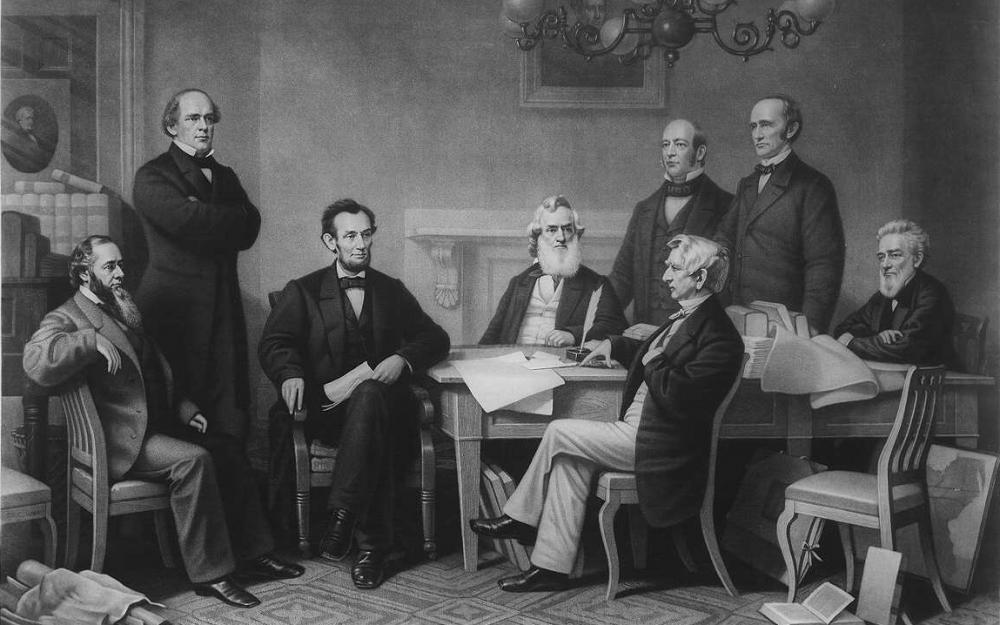 Abraham Lincoln's role in the eradication of slavery in nineteenth-century America and the specifics of his views on racial equality have always attracted controversy. While some celebrate him as the "Great Emancipator," others consider him an antislavery moderate who found himself with little choice but to embrace emancipation to appease his abolitionist supporters.
In the Lincoln-Douglas debates of 1858, just five years before he signed the Emancipation Proclamation, Lincoln said he could accept the continuance of slavery for another one hundred years so long as the institution was on its way to extinction. Other comments in the same year suggest his opposition to equal rights for African-Americans. Yet only seven years later, just days before his death, he declared his support for citizenship of African-American men.
Such contradictory statements and actions seem to call for a reexamination of Lincoln's thoughts about slavery and an NEH-supported traveling exhibition, "Forever Free: Abraham Lincoln's Journey to Emancipation," does precisely that.
The exhibition consists of reproductions of rare historical documents – from the collections of the Huntington Library in California and the Gilder Lehrman Institute of American History in New York – which illuminate Lincoln's thoughts on slavery throughout his political career. The exhibit is organized by John Rhodehamel, Norris Foundation Curator of American Historical Manuscripts at the Huntington Library, and by the American Library Association's Public Programs Office, with grants from NEH and the Abraham Lincoln Bicentennial Commission.
According to its curator, "Forever Free" tells the story of how "Lincoln, a gradualist who had rejected immediate abolition, became the president who abruptly abolished slavery." The exhibition suggests that the notion that Lincoln was a reluctant abolitionist is false; it argues, instead, that Lincoln purposefully concealed the depth of his commitment to ending slavery in order to negotiate a delicate political balance.
From that perspective, Lincoln needed the support of northerners with bitter prejudices against African-Americans. Thus, regardless of his personal beliefs, a president whose ultimate responsibility was the union of country could not ignore these prejudices. Rather than alienate his supporters, Lincoln quieted their fears by publicly supporting such notions as colonizing African-Americans in Liberia, while working steadily towards emancipation. Of course, advancing such notions won him little favor among his abolitionist and African-American followers; and it is this slippery slope of political strategy that the exhibit aims to highlight.
Six thematic sections make up the exhibition, with each section consisting of a panel running seventy-five feet in length and containing reproductions of rare historical documents, period photographs, and illustrative material. The sections are organized chronologically and begin with "Young Lincoln's America," which introduces visitors to the contradictory legacy of freedom and slavery present at the founding of the United States, followed by "The House Dividing," which covers Lincoln's political career up until his election as president in 1860.
The next section, "War for the Union," documents Lincoln's attempts to prevent secession and Civil War. It is followed by "A New Birth of Freedom," which examines Lincoln's Emancipation Proclamation. The fifth section, "War for Union and Freedom," examines the role of African-American fighting men in the Civil War. The exhibition ends with an examination of the final months of the war and Lincoln's life in the section "Legacies."
"Forever Free" originally ran on a forty-library tour that ended in November 2006. Sixty-three libraries were selected to host a new tour which began in September 2006 and will end in October 2011. The exhibition is available for public viewing and there will be a number of accompanying educational programs and receptions. For a view of the new tour itinerary, click here.