Father Columba Stewart Named the 2019 Jefferson Lecturer in the Humanities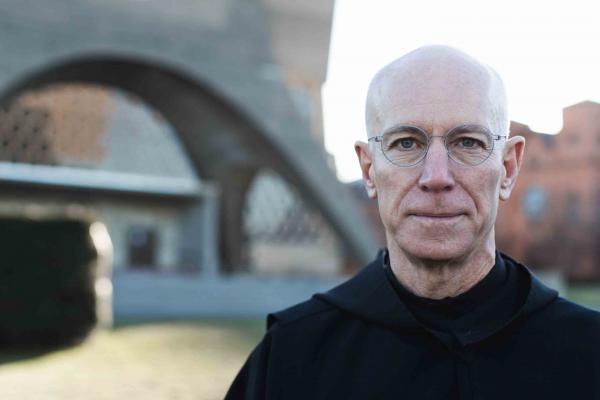 WASHINGTON, D.C. — Father Columba Stewart, OSB, Benedictine monk, scholar of early religions, and executive director of the Hill Museum & Manuscript Library (HMML) at Saint John's University in Collegeville, Minnesota, will deliver the 2019 Jefferson Lecture in the Humanities.
The lecture is the highest honor the federal government bestows for distinguished intellectual achievement in the humanities.
The National Endowment for the Humanities (NEH), a federal agency created in 1965, selects the lecturer through a formal review process that includes nominations from the general public. NEH awards more than $125 million annually in grants that support understanding and appreciation of cultural topics including art, ethics, history, languages, literature, law, music, philosophy, religion, and others. The Jefferson Lecture in the Humanities is the agency's signature annual public event.
Stewart will deliver the lecture, titled "Cultural Heritage Present and Future: A Benedictine Monk's Long View," on Monday, October 7, at the Warner Theatre in Washington, D.C., at 7:30 p.m. The lecture is free and open to the public and will stream online at neh.gov.
"A 'Monument Man' of our time, Father Columba Stewart has dauntlessly rescued centuries' worth of irreplaceable cultural heritage under threat from around the world," said NEH Chairman Jon Parrish Peede. "In doing so, he and his colleagues have helped preserve the records of the religion, art, literature, culture, and knowledge of distant eras of human history so that we may celebrate and learn from those that came before us."
Stating that he was "deeply humbled" by his selection, Stewart replied, "It is an extraordinary moment in our nation's intellectual life, and one in which a keener sense of the wisdom and experience of the past, critically interpreted, has much to offer."
Dubbed "the monk who saves manuscripts from ISIS," by Atlantic magazine, Stewart has spent 15 years working with international religious leaders, government authorities, and archivists to photograph and digitize ancient to early-modern religious manuscripts, especially those at risk due to war, strife, or economic uncertainty.
Stewart has traveled to the Middle East, Africa, Eastern Europe, the Caucasus, and South Asia to partner with local communities to photograph historic handwritten books and documents in their original context. His work has taken him to some of the world's most volatile regions, including Syria, Iraq, and the Balkans, to safeguard centuries-old sacred documents from a variety of religious traditions as well as nonreligious texts that record vital aspects of history and culture. In 2013, Stewart forged a partnership in Mali to digitize more than 250,000 ancient Islamic manuscripts and books rescued from Timbuktu.
Since becoming executive director of HMML in 2003, Stewart has striven to make these documents available to a wide public, aided in part by grants from the National Endowment for the Humanities. In 2015 HMML launched an online reading room to give visitors access to the library's growing digitized collection of more than 250,000 handwritten books and 50 million handwritten pages, the world's largest digital collection of ancient manuscripts.
A scholar of early Christian monasticism, Stewart holds a bachelor's degree in history and literature from Harvard University, a master's in religious studies from Yale University, and a D.Phil. in theology from Oxford University. Stewart has published extensively on ancient Christianity, monasticism, and manuscript culture, including Working the Earth of the Heart: the Messalian Controversy in History, Texts and Language to 431 (Oxford: Clarendon Press, 1991), Cassian the Monk (Oxford University Press, 1998), Prayer and Community: the Benedictine Tradition (Orbis Books, 1998), and a wide range of essays and articles.
In 2009–10, Stewart was the recipient of a year long fellowship from NEH and a residential fellowship in Byzantine Studies at the Dumbarton Oaks Research Library and Collection in Washington, D.C. He held a residency at the Institute for Advanced Study in Princeton in 2016–17, and was awarded a 2016 Guggenheim Fellowship for work on his current book, Between Earth and Heaven, a study of the origins and first centuries of Christian monasticism across several cultures. He is active in ecumenical dialog as a member of the International Joint Commission for Theological Dialogue between the Catholic Church and the Oriental Orthodox Churches, and teaches monastic studies at Saint John's School of Theology and Seminary. A resident scholar of the Collegeville Institute for Ecumenical and Cultural Research since 2018, he is also a Phi Beta Kappa Visiting Scholar in 2019–20, sharing his research and HMML's work with college and university audiences across the country.
Stewart professed vows as a monk at Saint John's Abbey in 1982, and was ordained to the priesthood in 1990. Much of his work in preserving ancient religious texts is informed by Benedictine tradition.
NEH's Jefferson Lecture is the Endowment's most widely attended annual event. Past Jefferson Lecturers include Rita Charon, Martha C. Nussbaum, Ken Burns, Walter Isaacson, Wendell Berry, Drew Gilpin Faust, John Updike, Henry Louis Gates Jr., Toni Morrison, Barbara Tuchman, and Robert Penn Warren. The lectureship carries a $10,000 honorarium, set by statute.
Tickets to the lecture are free of charge and distributed on a first-come, first-served basis. Tickets will be available starting on September 4, at www.neh.gov or (202) 606-8340.  
 
Sign up to receive news about NEH's Jefferson Lecture.
Engage or follow the Jefferson Lecture social conversation: 
Facebook: National Endowment for the Humanities
Twitter and Instagram: @NEHgov | #jefflec19