Climate Change
Updated environmental controls to help the Winterthur develop new strategies for preserving cultural collections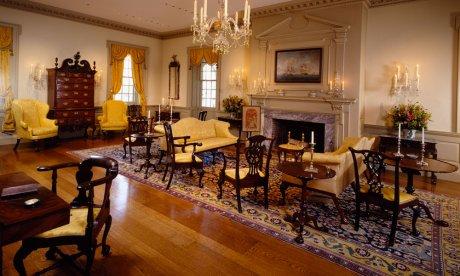 Delaware's Winterthur Museum, Garden & Library houses nearly 90,000 fine and decorative art objects made or used in America between 1640 and 1860 and an important research library —the legacy of its founder, Henry Francis du Pont, the collector, horticulturalist, cattle-breeder and heir to the industrialist du Pont family, who spent a lifetime amassing one of the foremost collections of American decorative arts.
Among the museum's treasures are: choice examples of Queen Anne chairs and Chippendale chests of drawers, a self-portrait in pastels by John Singleton Copley, a dramatic spiral staircase transplanted from the Montmorenci mansion in North Carolina, George Washington's Order of Cincinnati dinner service, the rescued façade of a three-story Delaware inn, six matching Paul Revere tankards, and a carved wooden Empire sideboard that once belonged to Andy Warhol.
As in any museum, maintaining such a large and varied collection presents significant challenges. The natural fragility of aging objects can be exacerbated by sunlight, humidity, and changes in temperature.  At Winterthur—where heating and cooling systems that were cutting-edge in the 1960s have grown antiquated and, in some cases, are no longer supported by their manufacturers – conservators had discovered that low winter humidity was turning rugs brittle, while pockets of damp were causing the metal hangers on curtains to rust.  A rare Chinese lacquered table flaked in dry conditions and had to be removed from display.
To address these issues, the Winterthur was recently awarded a $350,000 NEH Sustaining Cultural Heritage Collections grant to update Winterthur's heating, ventilation, and air-conditioning monitoring and control system. The grant, which will be matched two-to-one by Winterthur, will provide for the installation of wireless control systems that will allow museum facility managers to monitor and control—in real time— the temperature and humidity in each of the museum's 175 rooms.  Once new networked sensors are in place, museum staff will be able to adjust for changing weather conditions, observe and respond to the needs of individual displays, and address microclimates within the museum caused by differences in building materials, layout, and building grade levels.
In addition to stabilizing this valuable collection, the new control systems will both reduce Winterthur's environmental footprint and create significant savings. According to Dr. David Roselle, Winterthur Director, the upgrades will save the museum 13% of its energy costs, which currently range between $900,000 and $1.1 million a year. These savings, he noted, can be re-invested in Winterthur's public programming, research, collection care and maintenance.
 At an August 29th press conference announcing the grant, Winterthur's two-year effort to maximize its energy efficiency was lauded for its wide-ranging benefits. "This project reduces greenhouse gas emissions, reduces dependence on fossil fuels, saves money and also preserves this treasure, " said Delaware Senator Tom Carper. "I like to talk about two-fers, that's at least a four-fer."  
As important as the new monitoring system will be to the preservation of du Pont's collection, it will provide significant guidance for the field of conservation.  A project partner, the Image Permanence Institute, plans to make new technology applications available to institutions across the country and as the Winterthur fine-tunes its operations in response to new environmental  information, it will disseminate these new energy-efficient protocols through lectures and publications. Additionally, it is expected that many of the graduates of Winterthur's well-known conservation and curatorial graduate education programs with the University of Delaware will take with them to their future institutions knowledge of new methods of monitoring and managing collections gained from working with the new environmental controls.
The effect will be transformative, said Delaware Senator Chris Coons "not just on this building, not just on this place, but on how all conservation-oriented collections of historic materials of this kind are managed and operated in the United States and around the world."
It is hoped that as it dials down its energy use, Winterthur may serve as an example for other museums and archives, said Dr. Nadina Gardner, Director of NEH's Division of Preservation & Access.  "Smaller cultural heritage institutions rely on leaders like the Winterthur to point the way," she said. "Winterthur's thorough preparation, its use of innovative technologies, and its plans to monitor the project's results and measure energy savings will make this project an important model for the cultural heritage community."
The Sustaining Cultural Heritage Collections grant to Winterthur was one of 244 NEH awards announced in July. The Winterthur Museum, Garden & Library is the recipient of a number of other NEH grants, including Fellowship Programs at Independent Research Institutions awards, and an NEH Challenge Grant to establish an endowed position for a Director of Conservation at the museum.