Human/Ties 2016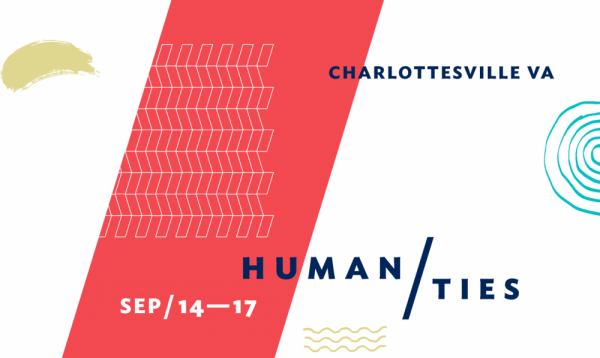 Be part of the conversation and engage with us on social media. Take part in the digital conversation about the power of the humanities.
How do the humanities help us make sense of the world today?
Answer this question on video! Please record a short (1 minute or so) video of yourself and your answer. Upload it to social media using #humanities2016.
Click here for more information on taking part in the activation. 
NEH Facebook livestreamed 6 events at Human/Ties:
Meet Your New History Teacher, Beyonce (link no longer available)
Culture Report: An Interview with Jeffrey Brown and Michele Norris (link no longer available)
Farming the Earth, Cultivating Humanity 
United States of Contradictions: Writing About America (link no longer available)
Monticello livestreamed their event on 9/17 
Memory, Mourning, Mobilization: Legacies of Slavery and Freedom in America
Human/Ties was a four-day celebration of the 50th Anniversary of the National Endowment for the Humanities that honored the organization's rich history and brought together leading scholars and artists from around the country. 
This forum on the public humanities, which took place September 14-17 and was hosted by the University of Virginia in Charlottesville, Virginia, featured lectures, panel discussions, performances, screenings, and workshops by scholars, writers, artists, poets, cultural experts, and more––all considered how the humanities can help us make sense of our increasingly interconnected and complex world.  All events were free and open to the public.
Highlights include:
A public summit, "Memory, Mourning, Mobilization: The Legacy of Slavery & Race in America", on Saturday, September 17th, hosted by the Thomas Jefferson Foundation at Monticello.
"Doubting Democracy?" featuring BackStory with the American History Guys on Wednesday, September 14th.
Podcasts: Reinventing Story Telling featuring Jamelle Bouie, Patrick Cox, and Lulu Miller on Friday, September 16th.
A panel discussion, Farming the Earth, Cultivating Humanity with Alice Waters at The Haven on Friday, September 16th. 
Workshop titled Outside the Ivory Tower: Reading for Life with Lela Hilton, Angel Ysaguirre, Stuart Rockoff, and Greg Fairchild on September 15th. 
Speakers included:
Ed Ayers has received a presidential appointment to the National Council on the Humanities, served as a Fulbright professor in the Netherlands, is President Emeritus of the University of Richmond, and been elected to the American Academy of Arts and Sciences. He was awarded the National Humanities Medal in 2013 by President Obama. Read a Humanities article written by Ed Ayers HERE. 
Sarah Colt is an independent documentary filmmaker who has been working in public television for nearly two decades.  Most recently, and with the help of an NEH grant, she directed and produced Walt Disney, a four-hour biography, which aired in September 2015 on PBS's national history series AMERICAN EXPERIENCE. Read about Sarah's NEH grants HERE. 
Henry Louis Gates is the Alphonse Fletcher University Professor and Director of the Hutchins Center for African and African American Research at Harvard University. Emmy Award- winning filmmaker, literary scholar, journalist, cultural critic, and institution builder, Professor Gates has authored seventeen books and created fourteen documentary films. Gates was the 2002 NEH Jefferson Lecturer in the Humanities and received a National Humanities Medal in 1998. Read a Humanities article on Henry Louis Gates HERE and a conversation with him HERE. 
Stanley Nelson is an Emmy Award-winning documentary filmmaker, MacArthur "genius" Fellow, and member of the Academy of Motion Picture Arts and Sciences. He was awarded the National Humanities Medal by President Obama in August 2014. Nelson has received many NEH grants to create his films, including Freedom Riders and Freedom Summer. Read more about Stanley Nelson HERE. 
Alice Waters, National Humanities Medalist, chef, author, and the proprietor of Chez Panisse, is an American pioneer of a culinary philosophy that maintains that cooking should be based on the finest and freshest seasonal ingredients that are produced sustainably and locally. Read more about Alice Waters HERE. 
Annette Gordon-Reed is Charles Warren Professor of American Legal History at Harvard Law School and Professor of History in the History Department. Gordon-Reed won the 2008 Pulitzer Prize for History and 15 other prizes for her book, The Hemingses of Monticello: An American Family. In 2010 she received the National Humanities Medal and was named a MacArthur Fellow.
Nikki Silva is a radio producer and museum curator from Santa Cruz, California. Over the past twenty years, Silva has worked as history curator at the Museum of Art and History in Santa Cruz, California, and as a freelance curator and exhibit consultant specializing in regional history. She is one half of the Peabody Award winning public radio team, the Kitchen Sisters.
Davia Nelson is one half of the Peabody Award winning public radio team, the Kitchen Sisters. In addition to producing radio, Nelson is a screenwriter and casting director. She lives in San Francisco.Together with Nikki Silva, she has created more than 200 stories for public broadcast about the lives, histories, art and rituals of people who have shaped our diverse cultural heritage.
Lela Hilton is the National Program Director of The Clemente Course in the Humanities and the Academic Director of the Bard College Jefferson Clemente Course. The Clemente Course offers free college courses in the humanities to students who have been marginalized by economic hardship and adverse circumstances.
Film Screenings: 
Six Months that Changed America: Freedom Riders School Screening - September 15 @ 10:00 AM - 12:00 PM 
History on the Silver Screen: Student Film Competition Screening - September 15 @ 6:00 PM - 7:00 PM
Six Months that Changed America: Freedom Riders Film Screening - September 15 @ 8:00 PM - 10:00 PM