Public Scholars
Grant Snapshot
Maximum award amount
$5,000 per month
Period of performance
Six to twelve months
Expected notification date
Contact the Division of Research Programs Team
202-606-8200
If you are deaf, hard of hearing, or have a speech disability, please dial 7-1-1 to access telecommunications relay services.
The Public Scholars program offers grants to individual authors for research, writing, travel, and other activities leading to the creation and publication of well-researched nonfiction books in the humanities written for the broad public. Writers with or without an academic affiliation may apply, and no advanced degree is required. The program encourages non-academic writers to deepen their engagement with the humanities by strengthening the research underlying their books, and it encourages academic writers in the humanities to communicate the significance of their research to the broadest possible range of readers. NEH especially encourages applications from independent writers, researchers, scholars, and journalists.
What's New for 2022
Changes since last year include the following:
The deadline has been moved up from mid-December to November 30.
The rules about the length and format of the required writing sample have been revised.
Two new sample applications have been posted (see below, under the bold heading "Sample Application Narratives").
The program continues to offer special encouragement to independent writers, researchers, and scholars and others who have no long-term affiliation with an academic institution.
Watch a Recording of the Online Information Session
A live online information session was held on Wednesday, October 12, 2022. The session explained the goals of the NEH's Public Scholars program, the eligibility requirements, how to apply, how applications are reviewed, and how to write an effective application.
To watch a recording of the session, please click here or on the image below. The main presentation is about thirty minutes long. It is followed by a thirty-minute question and answer period. The recording will remain available through the November 30, 2022 application deadline.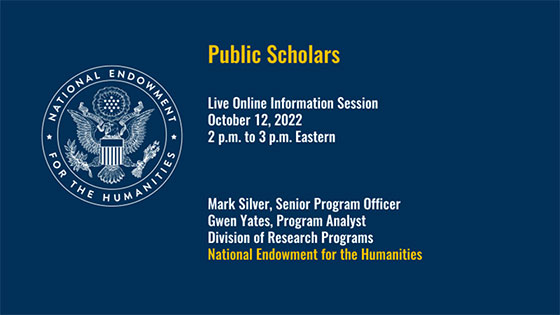 Review
your application package
Register
for an account on Grants.gov
A Grants.gov account is vital to the grants process; register as soon as you know you are going to apply for this grant. If you are already registered, make sure your registration is current.
Complete
your application package
Follow the instructions outlined in the Notice of Funding Opportunity and Grants.gov instructions.
Submit
your application package on Grants.gov
You will receive a confirmation from Grants.gov when you've successfully submitted your application. 
Verify
you have received email messages from Grants.gov
After you submit your application, Grants.gov will send you up to five e-mail messages confirming receipt of your application. These messages represent different stages in the application acceptance process. You should verify that you have received all confirmation messages. Please note that email filters may send these messages to your spam or junk folder.
Monitor
the status of the submission of your letters of recommendation
The Public Scholars program staff will request letters of reference from your recommenders on or about January 9 (a little over one full month after the application deadline). You will be notified by e-mail when each of your letters of reference has been received. After you have received the fifth message from Grants.gov (confirming that NEH received your application), you may check the status of your letters by logging in to the secure area of NEH's website. Enter your NEH application number and your Grants.gov tracking number. You will be able to see the names and e-mail addresses of your letter writers and whether their letters have arrived. If necessary, you may send reminders to your letter writers (including the upload link) from this site. You are responsible for ensuring that your letter writers have received the solicitations from NEH and submitted their letters.
Program Statistics
This grant has been awarded for
7
Years
NEH received an average of
267
Applications
per year
This program has a
9%
Funding Ratio
NEH made an average of
25
Awards
per year
Examples of Projects Funded by this Grant Program