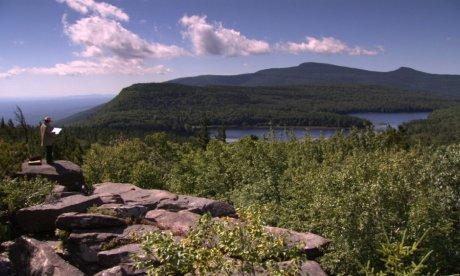 PLEASE NOTE: This exhibition has passed.
For over two centuries after their arrival, European Americans viewed the continent's untamed lands as an unknown to be feared and conquered.  But in the summer of 1825, a young painter named Thomas Cole (1801–1848) traveled up the Hudson River to spend a month sketching in the Catskill Mountains. What he conceived there not only transformed the way American artists depicted nature and generated the United States' first major art movement but also became a powerful expression of  a youthful nation's  growing cultural self-confidence. Today, Cole is revered as the founder of what later became known as the Hudson River School of painting, which in time was to include such famous members as Asher B. Durand, Frederick Church, and Albert Bierstadt.  Thomas Cole's story is explored in the traveling exhibition titled Wild Land, Thomas Cole, and the Birth of American Landscape Painting.
At the time Cole set out to create a distinctly American art that might equal the grand European tradition of allegory and history painting, the artists, writers, and musicians in the United States still labored under a prevailing assumption of national cultural inferiority.  As a young country, we lacked the illustrious past, the artistic heritage, and long established cultural institutions that ennobled the arts of Europe. What we had that the Old World lacked was a vast amount of untouched land, primal and fresh—an unspoiled potential Eden brimming with resources capable of fueling all sorts of new beginnings.  Cole's genius lay in expressing the majesty, power, and divinity of America's wilderness through drama: strong contrasts of light and dark, extraordinary skies, unnerving storms, trees blasted by lightening or wind, jagged cliffs, deep thunderous waterfalls, or vistas seen from high vantage points.  Here was towering strength: wild landscapes enough to inspire our pride as a people.  His pastoral scenes show land that has been properly tamed and made productive. But as settlement spread westward and railroad lines cut through his beloved Catskills, Cole warned of the spiritual loss of America's natural "heritage" and the moral perspective gained in the presence of nature's grandeur and complexity. He wrote: "I cannot but express my sorrow that the beauty of such landscapes are quickly passing away—the ravages of the axe are daily increasing—the most noble scenes are made desolate, and oftentimes with a wantonness and barbarism scarcely credible in a civilized nation. We are still in Eden; the wall that shuts us out of the garden is our own ignorance and folly."
Wild Land is one of several exhibitions that circulated under the NEH on the Road program, which extends the life of some of the large exhibitions we support by downsizing them into smaller versions suitable for display in medium-sized cultural organizations.  Additional information about our NEH on the Road offerings can be found at nehontheroad.org.