Blog
Spanish Immigrant Transforms America's Urban Architecture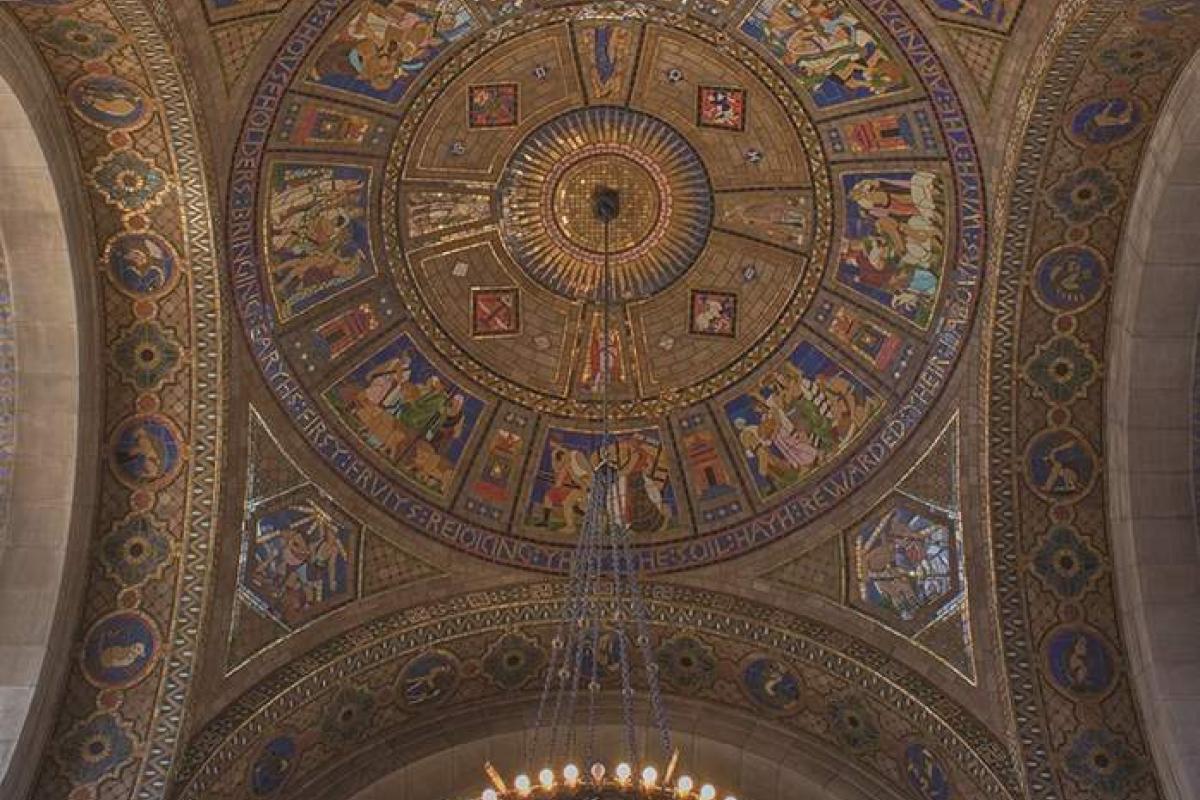 PLEASE NOTE: THIS EXHIBITION IS NO LONGER CURRENT. 
Explore the history, engineering, and artistry of Raphael Guastavino in an exhibition currently on view at the National Building Museum, Washington, DC, through January 20, 2014.  Over 200 Guastavino structures were built in New York City, including the registry hall at Ellis Island, the main entrance to Carnegie Hall, and the Oyster Bar at Grand Central Station. The National Building Museum exhibition highlights structures in Washington, DC, including the U.S. Supreme Court, the Baird Auditorium, and main hall of the National Museum of Natural History. The distinctive Guastavino vaulted ceilings employed lightweight, fireproof tiles and were remarkably strong, economical, and artistically exquisite. Although the building techniques were based on fourteenth-century methods he learned from master builders in Spain, Guastavino was the first to bring the engineering process to the United States when he immigrated in 1881. Over the years, Raphael Guastavino and his family company, the Guastavino Fireproof Construction Company, built more than one thousand buildings in eleven countries, more than 600 of which survive today.
The exhibition features a specially constructed, half-scale replica of a Boston Public Library ceiling vault, the first major work by Rafael Guastavino. The replica was constructed by masons from the International Masonry Institute, the International Union of Bricklayers & Allied Craftworkers, and MIT architecture and engineering students. A short film documents the construction of the vault and provides a detailed understanding of the technique. In addition, a slideshow features an in-depth look at iconic Guastavino buildings from their original drawing through construction to contemporary views. The exhibition also includes historic drawings, photographs, and objects, along with newly commissioned photographs by London photographer Michael Freeman to help make the art, engineering, and the immigrant story come alive for today's audiences.

Palaces for the People was conceived and organized by Professor John Ochsendorf, Department of Architecture, Massachusetts Institute of Technology. A 2008 John D. and Catherine T. MacArthur Fellow, Dr. Ochsendorf is the author of Guastavino Vaulting: The Art of Structural Tile published by Princeton Architectural Press in 2010.The exhibition designers are C&G Partners of New York. The exhibition debuted at the Boston Public Library.  The exhibit will be on view at the Museum of the City of New York in 2014.
For further reading, see the NEH Humanities Magazine feature article about the exhibition.
*They were all located in buildings with Guastavino vaulting.