Blog
More Prizes for Mission US
The Mission US game combines serious scholarship in American history with compelling and engaging gameplay and art direction, giving players a chance to experience history through first-person characters who must navigate events and periods central to the nation. On April 23, 2014, at NYU's Skirball Center for the Performing Arts, the 2014 Games for Change Festival honored the latest installment in the multi-part game, Mission US: Cheyenne Odyssey, co-produced by WNET/Thirteen,American Social History Project and Electric Funstuff, with its Most Significant Impact Award. The award, selected by a panel of experts from the academia, the gaming industry and philanthropy, is given to video games targeted at specific social issues with proven actions and outcomes.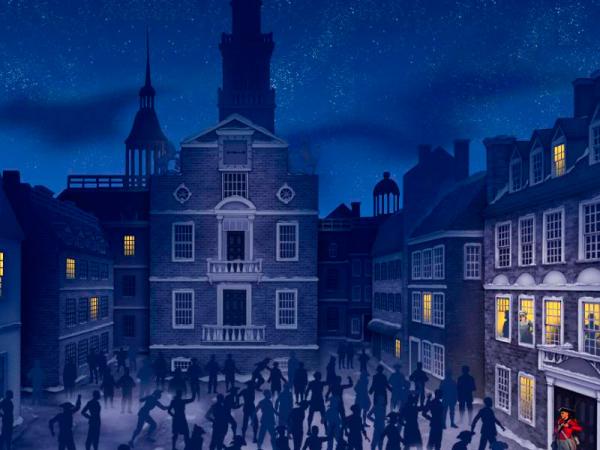 Constructed in consultation with leading scholars of U.S. history and Cheyenne tribespeople, Mission US: Cheyenne Odyssey tells the story of Little Fox, a young Cheyenne tribesman trying to adapt to a life on the Plains increasingly challenged by U.S. western expansion and the rapidly growing railroad system.  The game builds upon the Division of Public Programs-funded Mission US: For Crown and Colony, which asks players to choose sides during the American Revolution, and Mission US: Flight to Freedom, in which players must help a 14-year-old slave escape Kentucky via the Underground Railroad. Both NEH-funded games received their share of accolades, with honors ranging from NETA's 2011 and 2012 for Classroom Content in Instructional Media and the 2012 International Serious Play Award's Gold Medal in Education.
With over 700,000 registered players across all 50 states, Mission US represents a vibrant new model of public humanities engagement, with players young and old experiencing the game in both formal and informal educational settings. As Jill Peters, Executive Producer of the Mission US series attests, the NEH's role in funding the project in its early stages was crucial in working towards this goal.  "In addition to helping fund the growth of Mission US", Peters states, "NEH support has provided a valuable stamp of approval to our project.  Having the NEH logo on the Mission US website signifies that the historical content has been rigorously researched by leading scholars.  This has helped convince thousands of teachers across the country to use our serious game and transform the way their students learn American history."
Recognizing the potential for humanities work in digital platforms such as games, curated websites, mobile applications, and hybrid transmedia approaches, the Division of Public Programs is launching a new grant category, Digital Projects for the Public, with a deadline of June 11, 2014. With two grant categories, Discovery (up to $30,000 towards a project's early-stage research and development) and Prototyping (up to $100,000 towards the development of proof-of-concept features and testing), the Digital Projects for the Public program hopes to fund projects with the potential for communicating humanities content across wide general audiences through the innovative and effective use of digital platforms.
Want to make your own impact? Have an idea for the next generation of public humanities projects? Check out Digital Projects for the Public, and contact us at: @email.