Blog
Civil War stories through the video camera's lens: Learning history through filmmaking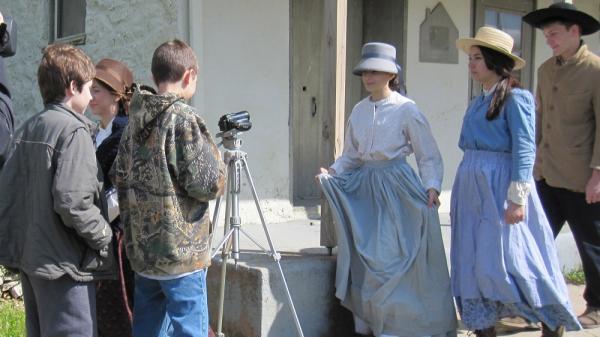 PLEASE NOTE: this program is no longer active. 
Civil War battlefields are coming alive once more through a new NEH-funded project that connects middle school students to the American Civil War by training them to use primary source documents, humanities scholarship, role-playing, and digital technology to create short movies.  All films are researched, written and directed by students in the award-winning Of the Student, By the Student, For the Student™ project, which received NEH funding in 2011 for the production of over 40 new films in seven schools across the region.  The grant recipient is the Journey Through Hallowed Ground Partnership, a non-profit, four-state organization that raises awareness of the 180-mile long, seventy-five-mile National Heritage Area stretching from Gettysburg to Monticello, which encompasses forty-nine National Historic Districts, nine presidential homes, and the nation's largest concentration of Civil War battlefields.  These student-generated films will become part of the official interpretive materials at each of the thirteen featured National Parks. They will be available to educators, students and visitors worldwide through the internet and traveling exhibits. Next year, the team will produce a vodcast series for Gettysburg, Monocacy, Fredericksburg/Spotsylvania, and perhaps for Appomattox.
So far, the students have explored a range of battles and subjects including: Monticello, Harper's Ferry, Manassas, Antietam National Battlefield, the Chesapeake & Ohio Canal National Historical Park, medicine during the Civil War, the immigrant experience in the Civil War, and Civil War photography. They have become deeply engaged with historic places and documents by doing research, writing scripts, and acting and directing the scenes.  Re-enactments, close-ups of historical photographs and a variety of camera angles, background music and editing techniques are used in their creations.  Students say this hands-on style of learning excites them. One commented "We see monuments all the time but never really understand the deeper meaning, until this project. It made me think more about history."  The project has opened them up to careers as historians and filmmakers. Watch out Ken Burns, the next generation of historian filmmakers is on its way!
The completed films can be viewed on the project's website.
An article about the program appeared in Humanities Magazine in September/October 2011, "The Civil War to a Seventh Grader," by Amy Lifson.