Blog
Extended Travel for a Civil Rights Photography Exhibition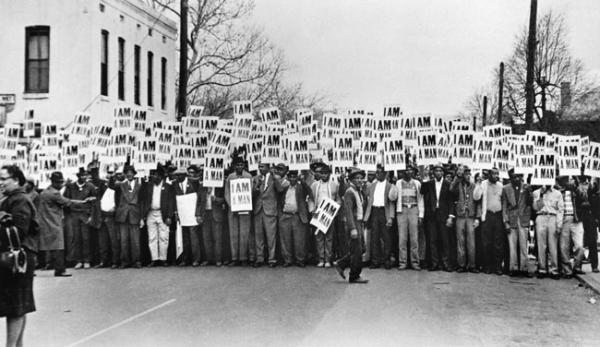 PLEASE NOTE: This exhibition has passed. 
For All the World to See: Visual Culture and the Struggle for Civil Rights, an exhibition recently funded by NEH, examines the vital role that visual imagery played in the fight for racial and social equality from the 1940s through the 1970s.Organized by the Center for Art, Design, and Visual Culture at the University of Maryland, Baltimore, and curated by Dr. Maurice Berger, the exhibition traces the emergence of attempts by some African Americans (such as the well-known photographer Gordon Parks) to present a more nuanced and accurate picture of African American life, relying on the power of the camera. Parks grasped the potential of visual images to sway public opinion and bring about social change.
For All the World to See also focuses on the role of entertainment media, especially television, as an influential force in highlighting key events in the Civil Rights era. Broadcast media also provided greater visibility for African American artists, in large part through the pioneering efforts of Ed Sullivan on his weekly television talent show. The exhibition illustrates how popular images—sometimes disturbing, sometimes entertaining, and sometimes overtly militant—played a crucial part in promoting important ideas about fairness and social equality and advancing civil rights during a key period in our country's history.
This exhibition will now enjoy a much longer lifespan and reach significantly greater numbers of people. It has been scaled down in size so that it can travel to smaller museums throughout the U.S. for the next five years as part of the NEH on the Road program, which takes NEH-funded exhibitions and makes them more accessible so they can broaden the geographic and demographic reach of our projects. Since its inception in 2005, NEH on the Road (administered by the Mid-America Arts Alliance in Kansas City) has served more than 200 venues in 40 states. It has reached more than 600,000 people with high quality and artifact-rich small exhibitions. The smaller version of For All the World to See has already proven to be popular, with bookings now confirmed as far ahead as the year 2017. It opened in April at the Wyandotte County Historical Museum, Bonner Springs, Kansas, and will next travel to the Terrebonne Parish Library in Houma, Louisiana (Sept. 1, 2012 – Oct. 20, 2012), the Kansas African American Museum in Wichita (Nov. 10, 2012 – Jan. 7, 2013), and the Laman Public Library in Little Rock, Arkansas (Jan. 28, 2013 – March 16, 2013).  For a complete booking schedule, go to www.nehontheroad.org. The website for the original exhibition is at www.umbc.edu/cadvc/foralltheworld.