Blog
Turning the Page on the U.S. Newspaper Program (1982-2011)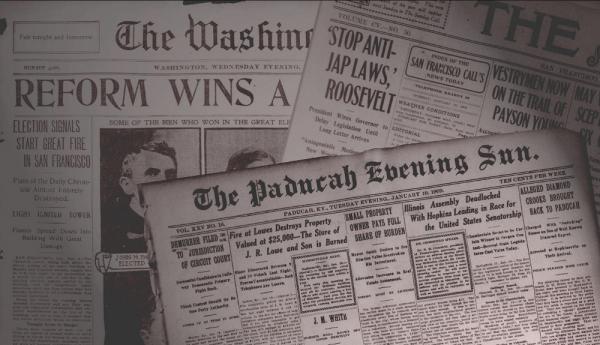 Newspapers have chronicled the daily life of American citizens in small towns and cities since they appeared in the 17th century.  Because they vividly document the civic, political, social, and cultural events of the nation's history, all elements of historical newspapers provide source material for different purposes.  For example, editorial articles, letters to the editor, cartoons, and illustrations help historians understand public opinion of past events and also show how mass media influenced public perception.  Advertisements and economic data allow researchers to trace developments in science and industry.  Poems, short stories, musical pieces, and reviews speak to the artistic and literary sensibilities of earlier times and tell us which authors and artists were held in great esteem.  Newspapers are also mined for linguistic information that show how word meanings and writing styles have changed over time.  Individuals searching their family's history review obituaries as well as wedding and birth announcements. Despite their great value, historical newspapers are extremely fragile and very difficult to preserve. 
To ensure that America's historical newspapers will be available for its citizens, in 1982 the NEH created the United States Newspaper Program (USNP), a cooperative national effort to locate and catalog all extant American newspapers.  USNP came to an end last year when the Illinois Newspaper project completed its activities.  In the coming weeks, we will provide a brief history of USNP and the final three state projects from Virginia, Illinois, and Pennsylvania.
Early Newspaper Preservation and the Origins of USNP
Prior to USNP, newspapers were generally not cataloged by libraries or records available in a centralized resource.  The most comprehensive work on American newspapers was Winifred Gregory's American Newspapers, 1821-1936, a barebones bibliography that was the result of a Works Progress Administration  project in 1936. As a result, a researcher interested in consulting a specific newspaper had great difficulty in finding out which institution had the title and whether the collection contained all of its issues or just a partial run. 
With NEH funding and technical assistance from the Library of Congress, USNP projects were conducted in all fifty states, Puerto Rico, the U.S. Virgin Islands, the District of Columbia, and eight national repositories to contribute both bibliographic and holdings information to a national database of available newspapers published in the United States from 1690 to the present.  By the end of the program, the USNP database contained cataloging records for over 140,000 newspaper titles housed in libraries, archives, and cultural organizations across the nation. 
In addition to contributing cataloging records to a centralized resource, USNP projects microfilmed about 70 million pages of selected newsprint titles according to prevailing national preservation standards. Because newspapers from immigrant communities were not usually microfilmed by commercial vendors, USNP projects made a special effort to preserve some of these ethnic titles. Copies of the film produced with USNP funding are available to researchers across the nation through interlibrary loan. Throughout the life of the USNP program, NEH made awards amounting to $55 million.
Researchers now have free access to standardized bibliographic data about American newspapers through OCLC's WorldCat service and the newspaper directory of "Chronicling America" at the Library of Congress.  They can also find out where specific newspaper titles in print or microfilm are located and the extent of holdings available at each repository.  Institutions have also benefitted from having a national database.  Through the catalog, they have discovered that newspapers published in their localities have been preserved in other collections, thus, allowing them to obtain copies for their patrons.
Laying the Foundation for Digitization
USNP paved the way for another NEH program in partnership with the Library of Congress (LC): the National Digital Newspaper Program (NDNP).  NDNP projects in 28 states are currently digitizing selected microfilmed newspapers for inclusion in "Chronicling America", an online resource to be permanently maintained by LC that allows users to freely search and view American historical newspapers published between 1836 and 1922. 
Each USNP project involved extensive collaboration within a state or territory.  Large state libraries and archives with significant newspaper collections often contributed staff and resources to the cataloging effort.  USNP staff traveled to historical societies and cultural organizations throughout the state to inventory and catalog titles housed at those institutions as well as to borrow newspapers for filming.  Newspaper publishers, collectors, and citizens also made available to the state projects little-known newspapers neglected in attics and storage areas.
USNP was a significant preservation and access effort that successfully documented newspaper production in the nation and ensured that fragile and deteriorating newsprint pages are preserved for the benefit of all citizens. Without the painstaking work of locating and cataloging all extant titles and issues in each state as well as of preserving important titles in microfilm, it would now be impossible to make these important sources broadly accessible to all users nationally and internationally.
Make sure to check back to our website in the coming weeks as we profile the final three USNP state projects:  Virginia, Illinois, and Pennsylvania!