Blog
Tune In Tuesdays: From the Piedmont to the Swamplands: Preserving Southern Traditional Music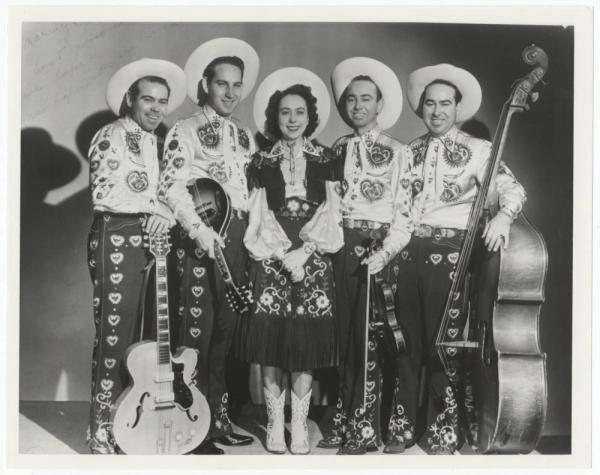 This post is part of our "Tune In Tuesdays" series, highlighting some of the projects NEH has supported to preserve and provide access to rich audiovisual materials important to humanities research, teaching, and the public interest.  We are also proud to announce a NEH symposium on audiovisual preservation to be held on September 30, 2016, in Washington, D.C.  Information about the event, called Play/back, can be found here.
Rockabilly and Swamp Rock.  Blues and Cajun.  Country and Gospel.  Old-time country musician Mike Seeger once famously remarked that folk music is "all the music that fits between the cracks."  The quote could be extended to the traditional country music of the American South, a rich tapestry of folk, mountain music, early country, the Delta blues, gospel, fife and drum, and other styles.  Established in 1940, the Southern Folklife Collection of the Wilson Special Collections Library at the University of North Carolina at Chapel Hill documents Southern traditional music.
Collections include field recordings, oral history interviews, and photographs of early country, blues, and folk musicians.  Recordings and images document groundbreaking figures in American music: the Carter Family and Johnny Cash, Bill Monroe, Dolly Parton, Hazel Dickens, Alice Gerard, Earl Scruggs, Ola Belle Reed, Mike Seeger, Doc Watson, Elizabeth Cotton, Merle Haggard, Ralph Stanley, Etta Baker, Tommy Jarrell, Robert Sykes, Bob Dylan, and hundreds of others who played and meshed these interwoven styles of the American South.
Supported by NEH grants in 2008 and 2012, the University of North Carolina has digitized over 5,000 hours of audio and 4,500 photographs documenting the region's traditional music and musicians from the 1920s through the 1980s.  Now you can see the complete contents of a number of important collections and listen to thousands of clips of old-time country music.  Check out the Mike Seeger Collection for clips of hundreds of musicians including Bill Monroe, the so-called "Father of Bluegrass Music," at the New River Ranch in Rising Sun, Maryland, in 1958;  Lester Flatt and Earl Scruggs at Sunset Park in West Grove, Pennsylvania, in 1959; Dock Boggs and Mississippi John Hurtat their Concert in New York City in 1963; and the New Lost City Ramblers at Ash Grove in Hollywood, California, in 1963.  You can also dip into the Newport Seminar "What is Folk Music" from 1959 with Professor Willis James, Alan Lomax, Moses Asch, and Stanley Human as well as recordings of other performances and workshops explaining the American Folk Revival of the 1950s and 60s.
The Goldband Recording Corporation Collection documents the record label's focus on country and western, Cajun, zydeco, blues, R&B, gospel, and sacred music released nationally and internationally.  You can listen to recordings of the Cajun accordion player Iry leJune; Dolly Parton and Friends including Parton's first recording, "Puppy Love," recorded when she was just 13 years old; famed Cajun musicians the Hackberry Ramblers; and the Louisiana swamp pop band Cookie and the Cupcakes.  The William R. Ferris Collection contains video of Pete Seeger in San Francisco in 1990, B.B. Kingin 1999, and sound recordings of interviews, remarks, and demonstrations.  Finally the John Edwards Memorial Foundation Collection includes thousands of images of both prominent and little known musicians from blues, country, folk, rock, western, and other American genres.  Updates and stories are posted regularly on the Southern Folklife Blog.  Check it out today!