Blog
Tune in Tuesdays: KMBC Radio Collection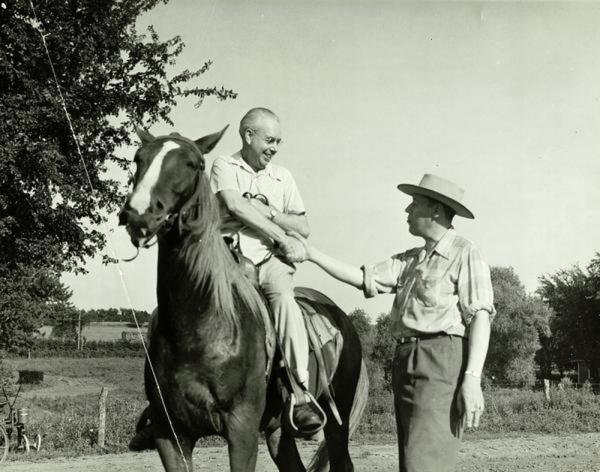 This post is part of our "Tune In Tuesdays" series, highlighting some of the projects NEH has supported to preserve and provide access to rich audiovisual materials important to humanities research, teaching, and the public interest.  We are also proud to announce a NEH symposium on audiovisual preservation to be held on September 30, 2016, in Washington, D.C.  Information about the event, called Play/back, can be found here.
From follies and ventriloquism to fireside chats and Christmas specials, radio burst onto the scene all over the United States in the early 20th century.  Since broadcasts during radio's "Golden Age" were often live, the news, musical acts, comedies, and dramas that reached millions of people by the 1920s would have been lost forever but for "air checks," instantaneous cut discs recorded for later re-airing or archiving.  In the Midwest, Arthur B. Church pioneered radio broadcasting; his KMBC station in Kansas City was later hailed as "a model for the industry."
Church began early in radio, attending commercial radio courses between college terms, and creating an experimental wireless ("ham") station in Iowa in 1914.  After working with the U.S. Signal Corps in Leavenworth, Kansas, during the First World War, Church organized the first broadcasting studio in the Midwest.  He became one of the first persons to use radio to advertise merchandise, and created original programming that gained national prominence.  KMBC also brought listeners local, national, and international news. 
Supported by a 2011 Humanities Collections and Reference Resources grant, the University of Missouri-Kansas City has preserved nearly two thousand recordings of KMBC broadcasts dating from 1935 to 1950.  The collection, held by the UMKC's Marr Sound Archive, includes syndicated radio programs produced for distribution to other radio stations, CBS Network bulletins and newscasts, and local programming.  In the project's web exhibit, you can listen to short audio clips of both national and local reporting including the American reaction to the Pearl Harbor bombing, coverage of the D-Day invasion, the German surrender, as well as developments in post-war agriculture in the KMBC "Feed Lot Chat" and reports on political corruption in Kansas City.  Or dip into KMBC original entertainment programming like the popular barn dance show The Brush Creek Follies; Phenomenon: Electrifying History, a program sponsored by various power and light companies; the Kenny and Scrappy ventriloquist routine; and the variety show led by Tex Owens and The Texas Rangers.  You can also tune into sobering speeches such as a fireside chat by President Franklin D. Roosevelt and an address by President Harry Truman on the state of the national economy.  For photographic gems, you can access the vintage prints in the UMKC Digital Special Collections.  The complete catalog of broadcasts and the digitized recordings themselves can be accessed online via the Arthur B Church KMBC Radio Collection.