Blog
The Gilded Frames of St. Johnsbury Athenaeum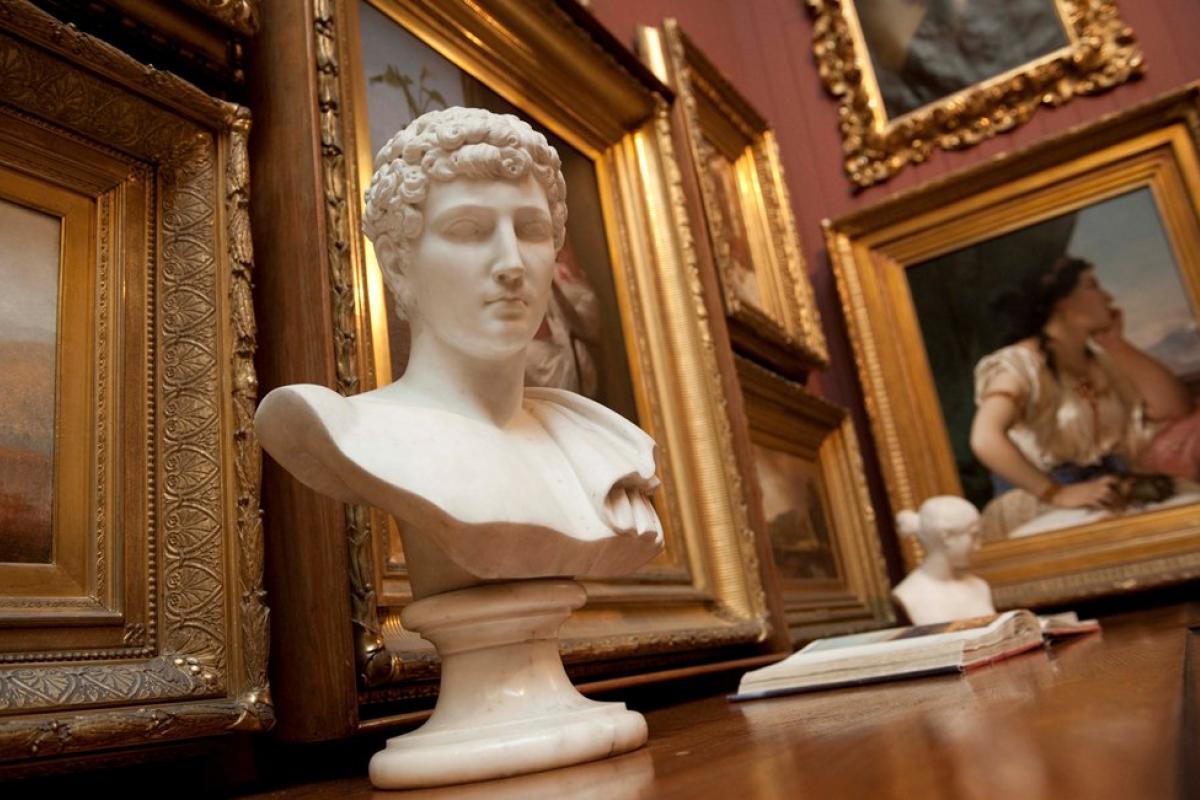 NEH was pleased to award The St. Johnsbury Athenaeum in northeastern Vermont with a Preservation Assistance Grant for Smaller Institutions. The grant supported a conservation assessment of the Athenaeum's gilded frames, which hold its collection of 19th-century European and American paintings, including masterworks by Albert Bierstadt, Worthington Whittredge, Sanford Gifford, Jasper Cropsey, and Adolphe William Bouguereau. The Athenaeum is a legacy of the Fairbanks family of St. Johnsbury, inventors and manufacturers of the world's first platform scale, who gave the Athenaeum to the trustees of the institution in 1871. 
The gilded frames, most of which are original to their paintings, are displayed in the same manner and locations as they were in the 1870s, giving visitors a more complete view of the era's art and architecture. Exhibited permanently in the gallery and throughout the entire National Historic Landmark building, this unique collection remains largely unchanged. In 2012, Yankee Magazine named the St. Johnsbury Athenaeum an editor's pick of the Best of New England for the "Best Art in a Time Capsule." 
The Athenaeum's collection is enhanced by the paintings' gilded frames, which display a wide variety of ornamentation and design details. The gilded frames provide a window into Victorian-era museum practices. As art critic and writer Percy Fitzgerald phrased it in 1886, gilded frames create a sort of boundary "between the vulgar surrounding world and the sort of spiritual life of Art." The frame survey was carried out on November 8 - 10, 2011, by Hugh Glover, Frame and Furniture Conservator from the Williamstown Art Conservation Center located in Williamstown, MA and assisted by independent conservator M J Davis of West Burke, VT. The completed frame survey will help the Athenaeum's staff plan for the on-going care of the paintings collection, care that will now focus primarily on the gilded, period frames. 
Included in the interpretation of the paintings collection is the history of the Fairbanks industrial legacy in St. Johnsbury, the history of the Athenaeum's construction, its gallery and collections, and specific information about the various works of art, most notably Albert Bierstadt's Domes of the Yosemite (1867). Although located in a relatively remote area of northeastern Vermont, 70,000 visitors come to the Athenaeum's gallery annually from all over the United States and the world.