Blog
"Preservation Week 2012, Day 5: The English Broadside Ballad Archive "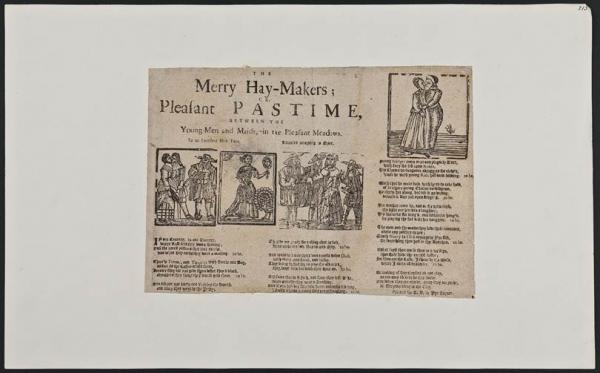 In order to highlight the importance of preservation for all humanities-related activities, each day this week we will be featuring a Preservation and Access-funded project that received subsequent funding from another NEH division.
Day 5: The English Broadside Ballad Archive
In the 17th century, broadside ballads served much as newspapers and magazines do today.  Often a single, large sheet of paper, ballads contained eye-catching woodcut or metal-plate illustrations, a popular tune title, and an alluring poem.  The graphics alone depict a portrait of popular culture in Stuart England, from couples in flamboyant early modern fashions; elaborately-designed galleons in full sail; cityscapes; and humorous or sinister demons, skeletons, and monsters.  Until recently, however, conducting sophisticated comparisons of these once inaccessible images proved elusive.
Since 2006, four awards from the NEH Division of Preservation and Access's Humanities Collections and Reference Resources grant program have supported the University of California, Santa Barbara's (UCSB) creation of the largest online collection of broadside ballads:  the English Broadside Ballad Archive (EBBA).  To date, UCSB has digitized 4,400 ballads from the Pepys collection in the Pepys Library at University of Cambridge, the Roxburghe collection from the British Library, the Euing Collection from the University of Glasgow Library, as well as from various collections at the Huntington Library.  UCSB's most recent award focuses on the Crawford Collection of English broadside ballads located at the National Library of Scotland in Edinburgh.  EBBA offers facsimiles and transcriptions of the broadside ballads.  In addition, you can listen to recordings of the ballads whenever a tune is extant and consult background essays and other resources on the various ballad collections and on ballad culture generally.
EBBA has now reached a critical mass of ballads where humanities scholars can pose advanced computational-based questions that were previously impractical or imprecise.  Scholars, for example, have known that many of the woodcut impressions found in the ballads – for example, of a woman in a flower-decorated dress holding a feathered fan (see image above) – have appeared in multiple ballads, but with slight variations in their composition.  Comparing these images across several collections and archives before they were digitized was difficult. 
A recent Office of Digital Humanities Start-Up Grant award will enable UCSB to create a separate Ballad Illustration Archive (BIA) that will assemble the graphic images from the ballads in order to conduct complex visual searches.  The BIA search engine, based on computer vision algorithms, will enable art historians to study the production techniques, motifs, and genealogy of these illustrations.  In addition, literary and cultural scholars will be able to trace relationships between texts and images, and bibliographers will be able to use rich cataloging data to better understand the complexities of the printing industry.
The English Broadside Ballad Archive, along with the development of a new Ballad Illustration Archive, is just one example of how preservation work can eventually lead to breakthroughs in research methods and, consequently, historical understanding.
Day 4: EDSITEment
Teachers and students are among the heaviest users of collections and resources supported by the Division of Preservation and Access.  EDSITEment, an award-winning website administered by the National Endowment for the Humanities, in partnership with the Verizon Foundation's Thinkfinity and the National Trust for the Humanities, includes educational resources, lesson plans, and other activities.  At the core of EDSITEment are the more than 300 peer-reviewed humanities websites considered some of the "Best of the Humanities on the Web." A number of the sites have received support from the Division of Preservation and Access including:
* The American Museum of Natural History in New York City has created an on-line database that can enable practically any classroom in the country to explore a world-class collection of anthropological materials.  The museum's database provides digital images and scanned associated documentation from archival records for 200,000 ethnographic objects from North America, Africa, Asia, the Pacific, Central and South America, and Mexico.  Easy to use and informative, it can be searched for images of the objects along with key descriptive information such as their function, date, material, dimensions, and place of origin. 
*The New Georgia Encyclopedia is one of several state encyclopedias featured on EDSITEment.  It is maintained by the Georgia Humanities Council in partnership with the University of Georgia Press, the University System of Georgia/GALILEO, and the Office of the Governor.  Since receiving initial funding from the Division of Preservation and Access, the New Georgia Encyclopedia has grown to encompass more than 2,000 articles for general readers on topics ranging from the arts to transportation.  The encyclopedia's website also makes available more than 6,000 images and video and audio clips related to Georgia's history and heritage.  In addition to conducting word searches, you can also find special features including "Ten Major Civil War Sites in Georgia" and "Black Leaders of the Civil Rights Movement."  Popular with teachers and students, the New Georgia Encyclopedia receives 1-2 million page views each month. 
 
*Also featured on EDSITEment is the Modernist Journals Project, a joint effort of Brown University and the University of Tulsa.  With funding from the NEH, the project is digitizing English-language periodicals published between 1890 and to 1922 containing the writings of some of the major figures of modernism including T.S. Eliot, Ezra Pound, James Joyce, Wallace Stevens, and Marianne Moore.  Besides making available images of these magazines and text searching tools, the archive provides contextual information such as introductions, biographies of authors and editors, and bibliographies.  Course syllabi and other teaching materials that make use of these digital editions are available on the Modernist Journals website. Classroom assignments range from individual essays and reviews to collaborative blog postings on various topics related to modernist literature and the culture of the fin de siècle.
Day 3: The American Precision Museum
The American Precision Museum (APM) in Windsor, VT, is another organization that has received NEH support for preservation activities over the years.  Their collection documents the history of precision manufacturing in our country and includes machine tools, models, and firearms, which date from 1820 to the mid-20th century.  In addition to NEH Preservation Assistance Grants supporting collections assessment and environmental monitoring, the museum has received a Sustaining Cultural Heritage Collections grant to explore passive and mechanized methods for managing humidity levels in their National Landmark building, the Robbins & Lawrence Armory. 
The museum's attention to collections care has been exemplary, especially given the unique preservation challenges presented by the 20 x 40 foot water wheel pit located in the Armory's dirt-floor basement.  High humidity threatens the collection of tools on exhibit in this historic site, and protecting them is central to the museum's ability to tell the story of the American inventors and machinists who made the mass production of interchangeable parts possible.  In March 2011, the APM received an award from NEH's Division of Public Programs to mount a permanent exhibit, Shaping America: Machines and Machinists at Work.  The related programs will explore how precision manufacturing influenced the course of American history through its impact on rapid industrialization, the emergence of the U.S. as a world power, and the development of consumer culture.
Day 2: Carnegie Museum of Art: Charles "Teenie" Harris Collection
How can a photograph collection unite a community?  Charles "Teenie" Harris was a freelance photographer who documented the life of his community in Pittsburgh's Hill District for the Pittsburgh Courier and through his private studio.  His works tell the story of the urban African American experience over four decades through portraiture, candids, and photo-journalism. 
Beginning in 2001, after purchasing an archive of nearly 80,000 negatives, the archive staff from the Carnegie Museum of Art (CMA) began the meticulous process of cataloging a collection with very little information about the subjects portrayed in the photographs.  In 2005, CMA received the first of two grants from the Division of Preservation and Access to arrange, describe, and preserve 60,000 of those photographic negatives that span from 1935 to 1975. To date, they have been able to catalog over 73,000 and digitize close to 58,000 negatives.
The research effort has not been limited to the archivists, however.  A dedicated community outreach program by CMA has yielded personal names, locations, dates, and events.  According to CMA, "So far, 2,000 images have been positively identified with help from the community."  Images in the Teenie Harris Archive are freely accessible to the public through CMA's online collection search.
Ten years of research into the Archive have culminated in the current exhibition Teenie Harris, Photographer: An American Story, which was funded in part through a grant from the Division of Public Programs.  The exhibit focuses both on the themes explored in Harris' work and on Harris himself as an artist.  Digital images and audio recordings from the Archive were used to create multimedia and web-based interactive experiences for attendees.  A reduced version of the exhibit is currently on tour at the Harold Washington Library Center, Chicago (February 4–June 4, 2012), and will continue on to the Birmingham Civil Rights Institute (August 7–October 28, 2012), and the Robert Woodruff Library at the Atlanta University Center (January 20–April 13, 2013). 
For more information on Teenie Harris, the Archive, and the current exhibition, please visit http://teenie.cmoa.org/Default.aspx.
Day 1: "In Celebration of Preservation Week 2012"
By Nadina Gardner, Director
Preserving the things that matter most is something many of us never get around to doing.  I'll confess that the most significant documents and cherished objects in my possession seem to get the least attention, while I spend much more of my time on mundane responsibilities.  At the institutional level, libraries and museums are mindful of the need to preserve their collections but struggle to find the resources to do so.  Preservation Week, which we proudly recognize and honor this week, is a time for raising awareness of the important things in our possession—personal and institutional—that connect us to our history. 
Since its founding, NEH has always seen preservation as a necessary part of work in the humanities.  It recognizes, for instance, that scholars and teachers need access to books, manuscripts, maps, photographs, recorded sound, film, fine arts, material culture, and archaeological and ethnographic artifacts.  These and other kinds of collections are the raw materials for scholarship, learning, and enjoyment of our heritage and that of other cultures. 
At NEH, the Division of Preservation and Access helps support the work of the agency's other grant programs.  Preserving and increasing access to cultural heritage collections and creating reference resources provide a foundation for research, education, and public programs in the humanities (click on the image to view the full pyramid).
In celebration of Preservation Week, each day we will feature projects originally supported by the Division of Preservation and Access that have received funding from other offices and divisions of NEH. 
*The Teenie Harris Digital Archive at the Carnegie Museum of Art is a collection of over 80,000 images documenting daily life in the African American community of Pittsburgh from 1935 to 1975.  With funding through Humanities Collections and Reference Resources—the largest program in the Division of Preservation and Access—the museum has worked to conserve, catalog, and scan these photographic images and to distribute them on its website.  The Carnegie Museum of Art recently received additional NEH support through the Division of Public Programs to implement a multimedia traveling exhibition featuring the work of Harris.
* The American Precision Museum in Windsor, Vermont, houses a unique collection of historic machine tools.  The museum has benefited from several awards through our Preservation Assistance Grants for Smaller Institutions and Sustaining Cultural Heritage Collections programs. It has since received support from the Division of Public Programs to develop a permanent and related program exploring how precision manufacturing influenced the course of American history, including industrialization and the development of consumer culture. 
* The English Broadside Ballad Archive of the University of California, Santa Barbara, created by NEH support through the Division of Preservation and Access, received funding from the Office of Digital Humanities to adapt image-oriented computer vision software in order to facilitate more effective cataloging and discovery of similar but distinct illustrations found within the English Broadside Ballad Archive.  
*Finally, we are delighted to see several projects on humanities collections and reference works, which were funded by NEH through the Division of Preservation and Access, as educational resources on EDSITEment, NEH's award-winning website for K-12 teachers and students, originally launched by our Division of Education Programs.
We encourage you to check back each day this week to read more about these projects and to see the central importance of preservation in the work of the Endowment.  We welcome any comments or stories that you may have about how preservation has fulfilled your own personal or institutional needs!  Email us at preservation@neh.gov.