Blog
New Release of Chronicling America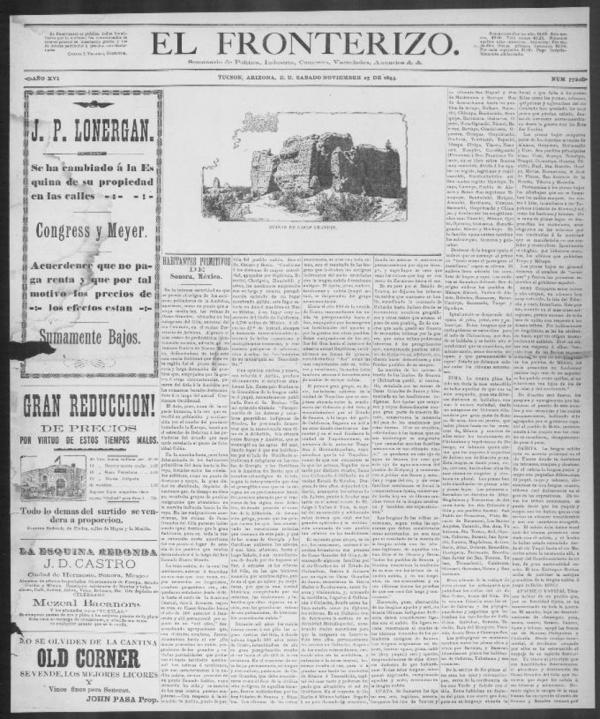 Chronicling America is now bigger, easier to use on tablets and mobile devices, and includes Spanish and French newspaper content.
More than six million newspaper pages are now available at http://chroniclingamerica.loc.gov/, the free, online repository of historical American newspapers created through the National Digital Newspaper Program.
Newly accessible are 130 newsprint titles and over 800,000 newspaper pages published across the nation.  This new release also provides enhancements to the Web site's search and display functions that will improve navigation in both computer and now mobile Web browsers. Of note is the ability to enlarge a portion of a newspaper page in a tablet or mobile phone device by using a pinch-to-zoom gesture.  Also, a thumbnail navigator that appears on every page facilitates panning and zooming the image. 
These features should be of interest to students using Chronicling America for their presentations at the National History Day competition.  The NEH will award a prize in 2013, in both junior and senior divisions, to an outstanding NHD entry that uses newspaper resources in the Chronicling America Web site. Information about this prize is available at EDSITEment  along with guidance on how to use Chronicling America.
Chronicling America offers access to newspapers published between 1836 and 1922 in 32 states.  Among the recent additions to the national repository are newsprint titles issued in Indiana and North Dakota.  Two of the newly available Indiana papers--the Marshall County Democrat and the Marshall County Republican--espoused opposing views during the presidential election of 1856 and the debates over the Kansas-Nebraska Act and the extension of slavery into the territories. North Dakota's Bismarck Tribune reported on the Indian Wars of the 1870s, especially General Custer's defeat at the Battle of Little Bighorn.
Other new offerings are bilingual newspapers from Arizona, Louisiana, Texas, and New Mexico.  El Fronterizo is an Arizonan Spanish weekly, established in 1878, that promoted pride in Hispanic culture. Founded in Laredo in 1896, El Demócrata Fronterizo defended the interests of Mexicans in Texas, commented on political events in Mexico, and also published poetry and short stories.
The National Digital Newspaper Program, a partnership between NEH, the Library of Congress, and state projects, is responsible for producing Chronicling America.  The location of newspapers in multiple repositories across the nation requires that states select and digitize representative newsprint titles for inclusion in the national resource. 
The Library of Congress unifies all content provided by states through a publicly available Web site as well as permanently maintaining the digital information. Its efforts ensure that users will continue to have access to this historical record, even as technological changes require using new systems. The program's digitization specifications, which are based on standard formats and metadata, are aimed at making preservation in perpetuity possible. 
NEH awards to state projects fund digitization of newspaper pages, using commercial vendors, and cover staff salaries and other administrative expenses.  Endowment funding also supports the costs of selecting newspapers for digitization, based on the input of scholars, educators, librarians, journalists, and newspaper publishers.  Titles are selected to best represent a state's historical, cultural, and geographical diversity. In addition, the state projects provide historical context about selected newspapers through online essays, so readers can understand the importance of the chosen titles.