Blog
NEH Releases National Digital Newspaper Program Impact Study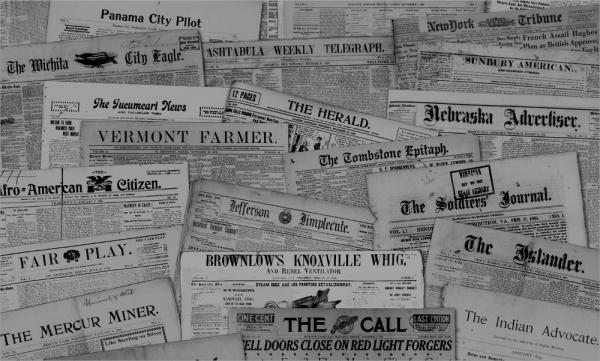 Living in an age where the ready availability of information is automatically assumed (want that rare Smiths LP? Signed? By tomorrow? No problem!), it's shocking that resources as valuable and ubiquitous as historic newspapers have been largely inaccessible to the public. Until recently, researching historic newspapers typically involved trekking to the local library or historical society and spending hours hunched over microfilm in the hope that a relevant headline or picture might be discovered. Even if you were lucky enough to find what you were looking for, you would still need to fill out a copy request and wait for it to be processed in order to take the article home. Not only was this method time consuming, it was impossible to work with a large amount of newspapers at once, compare various issues and titles, or manipulate the information with any dexterity.
Due to the efforts of the National Endowment for the Humanities and the Library of Congress, these limitations are being overcome. Since 2004, the two agencies have partnered to create the National Digital Newspaper Program (NDNP) in an effort to make historic newspapers freely available and searchable in an online format. Now in the program's tenth year, 39 states and territories are digitizing titles, and over 8 million pages of newspapers published between 1836 and 1922 are available at the Chronicling America website.
Even if you don't consider yourself a researcher, the site provides amazing and sometimes personal pieces of history. I discovered that a relative of my father named Otho Mears ran for Congress and lost in 1906, and even found a picture of the "affable, gentle, and learned" attorney from Accomack County, Virginia. Existential experiences such as this are now as easy as Googling and don't require a subscription like other genealogy sites, which may explain why over four million people have visited Chronicling America since its creation, viewing over 39 million pages.
Measuring the growth of the website and its popularity over the years has been fairly straightforward, but we at NEH were also extremely interested in how NDNP has impacted the humanities in other, less visible areas. What were some of the grant activities that took place at the state level? How did participation in the program strengthen the capacity of grantee institutions to serve their constituents? Answering questions like these would illuminate the program's impact on different audiences at various levels.
To measure the outcomes of NDNP, the Division of Preservation and Access conducted phone interviews with project directors, while the Library of Congress distributed written surveys.  We also analyzed reports from the state partners on their projects and examined the ways in which Chronicling America resources are being used. The results of our investigations demonstrates the impact of NDNP through a constellation of examples.
For the universities, libraries, and historical societies involved in digitizing historic newspapers, the program provided valuable technical specifications and a partner-based model that encouraged national collaboration. More than 90 percent of project directors surveyed confirmed that NDNP grew their digital initiatives, with many of the partners digitizing newspapers beyond the specific requirements of the program. In fact, some state partners created their first digital repositories to accommodate this production, while others began adding state newspapers to existing digital collections. Eighty percent of the institutions surveyed had partnered with one or more organizations in their state, while 65 percent had collaborated across state lines. Many of these collaborations involved smaller libraries, historical societies, or publishers who wanted NDNP partners to digitize their newspapers. Awardees also worked with each other, bringing new state partners on board and serving as production centers for digitization projects in neighboring states.  Many of the newer awardees benefited from collaborations with veteran project directors on strategies to capture born-digital content. Based on our interviews and awardee reports to NEH, we learned that over 2.5 million additional pages of newspaper content has been added to institutional repositories as a direct consequence of their participation in NDNP. Furthermore, nearly two-thirds (62 percent) of the partners surveyed are using this content to create a variety of products and programs for the public, including but not limited to educational materials, exhibits, podcasts, workshops, blogs, and articles. To see some of their creative efforts at dissemination and outreach, please refer to the "Products, Programs, and Events" section of the report.
The digitization of historic American newspapers in a searchable format has enlivened humanities research; in the words of one NDNP project director, through Chronicling America it is as if newspapers are "somehow born again." In order to measure the program's impact on publications, we searched for citations of Chronicling America after 2004 in both Google Books and Google Scholar.  We found 1,300 books and 400 articles.  Given that many researchers use newspapers from NDNP partners without listing the name of the repository in their citations, the number of published materials that draw on Chronicling America is probably much higher. Our impact study also identifies several projects that are taking advantage of this massive, centralized resource as scholars experiment with data mining tools for humanities research.
A number of the project directors we interviewed found it difficult to put into words the impact NDNP has had on their institutions, and we agree that the scale of this program and its decentralized structure has sometimes made its effects difficult to measure. What we understand from our investigation is that the benefits of the National Digital Newspaper Program far surpassed anything we could have imagined when the program was launched a decade ago.  NDNP stands as a fine example of what a federal agencies working collaboratively with state partners can achieve.