Blog
Medicine and the Humanities. Part I: The Online Encyclopedia of the 1918-19 Influenza Epidemic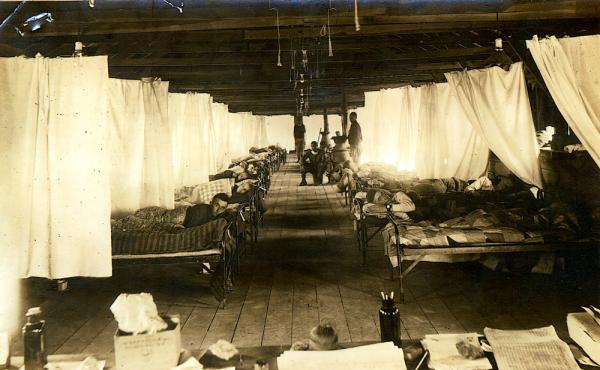 Historian Charles Rosenberg once wrote that hospitals have "reproduced in microcosm the history of a larger society*."
At first glance, this observation might seem surprising, but its broad connotation is undeniable: health, illness, and medical attention touch everyone's lives and can have a decisive influence on human behavior, individually and collectively.  Humanities scholars have recognized the central role of health and medicine in American and world history for several decades, but this is a field of research that remains very much in a state of growth and transformation.  One manifestation of this is a recent increase in efforts to preserve and facilitate online access to rich collections of historical documents, images, and publications related to the history of medicine.
Over the next couple of weeks, three major preservation and access projects funded through NEH's Humanities Collections and Reference Resources program that cover subject matter of national, and indeed international, scope and importance will be highlighted.  Part I will feature the University of Michigan's Center for the History of Medicine's effort to document systematically the deadly influenza outbreak of 1918-19, in part to understand how we may better prepare as a society for future outbreaks.  Part II will feature the University of Cincinnati's archive of Dr. Albert Sabin, the scientist who developed the oral polio vaccine that helped eradicate the disease, and Part III a collaborative project involving some of the nation's leading medical libraries to digitize historical medical journals, including the first medical journal published in the United States, Medical Repository (1797-1824).
As these projects illustrate, the history of medicine bridges almost every domain of the humanities, from the study of philosophy and ethics to the examination of everyday social and cultural history.  Far from being a narrow subfield of study, it opens a pathway for exploring some of the most fundamental questions of human experience over time.
At roughly the same time polio's impact in the United States was reaching its zenith, the world experienced one of the most devastating pandemics in recorded history.  During the fall and winter of 1918-19, just as World War I came to a close, influenza claimed the lives of more than 20 million people worldwide, including some 675,000 Americans.  It struck those aged 20 to 40 the hardest, and its impact on social and economic infrastructure was profound at a time when many nations were also struggling to recover from the war.
This powerful chapter of history has received increasing scholarly and public attention of late, but much remains unknown.  To help address this gap, the University of Michigan's Center for the History of Medicine has undertaken an initiative to locate, select, and digitize primary sources pertaining to fifty of the most populous cities in the U.S. during the time of the epidemic.  This online collection will include some 50,000 pages of original materials, such as private letters, minutes of organizations and groups, reports from agencies and charities, newspaper accounts, military records, diaries, and photographs located mainly in local historical repositories.  Sources will provide first-hand perspectives from nurses, public health officials, community leaders, writers and journalists, school teachers, and many others.
The project is a particularly vivid illustration of the  role that history has often played in addressing contemporary medical issues.  Perhaps no other service profession better understands and respects the value of historical data than does the medical field.  Public health leaders and epidemiologists often turn to the past for guidance in understanding and combatting new disease outbreaks.  The plans for the encyclopedia of the 1918-19 influenza outbreak, in fact, originated in research by project leaders sponsored by the Department of Defense and Centers for Disease Control and Prevention aimed at investigating why select few communities in the United  States escaped the flu epidemic.  This information was sought at a time when the medical world was bracing for an anticipated global avian flu pandemic in the mid-2000s.
The digital encyclopedia launched in October 2012 and is the first major online resource to document so extensively the 1918-19 influenza pandemic as experienced by health care providers, political leaders, volunteer groups, ethnic and racial communities, and individual Americans. Covering a wide cross-section of the country, this digital resource is anticipated to be of tremendous value for humanities researchers in a wide range of fields, as well as educators, students, journalists, writers, and many others.
Further Readings
Be sure to read Part II and Part III of our series Medicine and the Humanities.
In addition to these efforts, the Division of Preservation and Access has supported a number of other projects over several decades that pertain directly or indirectly to the history of medicine. 
RT-20933-88  ENCYCLOPEDIA OF BIOETHICS Revision Project
1988
The revision of the first edition of the ENCYCLOPEDIA OF BIOETHICS, a reference work for the field of study dealing with ethical questions in the life sciences, health, and health.
Georgetown University
RT-21069-89  History and Geography of Human Disease
1989
The preparation of a three-volume history and geography of human disease.
Bowling Green State University
PH-20639-93  Machine-readable Cataloguing of Medical Artifacts
1993
The creation of machine-readable cataloguing records for l7,000 historical and medical artifacts held in seven academic health sciences libraries throughout the state.
Cleveland Medical Library Association
PA-23141-98  Arranging and Describing Records Documenting the History of Botany
1998
The arrangement and description of organizational records, personal papers, and field notes documenting the history of botany since the mid-19th century.
New York Botanical Garden
PA-51306-05  Cataloging Botanical Literature from the 15th through 20th Centuries
2005
Cataloging 3,537 rare books, serials, and monographic series related to the history of horticulture and landscape design in the Western world from 1400 to 1900.
Chicago Botanic Garden
PA-51723-06  Preservation Needs Assessment
2006
A preservation needs assessment of the academy's library facility and the preparation of recommendations for a comprehensive preservation plan, with particular focus on materials that chronicle the history of medicine.
New York Academy of Medicine
PG-51141-11  General Preservation Assessment for the Archives of the History of American Psychology
2011
A general preservation assessment and the purchase of storage equipment to better preserve the University's archival, audiovisual, and artifact collections documenting the history of psychology. The collection includes home video footage of Sigmund Freud.
University of Akron, Main Campus
*Charles Rosenberg, "The Care of Strangers: The Rise of America's Hospital System"  New York, Ny Basic Books, 1987, page 4.