Blog
Maynard Parker's Southern California Suburbia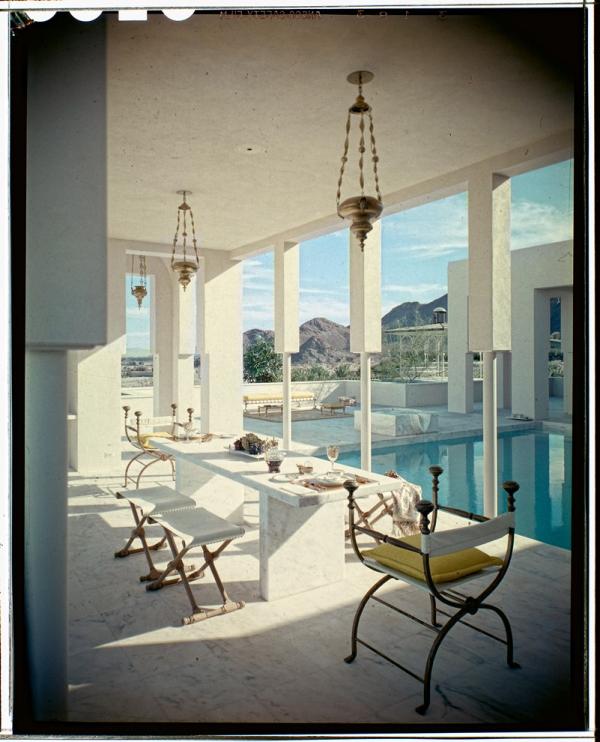 From the sun-drenched patio and outdoor barbeque, to the living rooms of some of Hollywood's legendary celebrities, photographer Maynard Parker (1900-1976) captured Southern Californian culture that came to dominate a mid-century modern architectural aesthetic.  Based in Los Angeles for most of his life, Parker is known for his landscapes and depiction of postwar suburban homes celebrating indoor-outdoor living and a burgeoning consumer culture.  From the late 1930s through the early 1970s, his work appeared in most major home design magazines, including Architectural Digest, House Beautiful, Sunset, and Better Homes and Gardens. 
Parker traveled the country photographing the work of architects Frank Lloyd Wright, and his apprentice, E. Fay Jones, as well as Samuel Marx, and Bob Anshen and Steve Allen.  He was most at home, however, in Southern California, where he photographed the residences of Hollywood celebrities--among them Joan Fontaine, Judy Garland, and Bing Crosby--as well as decidedly more middle-class dwellings.  Under the direction of Elizabeth Gordon, editor of House Beautiful from 1941 through 1964, Parker's photos venerated designs of architects like Harwell Hamilton Harris and Cliff May, father of the California ranch-style home.  
This was the era of the model home, when designers and editors, like Gordon, took on the role of educating the American public about appropriate design and new American architecture.  Gordon saw the greatest threat to American design in the "cultural dictatorship" and elitism of the International-style of architecture: the unlivable, autocratic, and foreign modernism exemplified by Le Corbusier and Mies van der Rohe.  With her Pace Setter Program of the late 1940s (with issues of the House Beautiful magazine devoted to topics in sensible design), Gordon set out to explain important trends in design:  easy, relaxed living in indoor-outdoor spaces and homes warm with texture and color.  In so doing, Gordon created a dynamic public forum for architectural debate, which ultimately led to the acceptance of modernism within the mainstream of middle-class America.
The Maynard Parker Collection, which was donated to the Huntington Library, Art Collections, and Botanical Gardens in San Marino, California, in 1995, has recently been cataloged, digitized, and made accessible online, thanks to an award from NEH's Division of Preservation and Access.  Including some 58,000 photographs and negatives, the collection is now available online.  
Since it was arranged, described, and partially digitized, the Maynard Parker archive, which consists of 90 linear feet of records, has been used widely by researchers writing books, magazine articles, and catalogs or organizing exhibits on the architects, interior designers, artists, and landscape architects of the postwar years.  Maynard Parker's work is currently being featured in the NEH-funded "House and Home" exhibit at the National Building Museum in Washington, D.C., which opened in April, and a J. Paul Getty Trust public programming initiative, "Pacific Standard Time, Art in L.A., 1945-1980," which focuses on postwar art in Los Angeles.  His work is also the subject of an upcoming book edited by The Huntington's curator of photographs Jennifer Watts, entitled Maynard L. Parker: Modern Photography and the American Dream (Yale 2012).
The Parker collection has other uses as well.  Many of the homes that Parker photographed are still owned and inhabited by people today who are curious about the history of their residence or who need to document changes over time in construction or design.  If you are a teacher, take a look at Calisphere, the University of California's online digital library, where the images have been incorporated in a unit on "California and the Postwar Suburban Home."  The unit poses questions such as: How did houses in the postwar suburbs use new technologies? What features of daily life are most prominent in these images? What do these images show about the way suburban homeowners were expected to live their daily lives?    
Additional Resources
For a complete description of the archive and its content, including Parker's business records and correspondence, see the finding aid at the Online Archive of California.
The Huntington has also created an audio-slideshow of some of the images narrated by curator of photography, Jennifer Watts.
As a young man, Parker traveled by foot, hitched rides in trucks and cars, and "rode the rails" from the East Coast to California, recording his experiences along the way.  If you are interested in Maynard Parker, the person, and wonder what it was like to travel across the United States in the 1920s, you can also check out excerpts from his cross-country diaries. 
For additional images, see the LA Times blog entry.
Read about the architectural photography of Maynard Parker and his contemporary, Julius Shulman, on NPR's, The Picture Show.
See the featured article on the NEH website about the Division of Public Programs award to the National Building Museum for the exhibit "House and Home." House and Home opened April 28, 2012, at the National Building Museum in Washington, DC.  To view the extensive public and school programming accompanying the exhibition, go to: http://www.nbm.org/exhibitions-collections/exhibitions/house-and-home.html.