Blog
Joining Forces: The Alliance for Response Pittsburgh Disaster Preparedness Cache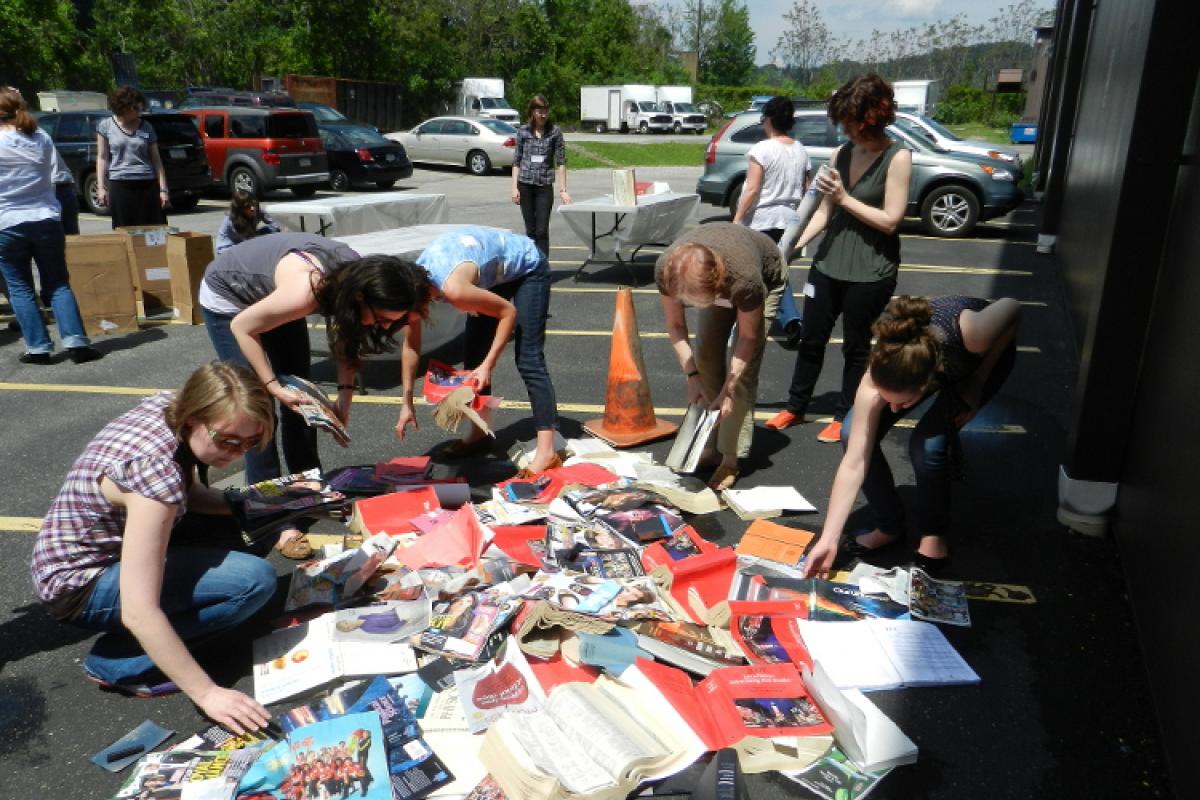 Part of a good preservation plan is being prepared for natural and man-made disasters.  However, many cultural heritage institutions do not have the resources, monetary or physical, to maintain the necessary supplies to deal with a disaster.  To solve this problem the Pittsburgh chapter of Heritage Preservation's Alliance for Response decided to build a cache of disaster response supplies to be shared by humanities organizations in the greater Pittsburgh region, as well as hold a disaster response training workshop. Alliance for Response is a national program on cultural heritage and disaster management that works to build bridges between the cultural heritage and emergency response communities before disasters happen.
Through a Preservation Assistance Grant for Smaller Institutions, the Alliance for Response Pittsburgh (AFR Pittsburgh) has built a cache of disaster response supplies housed at the University of Pittsburgh.  Members of the alliance, who sign a memorandum of agreement, may draw upon supplies when needed, with the understanding that they must replenish those supplies as well.  AFR Pittsburgh developed its list of supplies after reviewing a resource guide for disaster planning developed by the Conservation Center for Art and Historic Artifacts and consulting with a number of individuals and groups, including the San Diego/Imperial County Libraries Disaster Response Network, and its own member organizations.
On May 4, 2012, AFR Pittsburgh held a day-long meeting explaining the purpose of the disaster supply cache and demonstrating how each of the supplies works. The accompanying training workshop focused on how to deal with water-damaged books.  Thirty people attended this meeting which was held at the University of Pittsburgh's Library Resource Facility. They included representatives from some of the most important cultural and educational institutions in the region: Allegheny College, Andy Warhol Museum, Carnegie Library of Pittsburgh, Carnegie Mellon University, Carnegie Museum of Natural History, Chatham University, Duquesne University, Heinz History Center, Pittsburgh Symphony, University of Pittsburgh, and University of Pittsburgh iSchool.
Tom Clareson, senior consultant at Lyrasis, led the disaster response workshop.  Participants were taught how to set up a workstation, triage damaged items, apply basic drying techniques, and pack items for freeze-drying.   Following this exercise, meeting participants discussed how they could apply the skills they had learned in a real-life scenario.
Through this workshop and the establishment of a disaster supply cache, AFR Pittsburgh is helping to ensure the preservation of important humanities collections in the greater Pittsburgh area.  They include 700,000 photographs, prints, and negatives representing the history of western Pennsylvania; Andy Warhol's Time Capsules, a collection of 612 boxes that the artist curated with items that inspired his artwork and represented his everyday life; the papers of William J. Holland, an accomplished zoologist and paleontologist who served as the director of the Carnegie Museums of Pittsburgh; and the letters of steel magnate and philanthropist Andrew Carnegie.
For more information on the May 4th meeting and workshop, visit AFR Pittsburgh's website.  Video explaining the disaster supply cache can be seen on YouTube, and more images from the workshop can be seen here.  For more information on the Alliance for Response program, please visit Heritage Preservation (link no longer works).