Blog
Eyewitness Reporting of the Civil Rights Movement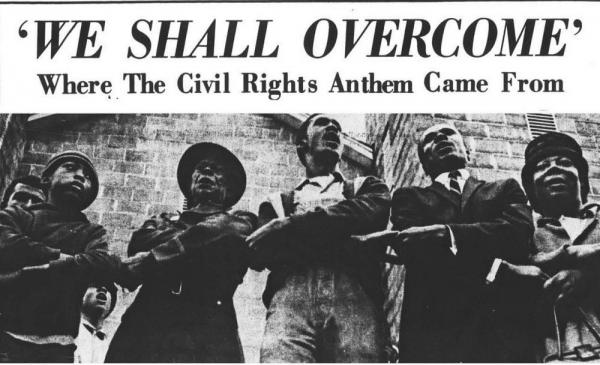 In July 16, 1965, in Montgomery, Alabama, a staff of student and recent graduate journalists and editors from Harvard University released the first issue of a small newspaper called The Southern Courier. The lead stories covered a range of local social and economic affairs related to the civil rights movement, including the integration of Tuskegee churches and outreach programs to improve voter registration and education. In their inaugural issue, the editors promised "to provide accurate information about these problems, and to supply a means of communication for the people who are trying to solve them."
An NEH grant has provided partial support to the non-profit Southern Courier Association to create an open-access digital archive of all 177 editions of the newspaper, which is available online. At the site, you can search for local unsung leaders of the civil rights movement such as John Hulett; follow the developments of stories such as the murder of Samuel Younge and the bloody politics of Lowndes County; or browse through the archive of 11,000 photos by photojournalist James Peppler.
You can also find reflections by Martin Luther King, Jr. and Rosa Parks on the tenth anniversary of the Montgomery Bus Boycott (vol. 1, no. 22). Dr. King wrote, "[The civil rights movement] is truly a revolution, but a revolution which can only be fully understood when looked upon in the light of history – and in the light of the fire of freedom which flickered then burned brightly in Montgomery…."
The Southern Courier reported on the civil rights movement from a local perspective. It covered happenings in Alabama and the Deep South with 'bureaus' in Birmingham, Mobile, Tuscaloosa, Tuskegee, and Jackson. The idea for the newspaper came out of the galvanizing marches from Selma to Montgomery, Alabama, earlier that spring. Published from 1965 through 1968, the weekly, six-page newspaper focused on civil rights stories that other Southern papers would not cover or had been overlooked by the national press. It offered intimate accounts of conditions, struggles, and day-to-day events in communities on both sides of the struggle for equality and justice.
In the spring of 2006, the former reporters, photographers, and staff of the Southern Courier re-united in Montgomery and held a day-long public meeting to discuss their experience in the South during the 1960s. At the reunion, the staffers and supporters committed to creating the freely-accessible, searchable, online digital archive.