Blog
Establishing a Firm "Foundation" for Preservation and Access Projects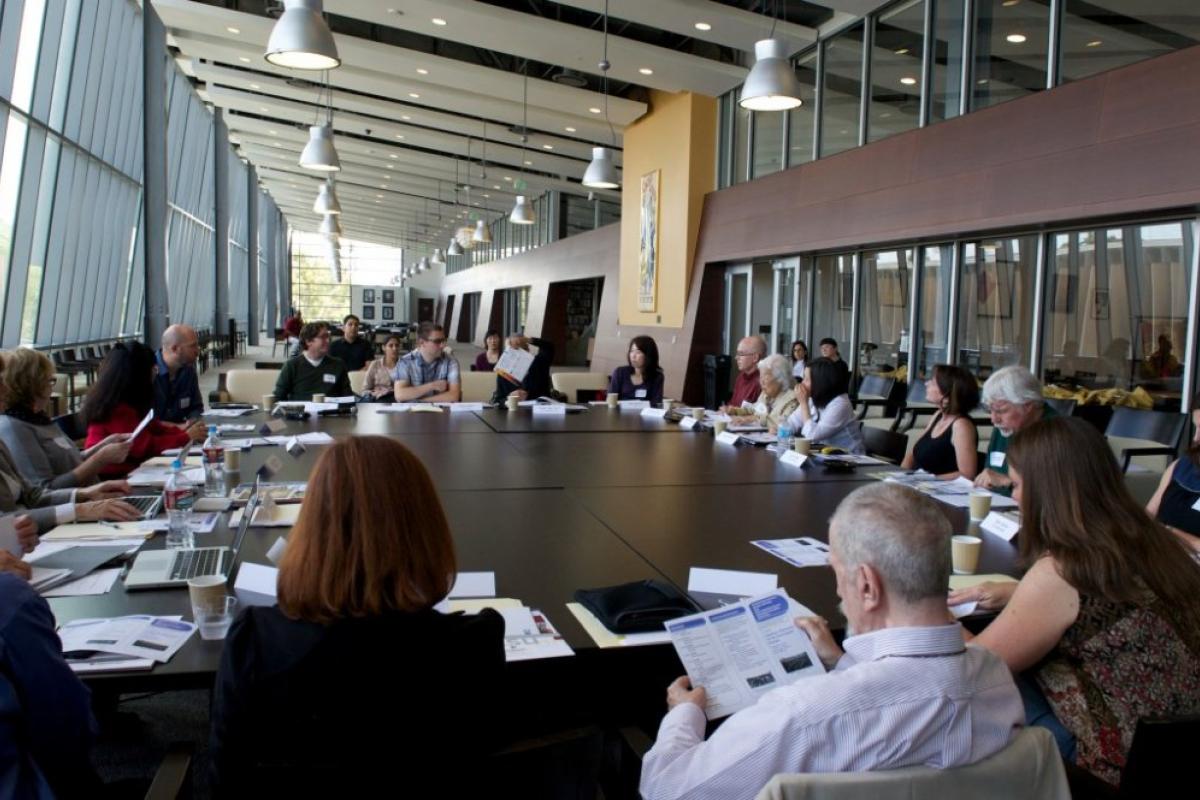 It's no secret that effective planning is essential in undertaking cultural heritage preservation and access work.  This has always been true, but these days it's perhaps even more crucial given the increasing expectations, opportunities, and options presented by ever-changing technology.  For instance, the full spectrum of activities supported by NEH's Humanities Collections and Reference Resources (HCRR) program – ranging from establishing intellectual control for collections, to digitizing materials, to creating core reference resources – requires not only careful forethought but also, in many cases, pilot-phase activities and evaluation before launching into full-scale implementation.
In 2012, NEH introduced a funding opportunity to support the developmental stages of many kinds of preservation and access projects through its HCRR Foundations grants.  As noted in the guidelines for HCRR, Foundations grants, for up to $40,000, may be used to address one or a combination of the following activities:
analyzing and evaluating the humanities content strengths, intellectual control requirements, and preservation needs of significant humanities collections;
identifying and prioritizing humanities materials for digitization, developing project-specific selection criteria, evaluating technical requirements for digital preservation and access, reformatting test-bed items, and/or exploring third-party service arrangements;
developing plans and protocols for ensuring the preservation of previously digitized or born-digital humanities content; or
creating editorial plans, locating and assembling resources, devising strategies for technological and programmatic sustainability, and producing content exemplars for reference resources such as encyclopedias, databases, virtual archives, etymological dictionaries, or online atlases.
Cross-disciplinary collaboration is viewed by many as an increasingly important ingredient in successful preservation and access initiatives, and Foundations grants provide an opportunity to ensure that this approach is baked in at the outset.  Planning teams typically include persons with humanities expertise, curatorial experience, and relevant technical skills, such as collection processing and preservation, digitization, metadata creation, or digital preservation.  Applicants are also urged to incorporate the creation of prototypes that will help to inform planning.
The response to this funding opportunity has been highly encouraging.  NEH has awarded 24 HCRR Foundations grants since 2012, including 10 new projects announced in April.  The following selected project descriptions provide a helpful illustration of the kind of work enabled through these grants.
Bard College, Annandale-on-Hudson, NY:  Planning for a digital archive of 1,800 hours of streaming and downloadable video, expert reports, and complete transcripts of the trial of former Serbian President Slobodan Milosevic at the United Nations war crimes court in the Hague.
Barnum Museum, Bridgeport, CT:  Collaborative planning, with the Bridgeport History Center, to improve access to two complementary collections of historical documents and artifacts at several cultural institutions relating to 19th-century American icon P.T. Barnum (1810-1891).
California State University, Dominguez Hills Foundation, Carson, CA:  Planning and development of a pilot project to digitize archival sources at six California State University (CSU) system schools dealing with Japanese American internment during World War II.
The Moravian Archives, Bethlehem, PA:  A planning project to enable the conservation and digitization of 120 linear feet of archival records documenting the work of Moravian missionaries in the eastern West Indies over the past two centuries, with an emphasis on the history of the region's enslaved populations.
Norman B. Leventhal Map Center, Inc., Boston, MA:  A planning project to establish protocols and agreements for creating digital access to 3,000 cartographic images, held by multiple institutions, that document the Revolutionary War era (1750-1800).
The University of California, Irvine, CA:  A pilot project to create linked open data for a collection of around 500 artists' books, including works by and about women and contemporary American politics and works produced in Latin American countries.
University of Florida Libraries, Gainesville, FL:  A 12-month planning project that will engage multiple partnering institutions -- including the Bibliothèque nationale de France, Brigham Young University, Brown University, Harvard University, Johns Hopkins University, the Newberry Library, and others -- to conduct an initial analysis of pamphlet collections published during the French Revolution era (1780-1810), with the aim of establishing of a French Pamphlet Digital Portal.
University of the Pacific, Stockton, CA:  Planning for the creation of a digitized corpus of Coptic texts of importance to scholarship in biblical studies, early Christian history, and linguistics. The project would develop a pilot text corpus and establish technical standards to ensure interoperability of the corpus with other digital projects on the ancient world.
University of Texas, Austin, TX:  A planning project to update technical standards and intellectual control for the Texas Archival Resources Online, which contains over 7,200 finding aids describing collections held by cultural heritage institutions in Texas.
Because these types of projects can serve as valuable case studies for the broader cultural heritage community, awardees are asked to prepare a white paper of lessons learned.  A number of the papers have been produced by the first grantees and are publicly available through NEH's funded projects inquiry database.  Reports of this nature, written specifically for colleagues in related communities of practice, can be highly informative in revealing the ebb and flow of advanced planning and its impact.  The white paper prepared by the University of Florida on its project to develop a collaborative digital platform for early French pamphlets, for example, describes in detail the changes in project vision and design that evolved as planning discussions and evaluation proceeded.  As the authors write, "The project was proposed with a given landscape in mind. By the time the project was awarded, the landscape had radically changed…. Best practices and lessons learned during the project period include embracing change and remaining flexible to best benefit from improved conditions and new resources."  Likewise, the white paper posted by the Barnum Museum emphasizes the importance of forming an effective planning team and includes excellent reports from consultants focusing on both content and technical considerations in building a virtual "bridge" between cultural heritage institutions.
As the guidelines for HCRR indicate, successful completion of a Foundations project is not a prerequisite for requesting implementation support.  Also, while Foundations awardees may certainly apply later for support at the implementation level (up to $350,000), they are not required to do so.  Some extensive planning projects may prove to be ends in and of themselves, while others could, indeed, lead to additional grant requests to NEH or other funders.  Without question, however, evaluators of HCRR implementation proposals do pay close attention to the quality of planning, something that Foundations awardees may be very well positioned to demonstrate.  Most importantly, humanities initiatives involving core resources and collections can now, perhaps more readily, be placed on very solid footing as a result of this grant opportunity.
The deadline for Humanities Collections and Reference Resources, at both the Foundations and implementation levels, is July 21, 2015.  Be sure to note that the guidelines resource page contains several pieces of information to assist in the application process, including sample narratives from previous successful proposals, and feel free to contact the division with any further questions at @email; 202-606-8570.