Blog
Does NEH Still Support Digitization? Why, Of Course!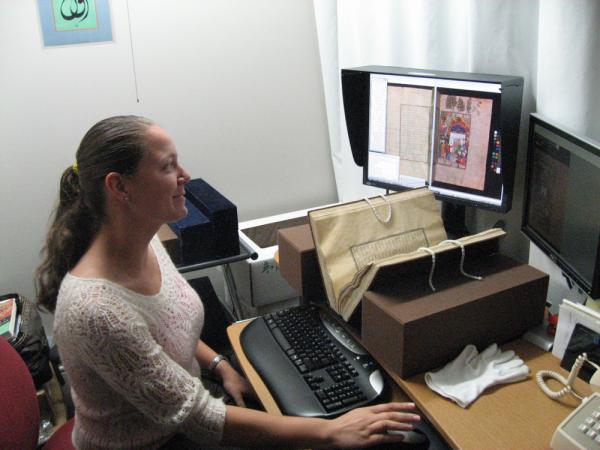 This is an article we wouldn't have thought necessary.  But curiously, misunderstandings seem to be circulating in some of the domains we serve that NEH no longer funds digitizing collections from libraries, archives, museums, and other cultural heritage repositories.  We even heard this asserted from the podium at a major professional association meeting. Not true!  Our support for bringing outstanding humanities content into the digital universe hasn't waned in the least.
The grant program at NEH that supports this work most directly is Humanities Collections and Reference Resources (HCRR), offered through the Division of Preservation and Access.  HCRR has a long legacy at NEH and funds a wide range of activities in addition to digitization, including:  arranging and describing archival and manuscript collections;  cataloging collections of printed works, photographs, recorded sound, moving images, art, and material culture; providing conservation treatment to facilitate access; preserving and improving access to born-digital sources; developing databases, virtual collections, or other digital resources; creating encyclopedias and historical dictionaries; and producing tools for spatial analysis and presentation of humanities data.
That's a big tent of activities, often interrelated, but it only amplifies the importance of digitization efforts that employ current best practices and standards for reformatting, producing metadata, and facilitating stewardship of the resulting digital assets.  The HCRR program encourages maximum discoverability of materials produced through its grants, their interoperability with related sources and relevant content aggregators, and their ongoing sustainability.  Like all NEH programs, HCRR also gives preference to projects that, other considerations being equal, result in free online access to digital materials produced with grant funds. 
HCRR offers support at both planning and implementation levels.  The planning subcategory, known as HCRR Foundations, was introduced two years ago and encourages pilot efforts to solidify and test the viability of plans.  It also stresses collaboration and teamwork in engaging relevant experts – e.g., humanities users, collection stewards, technology specialists, and preservationists – at the early stages of project development.  Further information about HCRR Foundations will be the subject of a forthcoming feature.
To further underscore the fact that NEH does, indeed, support digitization, here's a small sampling of some of the projects supported this year through HCRR :
Adler Planetarium and Astronomy Museum ($109,164)
Project Title: Celestial Cartography Digitization Project
Description: The digitization of 5,300 celestial maps and star charts, works on paper, scientific instruments, and prints from the 15th to 20th centuries, documenting humanity's visual depictions of the cosmos.
Michigan State University ($300,000)
Project Title: MSU Archive of Malian Photography
Description: The cataloging and digitization of 125,000 prints and negatives from the archives of five Malian professional photographers who have been active from the 1940s to the present. These works document traditional cultural and religious practices, the history of dress, gender, and status, and colonialism and modernization in southern Mali.
Thomas Jefferson Foundation, Inc. ($300,000)
Project Title: Beyond the Mansion 2.0: Completing a Digital Archive for Thirty Years of Archaeological Research at The Hermitage
Description: Cataloging and digitization of 365,000 artifacts from Andrew Jackson's home, The Hermitage, located near Nashville, Tennessee, that document socio-cultural relations between the owners and the enslaved population from the late 18th century through emancipation.
University of Pennsylvania ($230,000)
Project Title: Providing Global Access to Penn's Indic Manuscripts, circa 1527-1930
Description: The cataloging and digitization of 2,850 South and Southeast Asian manuscripts dating from the 16th to the 20th centuries from the University of Pennsylvania's Rare Books and Manuscripts Library to enable free online access.
University of Southern Mississippi ($260,000)
Project Title: The Struggle for Civil Rights in Mississippi: Providing Access at the 50th Anniversary
Description: The digitization, indexing, and online publication of 483 oral history interviews documenting the Civil Rights Movement in Mississippi.
While support for digitization of humanities collections for varied purposes – research, education, public understanding – is rooted in HCRR, it's important to note that digital activities are embedded in other programs throughout NEH as well.  For example, the Division of Research Programs supports the creation of scholarly editions and collaborative research projects, many of which employ digital resources and produce digital content, with emphasis on scholarly interpretation and synthesis.  The Division of Public Programs has for several years funded projects that include developing digital content in conjunction with media, exhibitions, or other programming and has recently introduced a new opportunity, Digital Projects for the Public, which supports products such as websites, mobile applications, games, and virtual environments that contribute to the public's engagement with humanities ideas.  The Summer Seminars and Institutes Program in the Division of Education Programs encourages applicants to develop digital products, including primary resources, to extend the reach and impact of proposed workshops for educators.  And, of course, the Office of Digital Humanities offers several programs that nurture innovative development and use of technology in the humanities and provide new tools and approaches for cultural heritage institutions in addressing the expanding challenge of managing digital resources.
The current guidelines for HCRR have just been released and are available via the hyperlink in the second paragraph above.  Along with the guidelines themselves, we urge prospective applicants to take advantage of the other resources offered on the "splash page," including frequently asked questions and sample narratives from successful proposals.  The next deadline for HCRR applications is July 17, 2014. Preliminary drafts of proposals may be submitted for review by one of our program officers up to six weeks prior to that date.  As with all NEH programs, don't hesitate to contact our division staff with questions pertaining to project ideas or the application process.