Blog
Training Cultural Heritage Workers for Disaster Preparedness and Response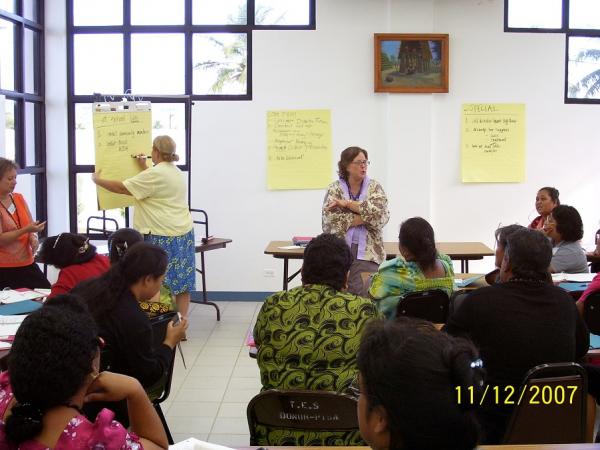 Through the Preservation and Access Education and Training program, NEH supports a range of activities to help cultural heritage workers update their knowledge and learn important new practices and techniques for responsible collections care. For example, NEH-supported regional field services provide in-depth preservation workshops around the country. Education and Training awards also support Master's-level graduate programs in preservation and collections care and workshops and symposia that address national or regional preservation and access needs of broad concern.
An important goal of NEH's Education and Training program also is to increase awareness about disaster preparedness and help cultural heritage institutions and staff to develop disaster response plans. In recognition of May Day—designated by the Heritage Emergency National Taskforce as a day for libraries, archives, museums, historical societies, and other cultural heritage organizations to improve disaster preparedness—we bring you this report on disaster response activities among cultural heritage managers in the Pacific Islands. This report also coincides with the end of Preservation Week and the beginning of Asian-Pacific American Heritage Month.
One project that has received NEH support through the Education and Training program is the Western States and Territories Preservation Assistance Services (WESTPAS), based at the Peninsula Library System in San Mateo, California. Through a coordinated network of preservation professionals, WESTPAS provides preservation workshops and consultation services in the Mountain West, West Coast, and Pacific. In a region prone to environmental disasters, WESTPAS disaster response and preparedness services have been particularly significant. We got in touch with Lynn Davis, Library Preservation Officer at the University of Hawai'i, who told us more about WESTPAS's work to support cultural heritage preservation around the Pacific.
NEH: Where has WESTPAS worked in the Pacific region?
Lynn Davis (LD): In the Pacific, WESTPAS has offered preservation workshops for libraries and archives in Tinian, Northern Marianas; Guam; Pago Pago, American Samoa; and in Hawaii on the islands of O'ahu, Kaua'i, Maui, and Hawai'i.
NEH: How have you responded to the challenges of serving such a large area?
LD: The WESTPAS model of developing sustainability for preservation of cultural materials is particularly relevant in the Pacific. Thousands of miles of ocean divide islands and air travel is expensive. The only preservation facility for library and archival materials in this vast area is located at the University of Hawai'i at Manoa Library in Honolulu.
NEH: Can you tell us about some of the work WESTPAS has done to support preservation of humanities collections in the Pacific?
LD: Sure. In 2007, WESTPAS staff held a workshop in Tinian, Northern Marianas. The workshop was called "Protecting Library and Archives Collections" and held at the Pacific Islands Archives and Libraries Association (PIALA) meeting in 2007 held on Tinian, Northern Marianas. For this workshop, my colleague Jane Barnwell of PREL (Pacific Resources for Education and Learning) and I put our heads together to reach as many of the most motivated Library staff in the American Pacific region that we could. The PREL program (with a grant from the Institute for Museum and Library Services) awarded travel scholarships to leaders in the library field in the American Pacific region to attend a three-day pre-conference WESTPAS disaster preparedness workshop. Thirty-four people attended the workshop and wrote a first draft of their disaster plans.
WESTPAS held a workshop in American Samoa in 2008 called "Protecting Library and Archives Collections" at the Feleti Barstow Public Library in Pago Pago. Participants nervously discussed what would happen if a tsunami hit the island. That dreaded event did happen later, in 2009, when an earthquake did cause a tsunami that hit American Samoa on October 13.
NEH: How did WESTPAS help respond to the tsunami in American Samoa?
LD: The 2009 tsunami hit Pago Pago harbor and villages on the American Samoa island of Tutuila. Several school libraries were severely damaged and Territorial Government records (Land and Court records) were damaged. It took five days before I was able to reach Terry Field, Clerk at the Territorial High Court, who reassured me that all the valuable Territorial records had been frozen to stabilize them and prevent mold growth.
Belfor [an organization supporting disaster recovery and property restoration] gave a grant to WESTPAS to pay for travel expenses for Jane Barnwell (PREL) and me to fly to Pago Pago two weeks after the tsunami hit the island. Because lodging and vehicles were limited, we stayed with the family of the Territorial Librarian, Cheryl Morales, and used the Library's vehicle. High Court files were placed in a freezer container within three days. The Territorial government has had support from the Federal Emergency Management Agency (FEMA) to restore these culturally significant documents. Many documents go back to 1900 when the U.S. government established a naval station in Pago Pago. Lynn Davis met with officials from the High Court to draft protocol for treatment of these records.
NEH: What other disaster response assistance has WESTPAS offered?
LD: When a tsunami hit Hawaii in March 2011, I was in Berkeley, California, attending a WESTPAS trainers meeting. The day after the tsunami, I returned to Honolulu and took a flight to Kona. There, I worked with staff and volunteers to assess damage to collections and to move large sheets of nineteenth-century kapa [bark cloth] to freezer storage in order to stabilize and preserve it. 
NEH: We hope that such natural disasters are isolated events. What lessons has WESTPAS learned to improve response and recovery?
LD: The post-disaster lesson learned in Pacific Island communities is that resources are limited. Yet, on-going WESTPAS training works, and networking has help stretch grant funds and support assistance for disaster response and recovery.
NEH: Thank you for telling us more about disaster response training supported by WESTPAS!