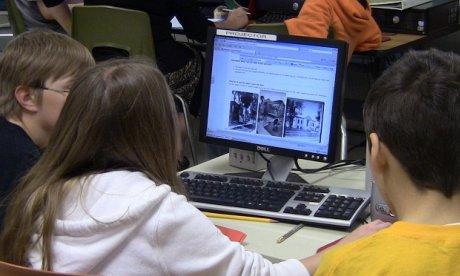 We were pleased to see considerable media coverage of projects funded through ODH's Digital Humanities Start-Up Grants program in recent weeks. Here are a few highlights:
Just last week, the Pittsburgh Tribune-Review featured the project "Is That You, Mr. Lincoln?: Applying Authorship Attribution to the Early Political Writings of Abraham Lincoln," a collaborative effort between the Abraham Lincoln Presidential Library and researchers at Duquesne University. The project seeks to help determine whether or not Lincoln actually penned a selection of (often provocative or inflammatory) Illinois newspaper articles published anonymously or pseudonymously in the 1830s and 1840s, the early years of the future president's career. Using software developed by co-Project Director Patrick Juola and his colleagues at the Evaluating Variations in Language Lab, the project team is first analyzing documents known to be authored by Lincoln in order to gather information about key aspects of his writing style before looking for evidence of that style in the unattributed newspaper articles. The Tribune-Review piece also mentions that Juola and his colleagues will apply these methods to a recently announced, Defense Advanced Research Projects Agency (DARPA)-funded project focusing on cyber security (more on that here).
Eastern Connecticut's The Day featured an effort spearheaded by the Mystic River Historical Society that was modeled on Kent State University's SUG-funded GeoHistorian project. As with GeoHistorian, the Mystic project encourages students to create brief video narratives on local historical sites, which can then be accessed through QR codes placed throughout the community. During their award period, GeoHistorian project director Mark van 't Hooft and his colleagues also developed a project website, including extensive curriculum materials, to help other educators get started.  
Writing for ProfHacker in The Chronicle of Higher Education last month, Adeline Koh reported on the SUG-funded workshop "Encouraging Digital Scholarly Publishing in the Humanities," which took place in November 2012. Organized by Bonnie Johnson, director of the University Press of North Georgia and professor of English at North Georgia College & State University, the workshop focused on opportunities new models of peer review might offer in facilitating publication of born-digital scholarly monographs, as well as potential obstacles to implementing such models. The workshop, which targeted issues relevant to smaller university presses, included representatives from the University of Akron Press, the University of Georgia Press, Wayne State University Press, and Temple University Press.