Blog
ODH Project Director Q&A: Brian Graney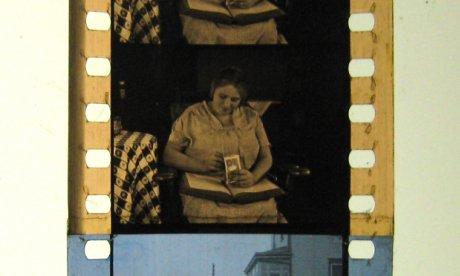 As our most recent group of Digital Humanities Start-Up Grant awardees get started on their projects, we've asked a few of them to tell us more about what they're doing. Over the next month, we'll be posting Q&As with project staff to shed some light on how these efforts got started, who's involved, and the potential impact of each project's work across the humanities.
This week, we've asked Brian Graney, Archivist and Head of Public and Technology Services at Indiana University's Black Film Center/Archive (BFC/A), to answer a few questions about his project. During this start-up phase, humanities scholars, archivists, and librarians will come together for a conference and workshop on "Representing Early Black Film Artifacts as Material Evidence in Digital Contexts." As Brian discusses below, participants will contribute their perspectives on how the physical attributes of film prints offer insights into early 20th-century black-audience motion pictures. Over the course of two days, these experts will tackle a range of intellectual and methodological issues that highlight the ways in which digital tools can facilitate widespread access to and forge connections between film artifacts and complementary collections.
ODH: Tell us more about the BFC/A.
Brian: Indiana University's Black Film Center/Archive was established in 1981 to support the emergence of black cinema as a discrete field within film studies.  One of the most important collections placed here early in the Archive's history is that of Richard E. Norman, a producer and distributor of black-cast films who left behind a comprehensive record of his decades on the race film circuit, through scrapbooks, correspondence, distribution and censorship records, and production and promotional materials.  Norman produced some of the most successful features for black audiences in his day, including 1926's THE FLYING ACE, but little of his work has survived.
ODH: What can film studies scholars learn from examining individual film prints rather than focusing primarily on the content of the film?  What aspects of the film print offer fruitful starting points for research?
Brian: Looking at film prints can be useful even where there's a research focus on content, especially where the "text" of the film was never a stable thing but varied from print to print—and from screening to screening over the life of any single print.  For scholars looking beyond the film text at the contexts of its production, distribution, exhibition, and regulation, prints have additional informational value as documents apart from their primary purpose as moving image content carriers.
You'll find a fruitful starting point for research in the leaders—lengths of film leading up to the first frame of picture at the head and out from the last at the tail.  These are full of information from multiple sources; you might find a laboratory leader attached to an archive leader attached to a studio leader, all bearing on the provenance and use of the print.  Within the span of the content-bearing area from the first frame to the last, you can examine the print to determine if this is an unbroken length of film, and if not, where the splices fall, if something is missing at the point of the splice, or if something was inserted later into the print there.  In the frame lines, you might find editorial annotations.  Along the edges of the film, you can find markings and codes, some printed right on the stock base which might identify the year or location of manufacture, others stamped on by printing labs or printed through from previous generations.  These, along with traces of physical damage and repairs, can be useful clues for establishing timelines of action on the film, especially when attempting to place a print in time with other elements which preceded or succeeded it in generation, or with documentary records of damage, censorship, or repurposing in the print's exhibition history.
ODH: What specifically might researchers glean from studying prints of early black-audience films?
Brian: The scarcity of these prints is in part a product of the distribution and exhibition environment for early black-audience films.  Prints were struck as needed, one or two at a time, and reworked on the road to appeal to local audiences, to appease local censors, or just to repair damage that occurred along the way.  When mapping the history of the race film circuit, the print itself can be taken as part of the available documentation, as long as you know how to read it and have access to the characteristics that are there to be read.
ODH: How might methods of digitizing and preserving films change as archives focus on capturing information about individual film prints?
Brian: Emphasizing the research value of the film print as an artifact or document, the aim of digitization and preservation might be to create a surrogate that conveys its characteristics for examination by present and future researchers with no access to the original.  This is very different from the aim of conveying a time-based media work to a viewer with expectations of completeness and pristine image quality.  The approach that privileges the ideal viewing copy as an end product will remain the standard, but when we're considering the incunabula of motion pictures, we may want to investigate other ways of preserving and representing film objects for research.  Unfortunately, I'm not sure how well these approaches can exist side-by-side.  Some of the practices common in film preservation necessarily result in the erasure of evidence we might wish to preserve: markings, scratches, tears, bulky repairs, dupey patched-in replacements sections, and the like.
ODH: This project brings together a range of experts – scholars, librarians, archivists—to grapple with the challenges of preserving and analyzing early films.  How do you expect each of these perspectives to inform the activities and outcomes of the meeting?
Brian: In black-audience film scholarship, there has been important recent archival research, such as project advisor Jacqueline Stewart's with the Tyler, Texas Black Film Collection*, which opens lines of inquiry that really demand to be carried out at a film workbench with a lightbox and a loupe.  That degree of access to original artifacts has not been widely on offer at film archives, so digital surrogation and delivery present opportunities here.  To give them shape will require a collaborative effort between film scholars reflecting on the historiography of their field to anticipate how research methods are evolving; film archivists reassessing how digitization and preservation practices can accommodate research access now and in the future; and librarians bringing to bear their expertise in developing tools to support digital scholarship.
*Stewart, J. (2011). Discovering black film history: Tracing the Tyler, Texas Black Film Collection. Film History, 23(2), 147-173.
ODH: One of the goals of the meeting is to explore digital methods of presenting video content alongside other relevant visual and textual sources. What kinds of documentation and sources are you considering? What tools are you planning to look at to help accomplish this?
Brian: In the Norman collections at Indiana, in the George P. Johnson collection of Lincoln Motion Picture Company records at UCLA, and across other institutions and private collections, there are non-film materials -- scripts, press clippings, censor reports, promotional stills -- that can be usefully considered together with motion pictures, especially those surviving in fragments or in multiple versions.  In our workshop, we will be looking closely at some interesting recent projects that have integrated film with related documentation, such as HYPERKINO and the Digital Nuclear Film Archives.  Where our approach differs conceptually is in setting aside time-based presentation of digital video and instead representing the print as a static image, like a scroll, which allows us to work with existing tools like the Text-Image Linking Environment (TILE).