Blog
Lightning Round Videos: Project Presentations from the 2018 ODH Project Directors Meeting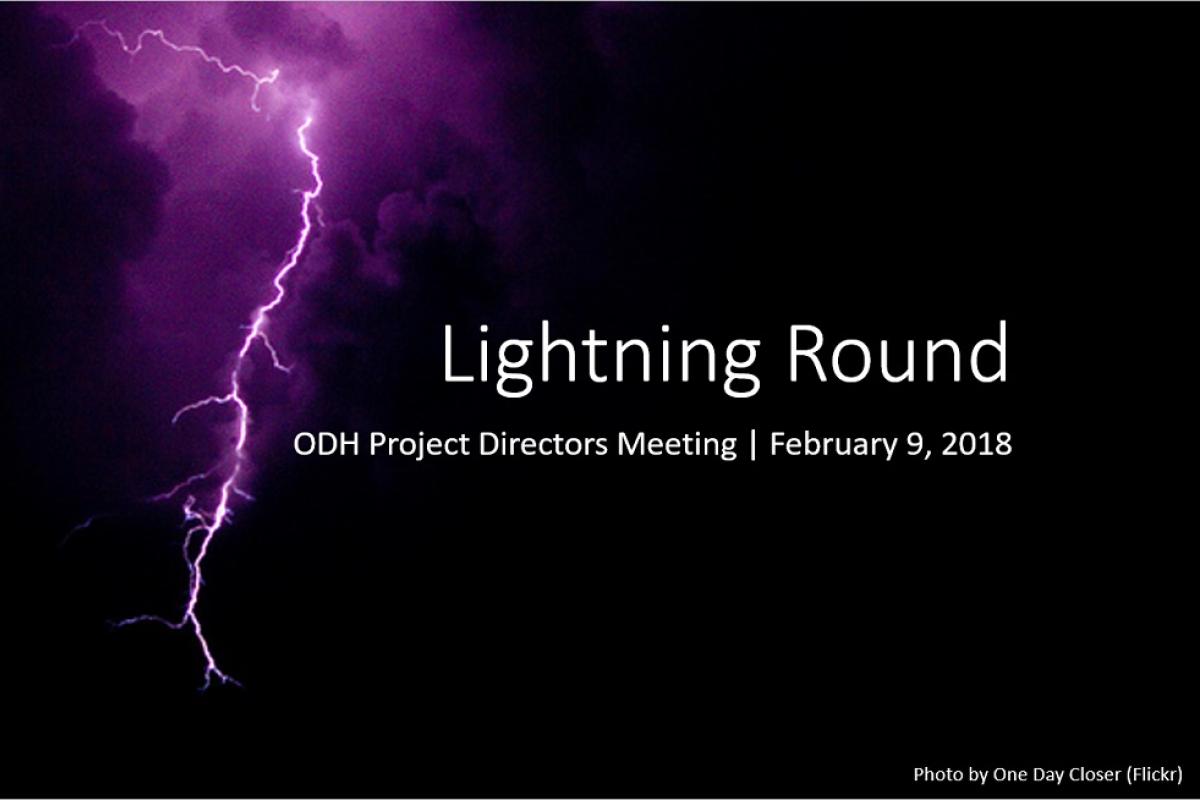 On February 9, 2018, the NEH Office of Digital Humanities convened our annual Project Directors Meeting at NEH headquarters in Washington, DC.
One highlight of this meeting was the popular "Lightning Round" – an opportunity for ODH Project Directors to share a 3-minute overview of their NEH-funded project. Below, you'll find links to videos of each of these presentations. Click on any project title to go directly to the video.
Visit the grant program pages to learn more about applying to the Digital Humanities Advancement Grant program and the Institutes for Advanced Topics in the Digital Humanities.
Digital Humanities Advancement Grants: Level I projects
Omeka S ORCID Integration
Speaker:  Patrick Murray-John, George Mason University (HAA-258779-18)
V-ESPACE: Virtual Early Modern Spectacles and Publics, Active and Collaborative Environment
Speaker: Jeffrey Leichman, Louisiana State University (HAA-255998-17)
Networking the Regional Comprehensives
Speakers: Roopika Risam and Susan Edwards, Salem State University (HAA-256069-17)
Caribbean Diaspora: Panorama of Carnival Practices
Speaker: Nadjah Rios-Villarini, University of Puerto Rico, Rio Piedras (HAA-258807-18)
The Development of Digital Documentary Editing Platforms
Speaker: Jennifer Stertzer, University of Virginia (HAA-256175-17)
Viral Networks: An Advanced Workshop in Digital Humanities and Medical History
Speaker: Tom Ewing, Virginia Tech (HAA-256132-17)
Go Local: Building Capacity for Public History in York County, Maine
Speaker: Dianne Fallon, York County Community College (HAA-255885-17)
Digital Humanities Advancement Grants: Level II projects
Integrating Digital Humanities into the Web of Scholarship with SHARE: An Exploration of Requirements
Speaker: Judy Ruttenberg, Association of Research Libraries (HAA-256187-17)
Digital Floor Plan Database: A New Method for Analyzing Architecture
Speakers: Elise King and David Lin, Baylor University (HAA-258763-18)
Supporting Cultural Heritage Research in Historic Photography Archives with Machine Learning and Computer Vision
Speaker: Tom Hughes, Carnegie Mellon University (HAA-256249-17)
Curating East Africa: A Platform and Process for Location-Based Storytelling in the Developing World
Speakers: Mark Souther and Meshack Owino, Cleveland State University (HAA-255990-17)
Building a Decision Tree for Watermark Identification in Rembrandt's Etchings - The WIRE Project
Speaker: Andrew Weislogel, Cornell University (HAA-256123-17)
Mina Loy: Navigating the Avant-Garde
Speakers: Suzanne Churchill and Linda Kinnahan, Davidson College (HAA-256146-17)
Documenting the Ethnobiology of Mexico and Central America: A Digital Portal for Collaborative Research
Speaker: Jonathan Amith, Gettysburg College (HAA-258602-18)
Circulating American Magazines: Making Lost Historical Data from the Audit Bureau of Circulations Publicly Available
Speaker: Brooks Hefner, James Madison University (HAA-255942-17)
Mapping the Historic West End:  The Digital History of African American Neighborhoods in Charlotte, North Carolina
Speaker: Brandon Lunsford, Johnson C. Smith University (HAA-256122-17)
Grenzenlos Deutsch: an Inclusive Curriculum for German Studies
Speakers: Britt Abel, Macalester College and Amy Young, Central College (HAA-256186-17)
Mining Citation in Digital Humanities: A central bibliography of Digital Humanities Quarterly
Speaker: Julia Flanders, Northeastern University (HAA-256138-17)
Tools for Listening to Texts-in-Performance
Speaker: Marit MacArthur, Northwestern University (HAA-258799-18)
Named Entity Recognition For The Classical Languages For The Building Of A Catalog Of Ancient Peoples
Speakers: Brian Joseph and Christopher Brown, The Ohio State University (HAA-256078-17)
Visualizing Webpage Changes Over Time
Speakers: Michele Weigle, Old Dominion University Research Foundation (HAA-256368-17)
Diviner, A Digital Platform
Speaker: Ellen Rocco, St. Lawrence University (HAA-255937-17)
The Global Medieval Sourcebook
Speaker: Mae Lyons-Penner, Stanford University (HAA-258712-18)
Applying Named Entity Recognition to Explore Louisiana Slave Conspiracies
Speakers: Bryan Wagner, University of California, Berkeley (HAA-258706-18)
Documenting and Triaging Cultural Heritage (DATCH): Damage Assessment and Digital Preservation
Speakers: Scott Branting, University of Central Florida, Orlando (HAA-256218-17)
DH from an Indigenous Perspective: Strengthening Partnerships between Indigenous Communities, Scholars, Museums, and Archives
Speakers: Christina Frei and Timothy Powell, University of Pennsylvania (HAA-258754-18)
The Philadelphia Playbills Project
Speaker: Laura Aydelotte, University of Pennsylvania (HAA-255999-17)
Reconstructing the First Humanities Computing Center
Speaker: Steven Jones, University of South Florida (HAA-255991-17)
Literature in Context: An Open Anthology
Speakers: John O'Brien and Christine Ruotolo, University of Virginia; and Tonya Howe, Marymount University (HAA-258768-18)
Investigating the Golden Age of Podcasting through Metadata and Sound
Speaker: Jeremy Wade Morris, University of Wisconsin, Madison (HAA-255979-17)
The London Stage Database
Speaker: Mattie Burkert, Utah State University (HAA-258717-18)
Digital Humanities Advancement Grants: Level III projects
Text in Situ: Reasoning about Visual Information in the Computational Analysis of Books
Speakers: Taylor Berg-Kirkpatrick, Carnegie Mellon University and David Bamman, University of California, Berkeley (HAA-256044-17)
Freedom on the Move: Advancing a Crowdsourced, Comprehensive Database of North American Runaway Slave Advertisements
Speaker: Edward Baptist, Cornell University (HAA-256102-17)
Exploring Archaeological Landscapes through Advanced Aerial Thermal Imaging
Speaker: Jesse Casana, Dartmouth College (HAA-256086-17)
Exposing the Borders of Academia: Sign Language as a Medium of Knowledge Production, Preservation, and Dissemination
Speakers: Patrick Boudreault and Dirksen Bauman, Gallaudet University (HAA-258756-18)
Transcribing and Linking Early American Records with Scripto and Omeka S
Speaker: Megan Brett, George Mason University (HAA-256158-17)
Ensuring Access to Endangered and Inaccessible Manuscripts
Speaker: Columba Stewart, St. John's University, Collegeville (HAA-255994-17)
Expanding the Digital Archaeological Archive of Comparative Slavery Research Consortium
Speaker: Jillian Galle, Thomas Jefferson Foundation (HAA-258826-18)
Tesserae Intertext Service: Intertextual Search Access to Digital Collections in the Humanities
Speaker: Walter Scheirer, University of Notre Dame (HAA-258767-18)
Institutes for Advanced Topics in the Digital Humanities
Expanding Communities of Practice
Speaker: Lisa Rhody, CUNY Research Foundation, Graduate School and University Center (HT-256968-17)
Virtual and Augmented Reality for the Digital Humanities Institute (VARDHI)
Speaker: Victoria Szabo, Duke University (HT-256969-17)
Textual Data and Digital Texts in the Undergraduate Classroom
Speakers: Lauren Coats, Louisiana State University and Emily McGinn, University of Georgia (HT-256977-17)
Digital Editions, Digital Corpora and new possibilities for the Humanities in the Academy and Beyond
Speaker: Gregory Crane, Tufts University (HT-256958-17)