Blog
Handheld History: Murder on Beacon Hill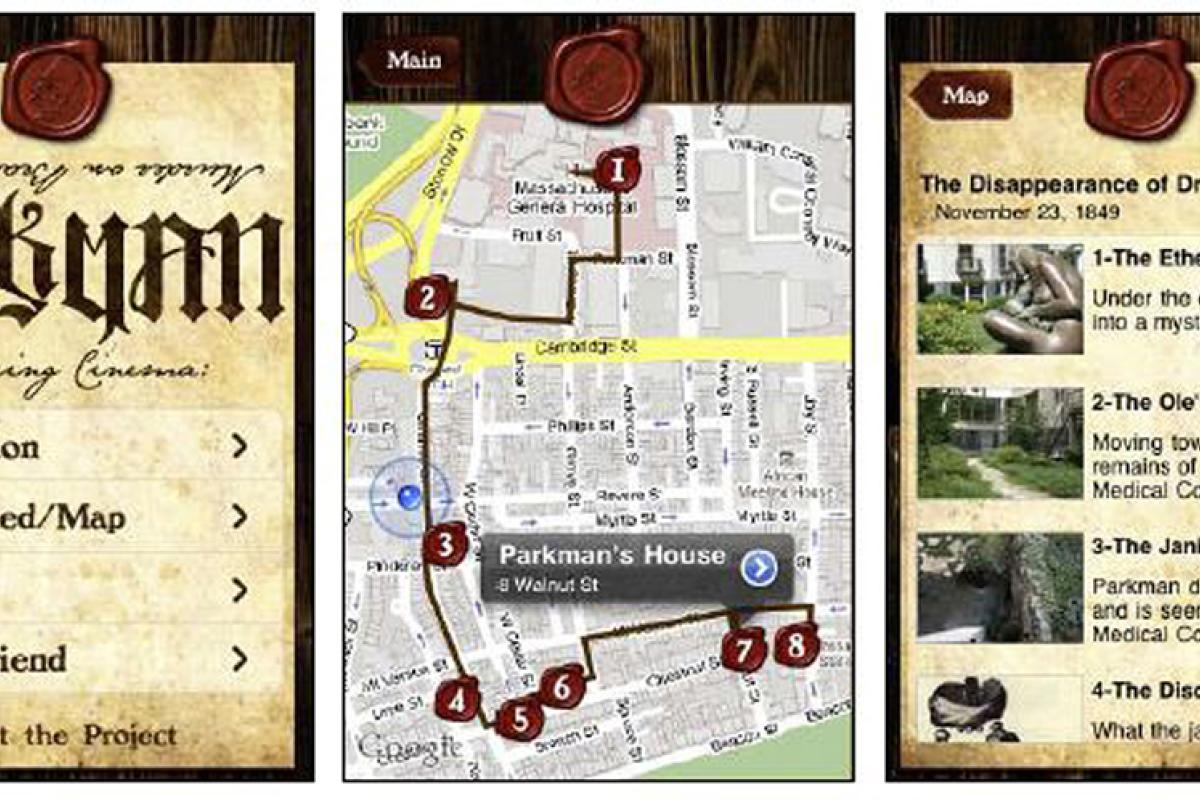 On a warm afternoon a week before Thanksgiving, 1849, Dr. George Parkman, one of the richest men in Boston, went missing. A massive manhunt uncovered pieces of a body in and under the Harvard Medical College. Professor John Webster was arrested for the murder. What followed was the most famous trial and conviction of the 19th Century.
This is the backdrop for an NEH-supported project called Walking Cinema: Murder on Beacon Hill – a location-aware mobile application that became the first iPhone app to be featured at a major international film festival.
Based on the grisly murder of George Parkman and subsequent trial of John Webster, the tour begins at the site of the original Harvard Medical College building on the Massachusetts General Hospital campus. The app directs the user from place to place on an eight-stop journey, providing visual information and historical perspective on what the user is seeing. This sort of technique is called "augmented reality," and is one of the most exciting developments at the intersection of humanities and digital culture.
The goal of the project, the developers emphasize, is not to create "a digitized guidebook, but a highly participatory true crime story that physically leads audiences through an in-depth analysis of 19th century Boston culture."
Following the walking tour, users discover the clues to the crime throughout eight locations in Boston's rich historical landscape, from the Charles Street Jail (now the Liberty Hotel) to the place where Parkman's remains were found by investigators. Mobile videos lead you to artifacts along the way—morality board games, riddling ink stamps, crime scene pop-up books. For those who cannot visit Boston, the entire application is available as a video podcast, and the website has an interactive map to lead users along a virtual path.
The mobile application was developed by Untravel Media, Inc., in partnership with the producers of the NEH-funded PBS film "Murder at Harvard" and Simon Schama's book "Dead Certainties."
Michael Epstein, CEO of Untravel, calls the project a "transmedia" extension of the original film. "The idea wasn't to just reuse the film,' he says, "but to extend the story into a participatory experience. We tried to pick up certain characters and situations where the film left off and tease out more of their backstory. The mobile version focuses on reconstructing the fateful encounter between Dr. Parkman and Professor Webster in the Medical College laboratory. The College's ruins are the starting point for the journey and the connective tissue to various artifacts found along the walking path."
The mobile app was screened at the 2010 Boston International Film Festival, where it was awarded the Indie Spec New Media Award.