Blog
The Kansas Humanities Council at Work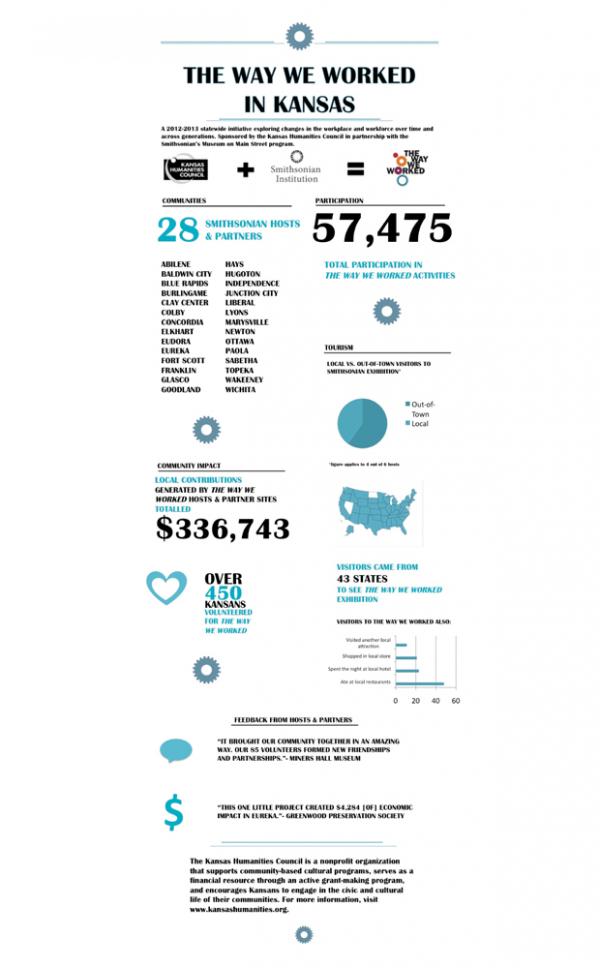 In 2012 and 2013, The Way We Worked in Kansas, a statewide initiative from the Kansas Humanities Council, reached Kansans across the state through programs and projects highlighting the diversity of the American workforce. This initiative featured a traveling exhibition from the Smithsonian Institution that journeyed to six towns across the state. Audio Tours from the six host cities are still available online.
In addition to the exhibition sites, partner sites also conducted related programs and projects that supported the theme of The Way We Worked. Fifteen organizations participated in organizing activities around the theme of work. The Kansas Humanities Council's Speakers Bureau also joined in to highlight workers and work through free Speakers Bureau presentations. The 2013 selection for All Kansas Reads, a statewide reading and discussion program, was also tied in to The Way We Worked. The program featured Then We Came to the End, a novel about office life by new author Joshua Ferris.
The Way We Worked initiative also allowed the Kansas Humanities Council  to take action on preserving a town's work history through the Boeing Oral History Project. The project, begun in partnership with the Wichita-Sedgwick County Historical Museum, was supported by a grant from the American Folklife Center at the Library of Congress. The project's goal was to record and preserve the stories of workers at the Boeing aircraft manufacturing plant and Wichita community members in advance of the plants closure in 2013.
Together, all of the stories developed and discovered through this initiative help define Kansas and Kansans by focusing on the values and traditions of communities across the state. The importance of this two-year initiative is reflected not only in the products produced but also in the impact numbers released by the Kansas Humanities Council. An infographic illustrating the statewide impact on people and communities was recently released. Some of the highlights include:
6 communities hosted the Smithsonian exhibition, The Way We Worked
Over 450 Kansans volunteered across the state
57,475 visitors viewed the exhibitions and attended programs
Looking forward to 2015, the Kansas Humanities Council next turns its attention to building and uniting communities through sports with Hometown Teams. Go team!