Blog
Mass Humanities grantee shines in the spotlight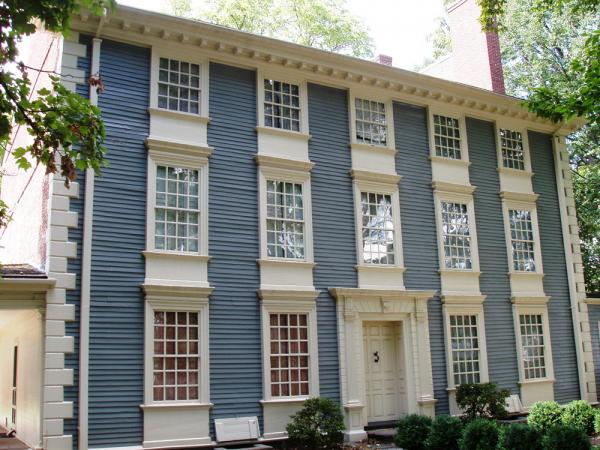 This past June, Mass Humanities awarded the Massachusetts History Commendation to the Royall House and Slave Quarters, located in Medford, MA. The award was in recognition of the Royall House's work to make the stories of their site meaningful to visitors. The award was made during Mass Humanities annual Mass History Conference. The Royall House also recently received a Mass Humanities project grant of $5,000 to develop school field-trip programs.
Explaining why the Royall House was chosen for recognition, Pleun Bouricius, assistant director of Mass Humanities, said, "During the past decade, the Royall House and Slave Quarters has acted upon the recognition that its concrete and physical connection to the local history of enslavement of African-Americans needed to be brought to the fore. The organization committed itself to historical honesty, wrote grant proposals and researched its history, collaborated on extensive archaeology work, and created and implemented a plan to adjust its identity as a historic site.  With the help of dedicated volunteers, the Royall House and Slave Quarters is emerging as a leader in its field in Massachusetts, and an example to other organizations with small purses and large plans."
Mass Humanities has not been the only Massachusetts organization to recognize the Royall House for its achievements. The Cummings Foundation awarded a OneWorld Boston grant of $100,000 to the Royall House to offer field-trips to underserved schools. The Boston Globe also highlighted the Royall House in a recent article exploring the development of the museum in to a center for the history of slavery in Massachusetts. The Royall House has undergone an extraordinary transformation over the years from its early days as a historic house museum focused on the history of its wealthy, Loyalist original owner, Isaac Royall, in to a museum dedicated to bringing the full scope of the family's, and New England's, connection to slavery to light. The Royall House joins other area museums in a movement to tell the story of slavery in New England. Click here for the full article to read more about this remarkable story.