Blog
Maine 'Humanities On Demand' Brings Its Winter Weekend Back, Online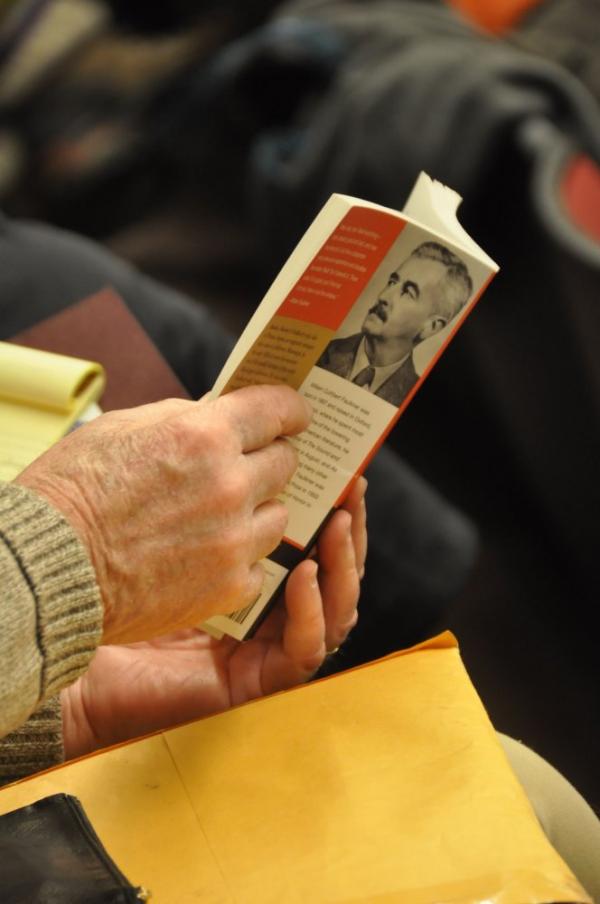 Tickets sold out long before the Maine Humanities Council opened the doors to 200 readers this past March for its Winter Weekend at Bowdoin College. But for those of us who didn't snag a ticket or travel to the coastal town of Brunswick, it is our turn to attend. Thanks to the Humanities on Demand program of the MHC, all the Winter Weekend talks are available to listen to at any time.
Let's be clear, however: the Winter Weekend is not to be missed. It is a yearly seminar on a 'classic text,' yet so much more than lectures are on offer. After the MHC's Assistant Director Anne Schlitt told me of menus of opening night dinners of years gone by, it has become clear that, above all, this event immerses its participants in the novel's world.
It's not hard to see the attractions of this program, which has become one of the MHC's signature events. Seminar participants are dedicated folks, from teachers and librarians who receive scholarships to attend, to readers who have returned annually since the first Winter Weekend in 1998. The event's founder, Charles Calhoun, loves great books (listen to his talk on the subject here). He charted the course for every Winter Weekend to come by choosing a text both old and new: Robert Fagles' 1996 translation of the Odyssey. These days, audience members cast the vote, but they continue to long for a challenge. Last year, they selected Dostoevsky's Crime and Punishment. This year, William Faulkner stepped into the light. Weekenders chose to read his 1936 novel Absalom, Absalom! Set in the author's fictional Yoknapatawpha County, Mississippi, the novel sat the gathering of fellow readers down to a feast: Southern food, Delta blues, and flowing conversation.
Those who know Faulkner are familiar with his novels' murky depths: characters, fields, rivers, and histories. But they also love how high he soars, setting down flights of language for those who dare alight. In Absalom, Absalom!, the young Quentin, moved north to Harvard, discovers and questions the life and legacy of his ancestor, Thomas Sutpen, who built and watched crumble the family he bred but could not raise. It is the kind of novel that demands to be shared in conversation, for conversation and storytelling is at its heart. Moreover, the novel's exploration of slavery turned out to be a conspicuously timely choice for audience members asking complex questions about our nation's past and present.
At its core, the Winter Weekend provides readers a venue both to share their thoughts and to make new discoveries with the guidance of scholarly talks. Listen to the podcasts of the lectures, and you hear audience members laughing, sighing, doubting, flashing with inspiration. Start with Cedric Bryant's talk, and the energy hits you.
Here are links to the five talks you will find on Humanities on Demand:
The MHC's Humanities on Demand project began with a Digital Humanities Start-Up Grant from the NEH in 2007 to produce a series of podcasts on humanities topics for their website. Since then, staff members have integrated the programs into the fabric of the MHC's programming. Recording equipment travels to all the MHC's events; even partner institutions, such as public libraries, grant permission to the MHC to record and share their content.
The website provides nearly 200 podcasts: three-minute poetry recitations, two-hour lectures, two-day seminars, and more. Much like the well-known site for TED Talks, the sheer amount of information on the site offers readers a thrilling cache of talks and recitations, providing an excellent resource for teachers, students, and readers everywhere. The first posts were made to the site in 2008. Now, after recording a critical mass of podcasts, the MHC has begun to examine how best to use and publicize this treasure trove of content. Stay tuned!
Take a look around the site and listen a while. Don't forget to mark your calendars for next year's Winter Weekend on Gabriel Garcia Marquez's One Hundred Years of Solitude, March 11-12, 2016. Or, look for the talks on Humanities on Demand after the event.
//Brett Evans is an intern at the Federal/State Partnership. He is a graduate student in Classics at the University of Virginia and a former Fulbright Scholar, having studied Classical Reception at the University of Bristol in the UK.