Blog
Featured Project: History from A-Z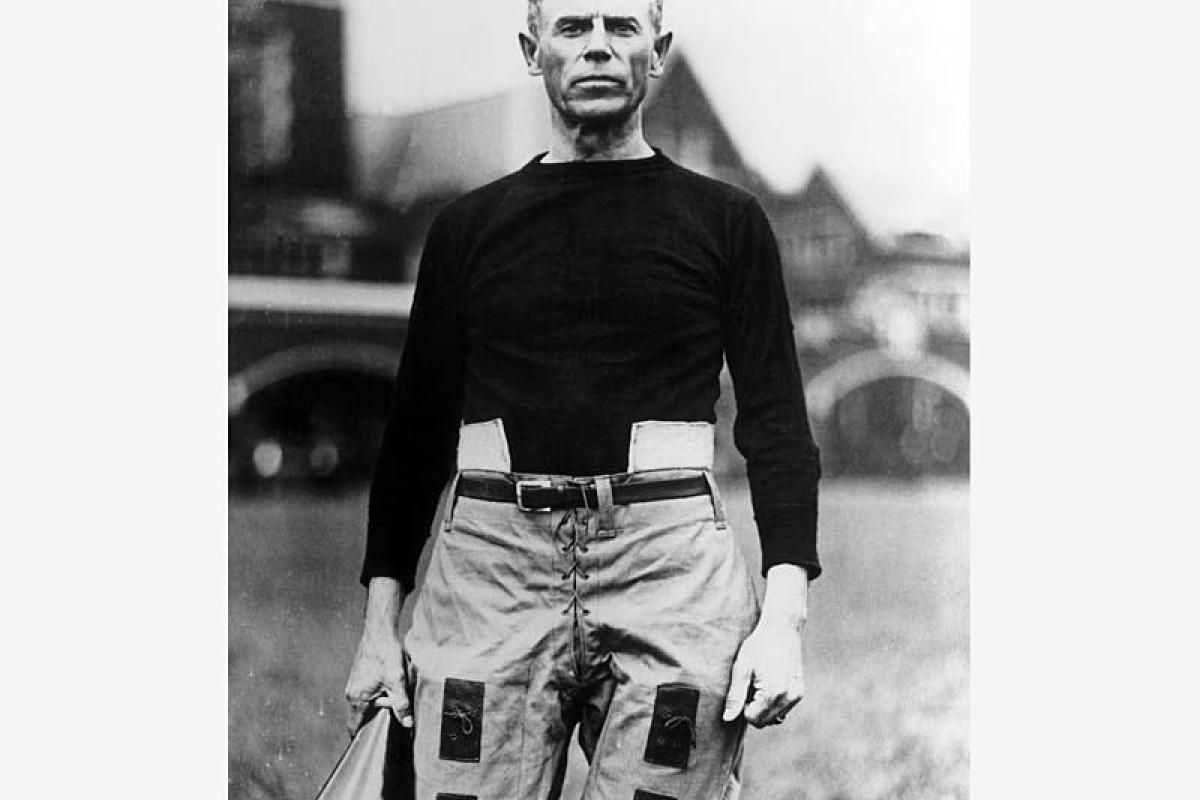 Did you know many NEH-supported state councils and humanities foundations have created their own online encyclopedias? In 2001, the NEH gave grants to launch an initiative to create comprehensive online encyclopedias for all 50 states, all five U.S. territories, and the District of Columbia. If you need a crash course in a state's history, culture, and notable people, this is your manual. Below, you'll find a list of those created thus far, along with a few of our favorite (or quirkiest!) entries. All are edited for length, but follow the links to learn more.
John Heisman: John Heisman (1869-1936) is among the people credited with making college football an American passion, and the game's most prestigious individual award is named after him. He coached at the Agricultural and Mechanical College of Alabama (now Auburn University) from 1895 until 1899. As a serious student of the game's rules and strategies, Heisman introduced innovations that increased the popularity of football, particularly in the South, where he coached for 25 years. Excerpt courtesy of the Encyclopedia of Alabama
Arkansas Fatmucket, aka Lampsilis powellii: The Arkansas fatmucket is a bivalve mollusk belonging to the family Unionidae, commonly referred to as freshwater mussels, naiads, or clams. Each freshwater mussel is composed to two halves (valves) of a hard outer shell, with the living animal (soft tissues) residing securely inside. The Arkansas fatmucket (Lampsilis powellii) was described as a species new to science in 1852 by Isaac Lea, a naturalist and publisher by trade residing in Philadelphia, Pennsylvania. Lea based his description on specimens provided to him by Dr. Josiah Hale and Professor W. Byrd Powell from the Saline River at Benton (Saline County). Excerpt courtesy of the Encyclopedia of Arkansas History & Culture

Ida Tarbell: Muckraking journalism emerged at the end of the 19th century largely in response to the excesses of the Gilded Age, and Ida Tarbell was one of the most famous of the muckrakers. Born in 1857 in a log cabin in Hatch Hollow, Pennsylvania, Tarbell's first dream was to be a scientist. Science was a field largely closed to women, however, and she instead pursued teaching, a profession deemed more suitable for a woman. Writing became Tarbell's passion. Keenly aware of social problems since her days as a teacher, Tarbell wrote about inequality and injustice and encouraged colleagues at the Chautauquan to do likewise. The History of the Standard Oil Company remains a classic of investigative reporting, and Tarbell's legacy as a someone who took seriously the credo that journalists should "afflict the comfortable and comfort the afflicted" lives on. Excerpt courtesy of connecticuthistory.org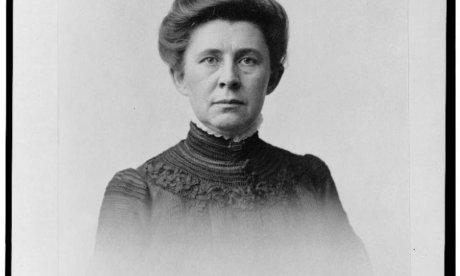 Koinonia Farm: Attempting to live out the principles of pacifism, simplicity, and racial integration, a pair of white Baptist ministers and their wives, Mabel and Martin England and Florence and Clarence Jordan, established Koinonia Farm on 400 acres in rural Sumter County in 1942. The ministers also hoped to teach improved farm practices. Named after the Greek word for fellowship and based on the early Christian church, Koinonia was to be a Christian community in which members pooled their resources into a common treasury and treated all persons as equals, regardless of race or class. Koinonia lasted as an intentional community for more than fifty years, a long tenure compared with other communal endeavors in this country. Koinonia still operates as a nonprofit organization, and its legacies of Habitat for Humanity and Jubilee Partners continue to address issues of human suffering around the world. Excerpt courtesy of the New Georgia Encyclopedia
Mardi Gras Indians: Mardi Gras Indians are African Americans who form "tribes" that hold weekly practices in bars throughout New Orleans and then march through the streets on Mardi Gras DAy and other recurring dates, when they wear elaborately hand-beaded and feathered costumes known as "suits." In these public ceremonies, the Indians sing chants as they travel in search of rival tribes. When two tribes meet, the chiefs ritualistically complete with one another by shouting boasts and insults and displaying their individually styled suits.The Mardi Gras Indians, their suits, and their songs have all become recognizable symbols of New Orleans's unique vernacular culture. Yet they remain more closely tied to specific communities and neighborhoods than more accessible local traditions such as jazz, Mardi Gras krewe parades, and Creole cuisine. Excerpt courtesy of author Matt Sakakeeny of Tulane University and KnowLA.org
United Bicycle Institute: Ashland's United Bicycle Institute (UBI) is the largest trainer of certified bicycle mechanics in the United States and the only school in the world that teaches bicycle-frame building. Serving both enthusiasts and professionals, UBI has more than fifty classes annually, from basic repair to advanced mechanics, shop operation, and bicycle building. The seven-member faculty offers a Certified Bicycle Technician program, a Suspension Technician Certification and, in conjunction with manufacturer DT Swiss, an Advanced Wheel Building Certification. UBI also teaches bicycle maintenance courses for women and is approved by the Oregon Department of Education for veterans training and for vocational rehabilitation. Excerpt courtesy of author Edwin Battistella and the Oregon Encyclopedia
Blenheim Ginger Ale: Blenheim ginger ale has its origins in the Marlboro County village of Blenheim. During the late 1890s, Dr. C. R. May began adding Jamaican ginger to the mineral water gathered from a local artesian spring. At the time, wealthy planters were building summer homes in the area. He prescribed the concoction as a palatable digestive aid. In the early 1900s May joined forces with A. J. Matheson to bottle the non-alcoholic ale. Though the company developed a number of different flavor combinations over the years-including a pineapple-orange soda-the spicy, ginger-flavored soft drink known as Old Number Three has remained the primary product. Excerpt courtesy of the South Carolina Encyclopedia
Zúñiga Chart: The Zúñiga chart, a manuscript map of the Chesapeake Bay and Tidewater Virginia, is a copy of a map that was probably originally drawn by Captain John Smith, one of the Jamestown colonists. Named for Don Pedro de Zúñiga, a Spanish ambassador to England, who sent it to King Philip III of Spain in September 1608, the chart is significant for its insight into the locations of Indian villages, the location of Jamestown and the architecture of James Fort, and the concerns and priorities of the English colonists.
Excerpt courtesy of Encyclopedia Virginia, a project of the Virginia Foundation for the Humanities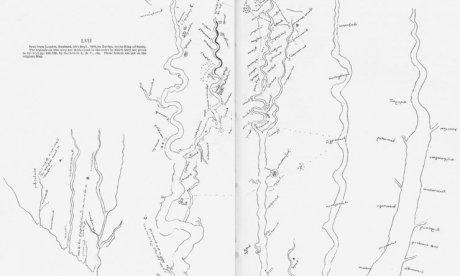 Elvis Impersonators: Elvis Presley left the building more than thirty years ago, dying of heart problems linked to his massive intake of prescription medication, but The King remains a surprisingly enduring Las Vegas icon. His estate continues to earn millions every year, his home at Graceland in Memphis remains a top tourist attraction, and Las Vegas surely has not abandoned him. If local Elvis sightings are no longer commonplace—be it guys in Elvis-styled jumpsuits passing out unusual fliers on the Strip or merely playing video slots at a local convenience store—there remains a sizable cottage industry based around all things Elvis. And, of course, there are the dedicated impersonators. Excerpt courtesy of Nevada Humanities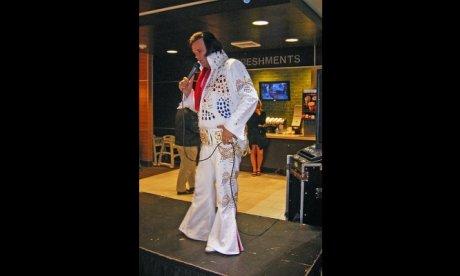 Brenham, TX: A small Texas town best known as the home of Blue Bell Ice Cream might be the last place to expect to find an Orthodox synagogue.  And yet for over a century, Brenham, Texas has been home to a small, modest shul that looks like a country church from the outside.  But the inside is designed in the Orthodox fashion, with a bimah in the middle of the floor facing the ark.  While the congregation has shrunk in recent decades to only one couple, they remain dedicated to preserving this small town shul and the history of the Jewish community that once filled it seats. The Texas section of the Encyclopedia of Southern Jewish Communities was partially underwritten with a grant from Humanities Texas. Excerpt courtesy Goldring/Woldenberg Institute of Southern Jewish Life. Do not reprint without permission. 
Lumberjack Contests: Although crosscut saws were invented earlier, it was not until about 1870 that they replaced the ax as the preferred instrument for felling trees. Competitive chopping and sawing soon became a part of logging camp life as restless timber cutters known as wood hicks spent their Sundays matching skills. As the log camps were phased out, fairs and festivals began holding competitions. The current champions are well-trained professional athletes. Some work in the woods, but most do not. Excerpt courtesy of the West Virginia Encyclopedia
Liz Byrd: Cheyenne schoolteacher Harriett Elizabeth "Liz" Byrd, Wyoming's first black woman legislator, served in the Wyoming House and Senate from 1981-92. She concentrated on social justice issues, and nine times sponsored a bill to make Martin Luther King day a state holiday before it was finally adopted in 1990. Liz Byrd died on Jan. 27, 2015, at the age of 88. Gov. Matt Mead ordered that the state flag at the Capitol and throughout Laramie County be lowered to half-mast in her honor. He said, "She was a role model for all people, for women and for Wyoming." WyoHistory.org is a project of the Wyoming State Historical Society, and is proud to count the Wyoming Humanities Council as one of their partners.
Other NEH-supported encyclopedias include Guam and Puerto Rico.