Blog
The Most Southern Place on Earth: Music, History, and Culture of the Mississippi Delta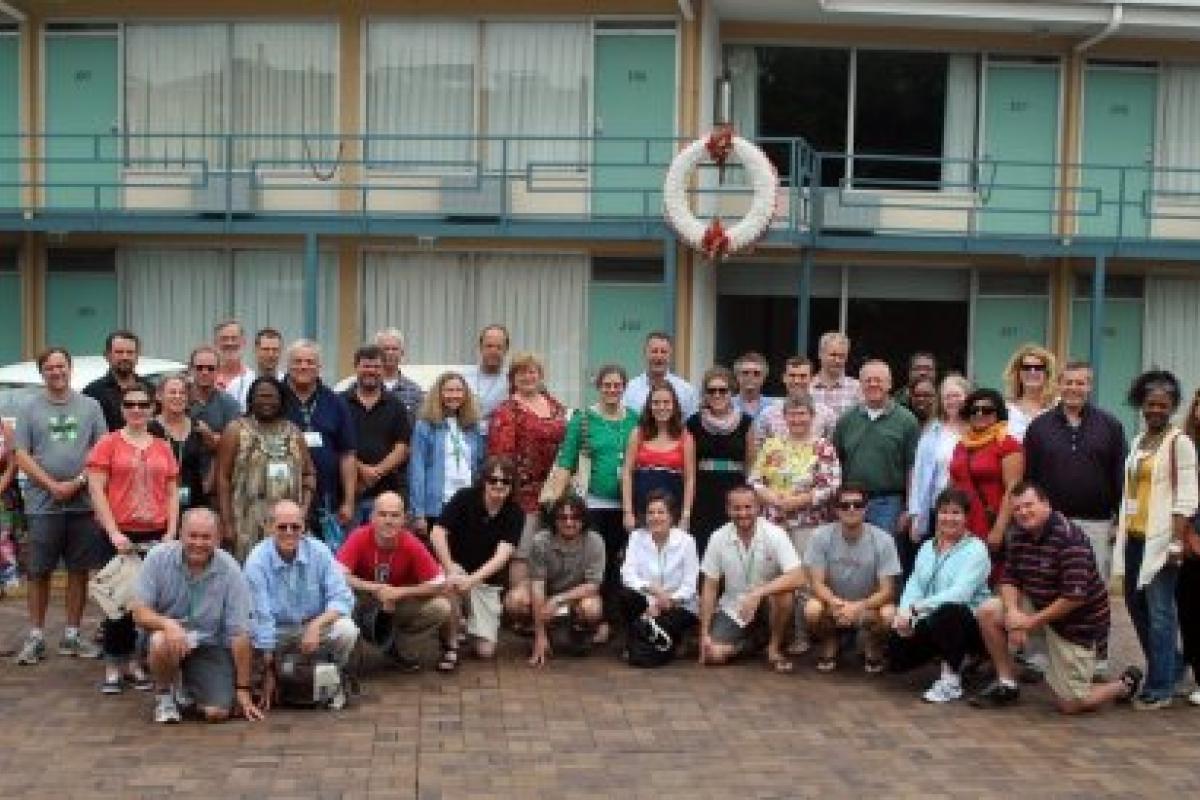 Schoolteachers will study the influence of the Mississippi Delta on American history this summer as part of an NEH-funded workshop in Cleveland, MS.
"The Most Southern Place on Earth: Music, History, and Culture of the Mississippi Delta" explores topics such as the civil rights movement and the development of the blues.
"The Most Southern Place on Earth" is one of the longest running Landmarks of American History workshops, as reflected in this retrospective article featuring founding workshop director, Dr. Luther Brown, who directed it every summer from 2009-2014. 2015 marked Luther's retirement as director of The Delta Center for Culture and Learning at Delta State University. Dr. Rolando Herts, who co-directed the 2015 workshop with Luther, currently serves as the director of the center. In 2016, the "Most Southern" workshop was co-directed by Dr. Rolando Herts and Lee Aylward of The Delta Center for Culture and Learning at Delta State University. The workshop is being offered again in summer 2017. 
How did you first get interested in the history and culture of the Mississippi Delta? 

I've been interested in the Delta since I was in high school in the 1960s in suburban Chicago.  I remember the Time magazine and newspaper pictures of poor black kids, sharecroppers, and especially people trying to register to vote, and I remember the names of Greenwood, Indianola, and Clarksdale, Mississippi.  But I really connected to the Delta through the blues, especially around 1995 when I designed a college class called "Mississippi Delta Blues and American Culture."  I was teaching at George Mason University at the time, and one of my graduate students actually accompanied the class on a lengthy fieldtrip through the Delta.  That re-connected me with my former dean, who had become the president of Delta  State University, and our reconnection ultimately led me to move to the Delta in 2000.
 
What do you hope that teachers have gained (and will gain) from participating in a workshop on this topic? 

I hope our scholars see how the people of the Mississippi Delta have affected the American story.  They've played many important roles, creating the blues and rock and roll, leading a social revolution that we call the civil rights movement, and being leading politicians, authors, chefs, statesmen, sports figures, journalists, and academics.  I hope they see how the physical landscape shapes a place and its people.  And I know they will remember particular and often emotional stories from the Delta, like the murder of Emmett Till in 1955, or the great flood of 1927, or the leadership of people like Fannie Lou Hamer or a visit to Po' Monkey's Lounge, arguably the last rural juke joint (which Anthony Bourdain recently tweeted as being "the best bar in America.")
Have there been any particular challenges of designing and implementing the workshop? 

The biggest challenge that we have as workshop organizers is probably the coach bus that we use as a traveling classroom.  Getting 40 people on and off a bus takes time, and we've occasionally had problems with audio-visual equipment or even the bus itself, although that's been very rare.  The biggest challenge for our participants is probably getting to Cleveland, Mississippi.  We are a small town in a very rural place, and we don't have much in the way of taxi or bus service.  But we've had people arrive after traveling on trains, planes, vintage cars, and even motorcycles, and I sometimes think that getting here is part of the whole experience.
 
You received supplemental funding last year to record a panel on the Emmett Till case. Why did you choose this workshop activity for digital preservation, and how do you hope the recording will be used?   

We chose this particular activity for at least two reasons.  First of all, the story of Emmett Till's murder is emotional and teachable in many ways.  There are numerous books about the case, both fictional and documentary.  There are several films and many songs, poems, and essays, and these are available for all levels of instruction.  Emmett Till was fourteen years old when he left Chicago to visit his grandfather in the Mississippi Delta.  Three days after he arrived, he wolf-whistled at a local shopkeeper, a twenty-one-year-old woman, and that simply didn't happen in the Jim Crow South.  A few days later, that woman's husband, his half brother, and several others kidnapped Till and tortured and murdered him.  His mother insisted that his body be returned to Chicago, where he had an open casket funeral that was witnessed by thousands of mourners.  Two of the men who killed him were tried for murder but found not guilty, and then subsequently sold their confessions to Look magazine.  Till's murder has been called "the spark that lit the fuse of the modern civil rights movement."  So it's a significant story. 

But the other reason we wanted to record our panel discussion is that the panel included eyewitnesses to various parts of the story, including Wheeler Parker, who was standing next to Emmett Till during the whistling event, and was in the same house with him when he was kidnapped by the gun-toting brothers.  We also had two representatives from the FBI, one of whom was in charge of the investigation (which happened 50 years after the murder).  We wanted to record these various accounts before they were lost, and they are now available at http://vimeo.com/user19759179/videos along with some other interviews, including one with Charles McLaurin, who was a friend and confidant of Mrs. Fannie Lou Hamer.  Our hope is that teachers everywhere will use these first-person narratives in their classrooms. 
 
Any memorable moments during the project activities over the years? 
 
A lot of the things we do during the workshop are memorable.  It's hard to beat listening to Wheeler Parker describe how Emmett Till was abducted or an FBI agent naming additional, long-unknown murderers, but there are many memorable moments.  We go to where the levee broke in 1927, causing the greatest natural disaster our country had seen up to that point.  Many people dip their foot in the Mississippi River for the first time.  We listen to former Student Nonviolent Coordinating Committee field secretary Charles McLaurin talk about the numerous times he was arrested for trying to register people as voters.  We eat soul food in Memphis and visit the Lorraine Motel where Dr. Martin Luther King was murdered, now the National Civil Rights Museum.  We go to Po' Monkey's Lounge, an old sharecropper shack that is still the home of a farm worker who opens it up on Thursday nights as a juke joint.  We listen to lots of blues, some R & B, and a lot of soul music. We sample Kool-Aid pickles, a locally popular kids' snack, and many people get their first taste of fried catfish or Mississippi Delta hot tamales.  And maybe one of the best aspects of the workshop is that most participants remain in contact with one another through the listserv we maintain, and through our Facebook site.  They share resources like websites, videos, and articles they find about the topics we've explored and basically continue the workshop well beyond the end date.  We actually have many who have been doing that since 2009, when we first offered this workshop.